Choosing the right player archetype before you start your career will guide your entire experience – it will determine your starting attributes and provide a structure for your style of play.
Each player archetype excels in a specific area of the game while also having at least one weakness you should be aware of. Tailoring your archetype to your position and playing style is the best way to get the most out of your player and have the career you want.
Here is how to choose your Be a Pro player archetype in NHL 22.
How to Choose Your Player Archetype
There are six player archetypes in NHL 22:
Sniper
Playmaker
Power
Two-Way
Grinder
Enforcer
Sniper, Playmaker, and Power are viewed as offensive archetypes created for forwards whose main goal is to put pressure on the opposition and score/create scoring chances.
Grinder and Enforcer are traditionally defensive archetypes focused on stoping the opposition through physical play.
The Two-Way archetype is an all-around player who can play any position – most players use this build to start with balanced attributes. Still, Two-Way players are usually forwards.
You should choose your archetype based on your position and the way you like to play. Your skills will then progress the more you use them so you'll eventually develop a player that's close to your playing style anyway. In other words, if you shoot more – your shooting attributes will upgrade quickly, etc.
Let's go through all the archetypes and highlight their key advantages and disadvantages.
Sniper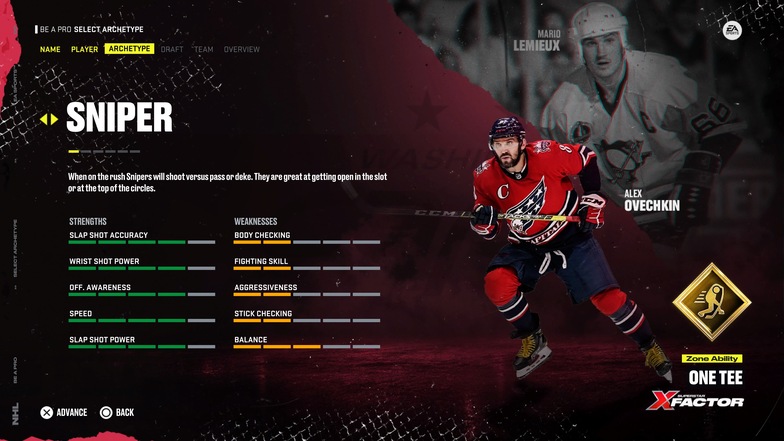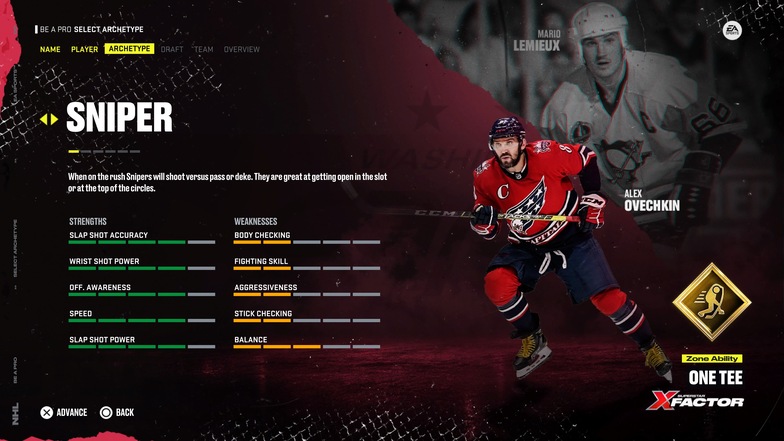 If you are an offense-first player that likes to shoot, Sniper is the way to go.
Snipers are incredibly gifted offensively – they're quick and they have powerful and accurate shots. If you want to play as a winger, Sniper is one of the best archetypes you can choose. With 5/6 bars for Speed and Slap Shot Power and Accuracy, you'll be able to run past defenders and finish with confidence.
I chose the Sniper archetype and I started having an impact on offense almost instantly. I even got drafted as the first overall pick!
One area where Snipers aren't as effective is defense. Body and Stick Checking are only at 2/6 bars, meaning you won't have an easy time being too physical on defense.
Notable players that have the Sniper archetype: Alex Ovechkin, Nikita Kucherov, Auston Matthews, David Pastrnak, Patrick Kane, Leon Draisaitl.
Playmaker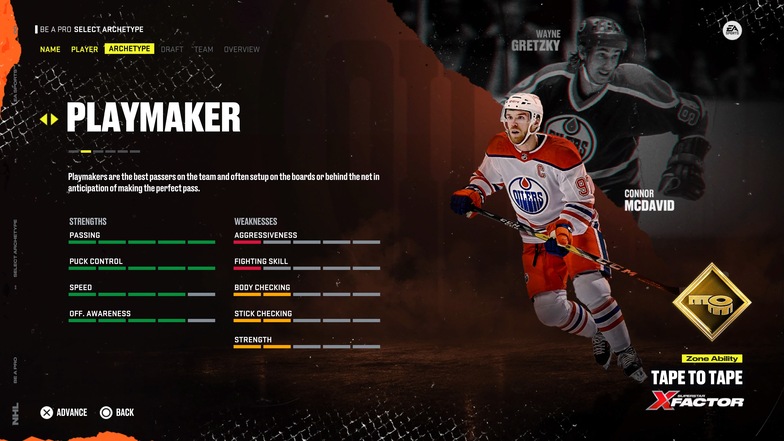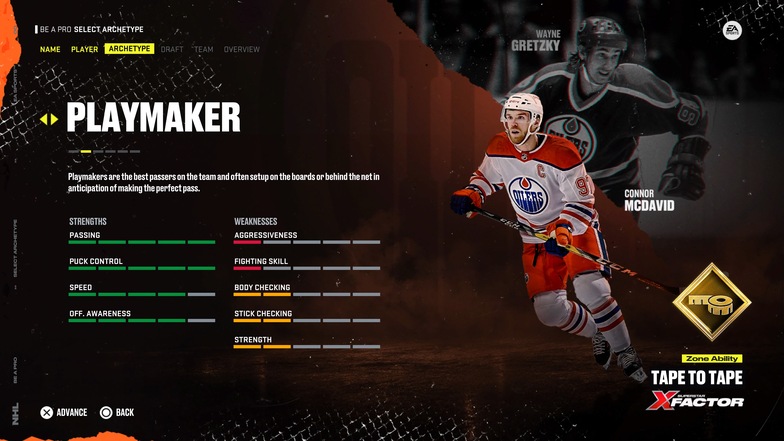 Playmakers are the orchestrators of the offense. They have incredible puck control and passing skills and they can change the entire flow of an attack with a single move.
Playmakers have 6/6 Passing and Puck Control, along with 5/6 Speed, making them the most mobile skaters on the ice. Many centres have the Playmaker archetype.
However, Playmakers are even less effective on defense than Snipers. Their Aggressiveness and Fighting Skill are at 1/6 bars, and their Body and Stick Checking are at 2/6. You won't be starting out as a scrappy defensive player if you choose this archetype.
Notable players that have the Playmaker archetype: Connor McDavid, Jack Eichel, Nathan Mackinnon, Artemi Panarin, Sidney Crosby.
Power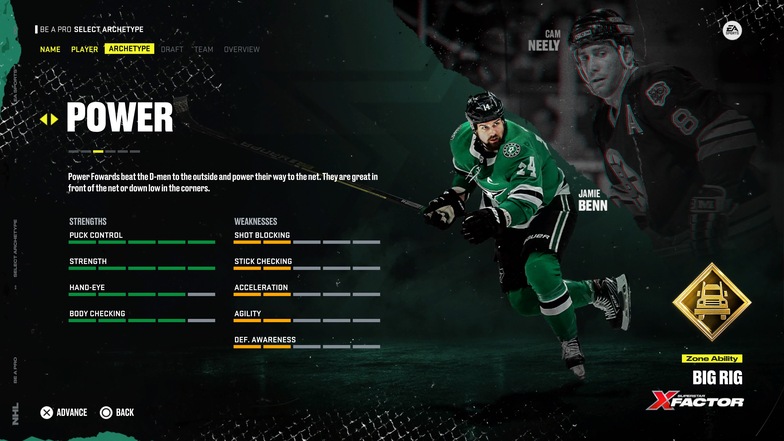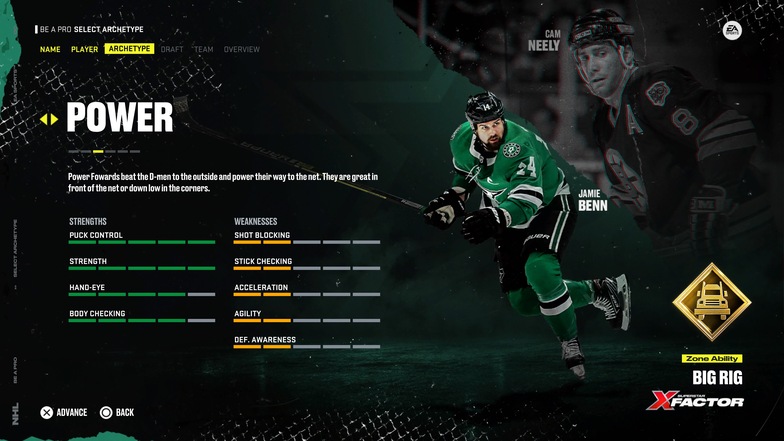 Playing as a Power Forward will make you hard to stop, but not because the defenders won't be able to catch you. With 6/6 Strength and Puck Control, Power Forwards can push their way to the net and be a real nuisance on offense.
Their Body Checking is also at 5/6, making them fun to play if you like to get physical.
However, Power Forwards lack mobility. Both their Acceleration and Agility are at 2/6 bars which will make it harder to skate past defenders when needed.
Notable players that have the Power archetype: Jamie Benn, Matthew Tkachuk, Brady Tkachuk, Pavel Zacha.
Two-Way
Two-Way players are equally adept on defense and offense. This is illustrated by their Defensive and Offensive Awareness ratings, which are both at 5/6.
Many NHL 22 players choose to start with this archetype because it provides versatility. Since you'll be developing your own skills anyway, you might as well want to start with solid attributes across all categories and build your player simply through playing the game. Starting with a Two-Way archetype would provide you a solid base to develop in any possible direction.
One set of attributes that will need more work is Shooting. With 3/6 Slap Shot Power, Two-Way players won't really be a threat from distance early on.
Notable players with the Two-Way archetype: Patrice Bergeron, Brad Marchand, Aleksander Barkov, Anze Kopitar, Sean Couturier.
Grinder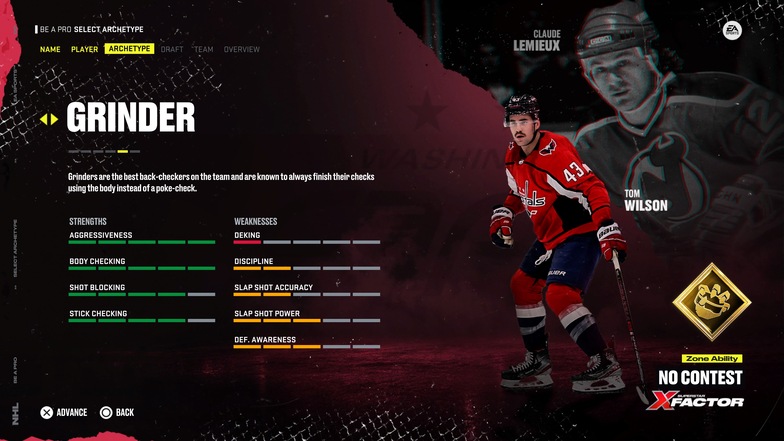 If you want to play as a defender, you can hardly go wrong with the Grinder archetype.
These players are incredibly physical – they love body checking and, if they start skating towards you, you might want to leave that puck alone and skate back. Their Aggressiveness and Body Checking are both at 6/6, closely followed by Stick Checking which is at 5/6.
As you can imagine, this comes at a cost in terms of finesse and grace, so Grinders will start with 1/6 Deking and 2/6 Discipline.
Notable players with the Grinder archetype: Tom Wilson, Marcus Foligno, Corey Perry, Brendan Lemieux.
Enforcer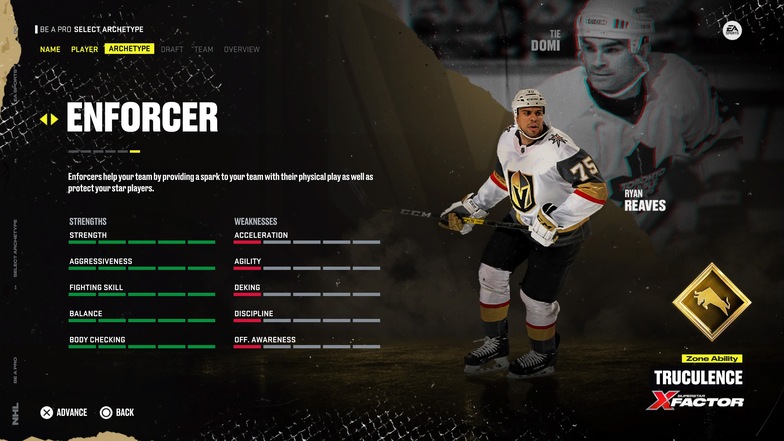 The Enforcer might not be the most skilled or prolific archetype but it's great if you want to have fun by brawling and scrapping through the game.
This archetype has full six points dedicated to Strength, Aggressiveness, Fighting Skill, Balance, and Body Checking. What this means is that, if there is an Enforcer on the opposing team, that's the one player you don't want to antagonize.
Scoring, assisting, and generally being productive on offense will be hard if you're an Enforcer. Their Acceleration, Agility, Deking, and Offensive Awareness are all at 1/6 bars, making this a strictly defensive build.
Notable players with the Enforcer archetype: Ryan Reaves, Kyle Clifford, Mark Borowiecki, Ross Johnston.
Final Word
Choosing the right Be a Pro player archetype in NHL 22 will play a big role in your early career. It will serve as the foundation for your skills and attributes, guiding you towards a specific type of player.
If you're not sure which archetype is for you, don't hesitate to choose Two-Way. It's a great build and one that will mold to your playing style as you progress through the game.