Drafting and developing players in Franchise Mode is one of the most rewarding aspects of NHL 22 – for many players, it's the biggest reason why they even play Franchise Mode.
One thing that can be confusing, especially for new players, is understanding and using player potential to identify the best young players in NHL 22. There are no comprehensive in-game guides for this, so a lot of players try to figure things out intuitively and end up drafting a disappointing talent.
Player potential in NHL 22 isn't that simple but it can be figured out. Here is how potential works in NHL 22 Franchise Mode.
What is Player Potential?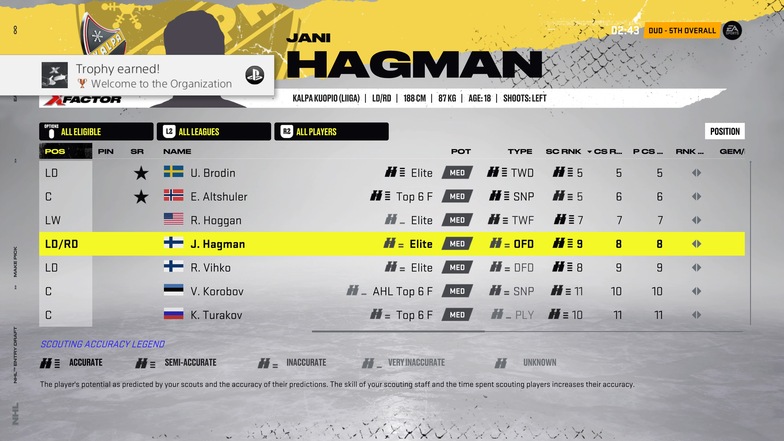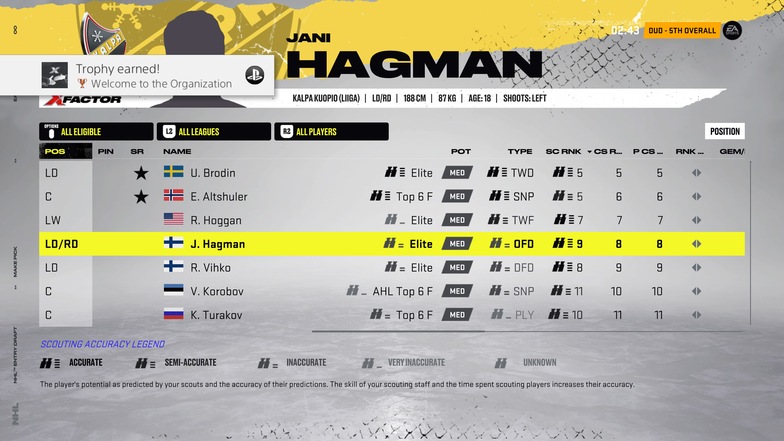 Player potential refers to the expected ceiling of said player, combined with the level of accuracy/probability he will reach that ceiling.
There are nine potential tiers in the game:
Franchise: generational talents you can build a whole franchise around
Elite: one of the best players in the league in their position
Top 6 F: a forward to be used in your 1st or 2nd line
Top 9 F: a forward to be used in the 1st, 2nd, or 3rd line
Top 4 D: a defender to be used in your 1st or 2nd line
Top 6 D: a defender to be used in the 1st, 2nd, or 3rd line
Bottom 6: a player to be used in your 3rd or 4th line
AHL top 6: a 1st or 2nd line player in the AHL
AHL bottom 6: a 3rd or 4th line player in the AHL
And there are four levels of accuracy:
Exact: the scouts are certain of the player's potential
High: there is a high chance that the scouted potential is accurate
Med: the scouts are neither certain or uncertain about the player's potential
Low: the scouts are uncertain about the player's potential
You can think of these levels of accuracy as variance, or the range of possibilities you can expect. For example, a High Top 6 F player can turn out to be a Top 9 F or an Elite forward once drafted and developed (a +/- 1 variance). A Med Top 9 F player, on the other hand, has a wider range of possibilities. He can be an Elite or a Bottom 6 player (a +/- 2 variance).
Here, we also need to separate scouting labels from development potential. Although these two things look the same, the way they're used is different.
Scouting labels are used to identify the most talented players before the draft. They essentially show you the quality of the scout report, not the player's actual potential. As soon as the player is on your team, you'll see their development potential.
Can Players Change Potential Tiers?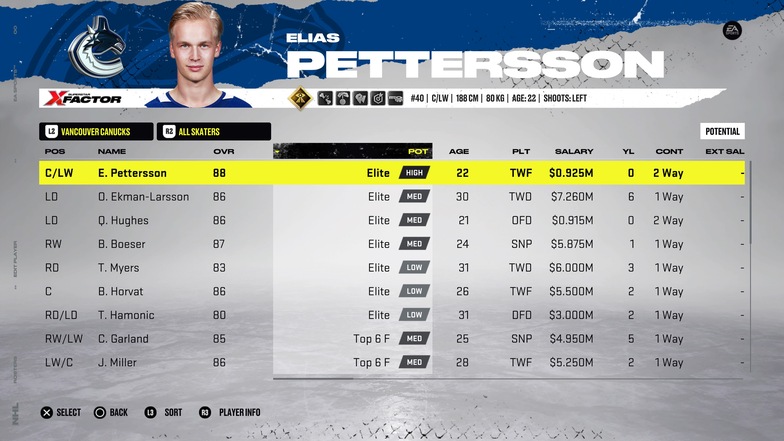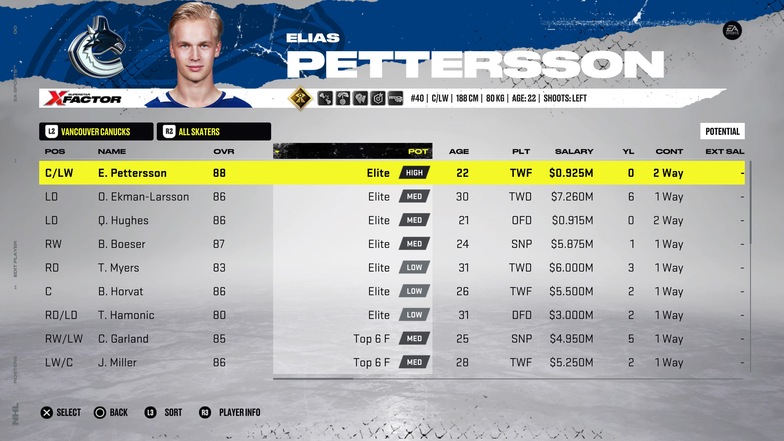 Once you draft the player and view his actual development potential, there is still some room for change. Although the initial development potential will usually be quite accurate, things like playing time and role will often make a difference.
Again, you should keep the development potential accuracy in mind when considering your players' ceilings.
So, a player whose development potential accuracy is High will likely develop at a steady pace and realize his potential. A player with a Med accuracy can turn out to be a lot better or worse than initially thought, although the " a lot better" scenario is rare. Still, you can see a Med Top 6 F young player turn into an Elite player or completely drop off.
All Players with Franchise and Elite Potential in NHL 22
Finally, here is a list of all current players with the best potential ratings. I'll focus on the young players since I assume everyone's goal is to build for the future.
There are a handful of young players who have Franchise or Elite High potential in NHL 22:
| | | | | |
| --- | --- | --- | --- | --- |
| Position | Name | Current Team | OVR | Potential |
| C/RW | Nathan Mackinnon | Avalanche | 93 | Franchise High |
| C/LW | Leon Draisaitl | Oilers | 93 | Franchise Med |
| C | Connor McDavid | Oilers | 95 | Franchise Med |
| C | Auston Matthews | Maple Leafs | 92 | Franchise Med |
| C/RW | Sam Reinhart | Panthers | 85 | Elite High |
| C | Jack Hughes | Devils | 84 | Elite High |
| LW | Lexis Lafreniere | Rangers | 82 | Elite High |
| C/LW | Elias Petterson | Canucks | 88 | Elite High |
Here are all other young players with Elite Med potential, in no particular order:
Jamie Drysdale
Trevor Zegras
Jakob Chychrun
David Pastrnak
Charlie McAvoy
Jack Eichel
Rasmus Dahlin
Dylan Cozens
Matthew Tkachuk
Martin Necas
Andrei Svechnikov
Sebastian Aho
Alex DeBrincat
Cale Makar
Bowen Byram
Alex Newhook
Mikko Rantanen
Adam Boqvist
Patrik Laine
Denis Gurianov
Miro Heiskanen
Dylan Larkin
Filip Zadina
Aaron Ekblad
Quinton Byfield
Kiril Kaprizov
Nick Suzuki
Cole Caufield
Eeli Tolivanen
Jack Hughes
Nico Hischier
Matthew Barzal
Adam Fox
Kaapo Kakko
Thomas Chabot
Tim Stützle
Erik Brännström
Brady Tkachuk
Ivan Provorov
Haydn Fleury
Mikhail Sergachev
Brayden Point
Mitchell Marner
William Nylander
Quinn Hughes
Brock Boeser
Final Word
Player potential in NHL 22 Franchise Mode is one of the most important aspects of the game you need to master if you want to build a successful dynasty.
Ultimately, taking a chance on a player or two isn't the worst thing in the world. In fact, I like to take a chance on a Low or Mid Top 6 player rather than go for High Elites all the time. You'll find these players much easier to find and developing them into superstars will be much more rewarding.
Once you draft/sign young players, pay attention to changes in their development potential and make sure to take a hands-on approach to get the most out of each talent.