In NHL 22, EA has introduced Superstar X-Factor abilities: game-changing skill boosts reserved for the truly great players.
Using any of the NHL 22 best X Factors can affect various player skills, from shooting and defense to back skating and trick dekes. Knowing each player's X-Factor abilities will help you better understand their playing style and everything they can do on the ice. More importantly, you'll be choosing your own X-Factors in Be a Pro, so you really need to know what options you have and which abilities you should get early on.
Here are the best superstar X-Factors in NHL 22.
The Best Offensive X-Factors in NHL 22
Offensive Superstar X-Factors can boost your shooting, skating, or playmaking abilities. We can also say that certain X-Factors from the "Hockey IQ" category affect offense, so we'll be taking them into consideration.
The best offensive X-Factors:
Make it Snappy
One Tee

Wheels

Elite Edges
Tape to Tape
Honorable mentions:
Thunderclap
Shnipe

Ankle Breaker

Send it
Make it Snappy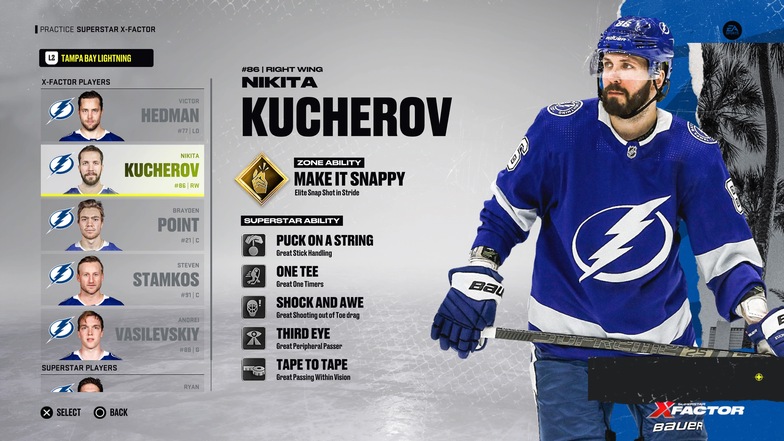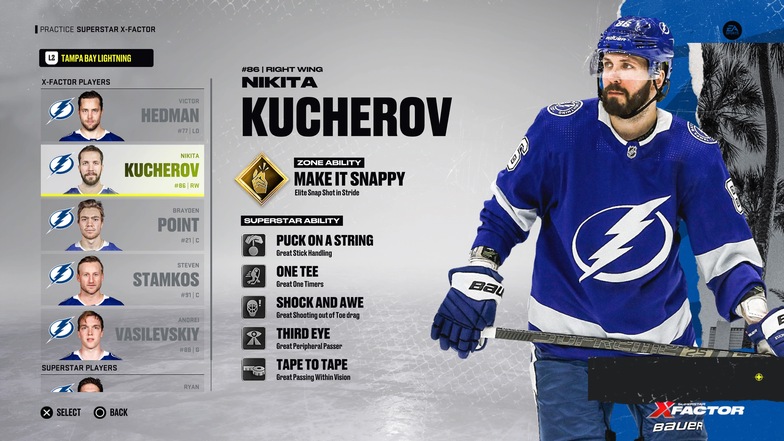 If you're a scorer, snap shots should probably be one of your most important skills to master. You want your player to be as efficient as possible in scoring situations, especially when trying to score on breakaways in NHL 22.
The Make it Snappy ability will give a big boost to both your snap shot ability and accuracy while skating. In other words, you will have the perfect skill needed to become a clinical finisher on 1-on-1 situations. Combined with good skating skills, this can be a game-changer.
Notable players with Make it Snappy: Nikita Kucherov (Tampa Bay Lightning), Jack Eichel (Buffalo Sabres), Brad Marchand (Boston Bruins), Artemi Panarin (New York Rangers)
One Tee
Another scoring weapon, the ability to bury one-timers with consistency can be incredibly important.
Depending on your Be a Pro player archetype, you might find that blasting one-time shots into the net isn't such an easy task. The One Tee X-Factor increases both the power and accuracy of your one-time shots so that you can become a more reliable scorer.
The best thing about this X-Factor ability is that it enables you to score even when you get a bad pass. If you don't have One Tee, you'll notice that scoring one-timers is almost impossible when the pass isn't perfectly placed.
Notable players with One Tee: Alexander Ovechkin (Washington Capitals), Steven Stamkos (Tampa Bay Lightning)
Wheels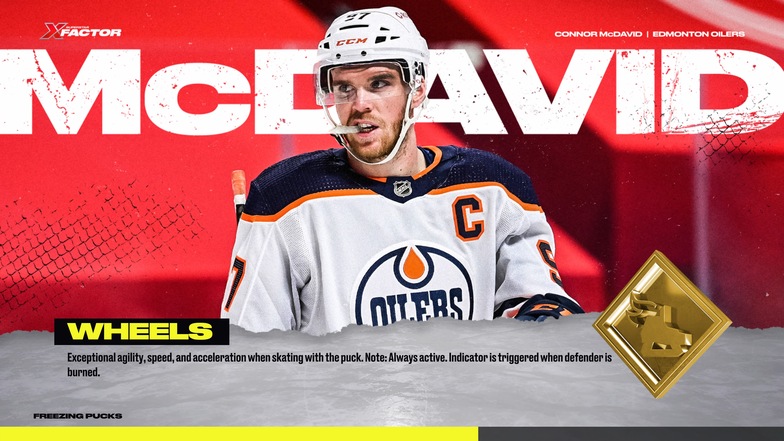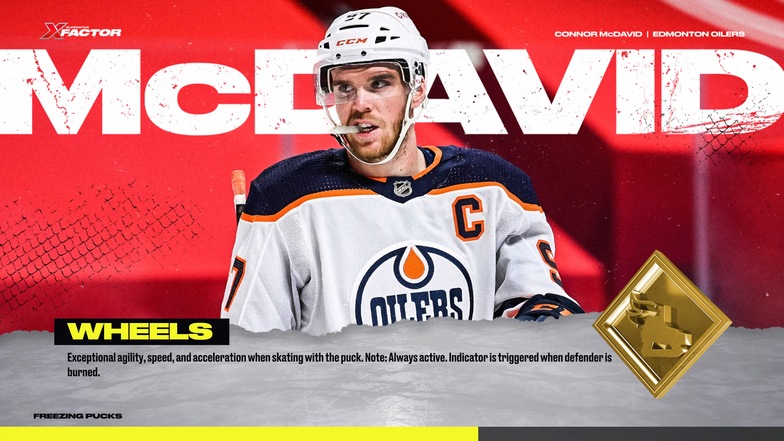 Skating is among the most important skills in NHL 22, regardless of your position or archetype. You need to be able to keep up with everybody on the ice and follow the incredibly high tempo of the game.
Wheels is an X-Factor ability that can help you do this. It allows you to skate faster while controlling the puck – you don't get the speed, agility, or acceleration penalties you would usually get. This would mean that you're about as fast with the puck as without it, which is a huge offensive bonus.
Notable players with Wheels: Connor McDavid (Edmonton Oilers), Brayden Point (Tampa Bay Lightning)
Elite Edges
Another skating X-Factor, Elite Edges gives you a boost in maneuverability and makes you more mobile on the ice.
In other words, it enables you to make tight turns and without sacrificing speed or agility. You can stop on a dime, turn, and do any other maneuvers to get away from defenders and get into dangerous attacking positions. If you're someone that likes to skate and lead the offense with solo efforts, Elite Edges should be at the top of your list of X-Factors.
Notable players with Elite Edges: Matt Barzal (New York Islanders), Cale Makar (Colorado Avalanche)
Tape to Tape
Tape to Tape is the passing X-Factor.
It gives you the ability to auto-saucer and increases your backhand accuracy, turning you into a true playmaker on the ice. It also reduces power penalties on passes within your vision.
If you have the Playmaker archetype and you like to make things happen for your team, Tape to Tape is a must-have. This X-Factor will enable you to dictate the tempo of the game and pass from anywhere on the ice, to pretty much everyone.
Notable players with Tape to Tape: Adam Fox (New York Rangers), Leon Draisaitl (Edmonton Oilers), Kirill Kaprizov (Minnesota Wild)
The Best Defensive and Goaltending X-Factors in NHL 22
There aren't too many exclusively defensive X-Factors to choose from, but the ones that are available can have a big impact on the game.
The best defensive and goaltending X-Factors:
Yoink!
Stick 'em up
Contortionist
Quick Pick
Honorable mentions:
Dialed in
Quick Draw
Big Tipper
Yoink!
Stick lift is one of the most effective defensive moves – it will often get you the puck in an instant, leaving the opposing player to recover.
Yoink! will give you a higher stick lift success rate and turn you into a defensive nuissance. Additionally, this X-Factor will also leave your opponent recovering longer their usual, giving you a chance to set up a counter attack and turn defense into offense.
Notable players with Yoink: Patrice Bergeron (Boston Bruins), Mark Stone (Vegas Golden Knights)
Stick 'em up
Next to stick lifts, poke checking is one of the most reliable ways of stopping the opposition on defense. Stick skills are incredibly important to defenders and they can often make a big difference between forcing a turnover and getting tagged with a penalty.
Stick 'em up gives you a big boost in defensive stick handling, even at high speed or against momentum. If you're building a powerful defender, this is probably the best X Factor in NHL 22 to go for.
Notable players with Stick 'em up: Sean Couturier (Philadelphia Flyers), Victor Hedman (Tampa Bay Lightning)
Contortionist
There are several good goalie Superstar X-Factors to go for, and the Contortionist has to be at the top of the list.
This ability increases your goalie's save range, recovery, and ability against momentum. With the Contortionist X-Factor, you will be making some incredible saves and look fancy while doing so. It's the premier goaltending ability for anyone looking to make a name for themselves as a star goalie in Be a Pro.
Notable players with Contortionist: Andrei Vasilevskiy (Tampa Bay Lightning) is one of the best X Factor players in NHL 22.
Quick Pick
Although technically a Hockey IQ ability, Quick Pick is a perfect X-Factor for defenders.
Quick Pick increases both your interception rate and range, making you a tough matchup for anyone and a dominating presence on the ice. Offenses will find it hard to break through the defense with you lurking and snatching pucks left and right from anyone who isn't careful enough.
Combined with In Reverse (boosts reverse skating skill) or Big Tipper (deflects pucks with accuracy towards the opposing goal), Quick Pick can be an incredible weapon.
Notable players with Quick Pick: Anze Kopitar (Los Angeles Kings), Seth Jones (Chicago Blackhawks)
Final Word
The best Superstar X-Factor abilities in NHL 22 will help you up your game and play like some of your favorite players. Choose them wisely and make sure they complement your playing style.
Also, note that there is a difference between Zone and Superstar abilities. There can only be one Zone ability – this is your main X-Factor, something that defines you as a player. You can have multiple Superstar abilities that can all work together to boost your skills and contribute to your build.
So, choose your Zone ability carefully and build around it!