Whether on a budget or not, creating an NHL 22 team full of the best meta players within your price range is a goal that everyone wants to achieve. It will help you win more games and make the whole NHL experience a whole lot better.
However, what is worth noting is that not every player that costs a certain amount of coins is better than the next, which costs just a fraction. That really is the reality of the situation.
Those NHL cards are called meta cards, or in other words player cards which are so good that everyone who isn't using them is essentially at a disadvantage.
To help you build a well-rounded and straight-up dominant NHL team, I've done all the research for you and found the best meta players in NHL 22.
Do note that they go in no particular order and in this article, there are no price constraints. You'll find players that are worth just over 1,000 coins as well as players well over 10,000 coins.
Evgeny Kuznetsov
The 1992-born Washington Capitals winger, Evgeny Kuznetsov is deemed one of the most meta wingers in NHL 22. He definitely isn't the cheapest of players but is such a great addition to anyone who can afford him that he can single-handedly lead your attack and help you to victory.
The Russian is rated just 82, but that stands quite far away from his true abilities. He boasts 86 skating, 83 shooting, 84 hands, 77 checking, and 79 defense. In NHL 22, his skating and shooting stats are the single reason why the Russian is so valuable. He has 90 acceleration, 90 speed, and 88 agility, which is insane for a player in his price range and overall rating.
Besides that, his shooting stats and deking stats are nearly as impressive, boasting an overall 83.25 shooting when combining all of his shooting stats and 85.
Nick Leddy
The 1991-born Nick Leddy is a super underrated meta player card in NHL 22. The 81-rated Detroit Red Wings player boasts 83 skating, 79 shooting, 82 hands, 80 checking, and 82 defense, which make him one of the most complete cheap defenders on NHL 22 HUT, costing just a few thousand coins.
At 6'0″ and 204lbs, he possesses 85 acceleration and 85 speed, which are stats that you don't want to ignore when it comes to a defenseman. He'll be particularly useful in defending against rapid wingers on rebounds or counterattacks.
Matt Duchene
The Nashville Predators centerman, Matt Duchene is amongst the best meta cards in NHL 22. Not only that, but he is also one of the best cheap players on NHL 22 HUT. If you're just starting out your HUT career or are simply working on quite a tight budget, then the Canadian would be a very powerful addition to your squad.
The 81-rated 1991-born player boasts 85 skating, 81 shooting, 81 hands, 78 checking, and 80 defense. From that his acceleration and speed are most impressive – set at 89 and 88 respectively. As for his shooting stats, they are fairly average, around the 81 mark. One thing to note is that he's quite decent at faceoffs, so if you know how to win faceoffs, Duchene's abilities would definitely help you out in that regard.
Tyler Seguin
At 6'1″ and 200 lbs, we have the Dallas Stars captain, Tyler Seguin. In this year's national hockey league, the 1992-born centerman boasts 85 skating, 86 shooting, 86 hands, 80 checking, and 79 defense.
What really makes the Canadian super valuable are his skating and shooting stats, which are super impressive. For a centerman to have 88 pace, 88 acceleration, and 86 agility is pretty rare. On top of that, he's not any worse at shooting. He has 85 slap shot accuracy and 87 slap shot power. His wrist shot accuracy is one higher, at 86 whole his wrist shot power remains the same – at 87.
Adam Fox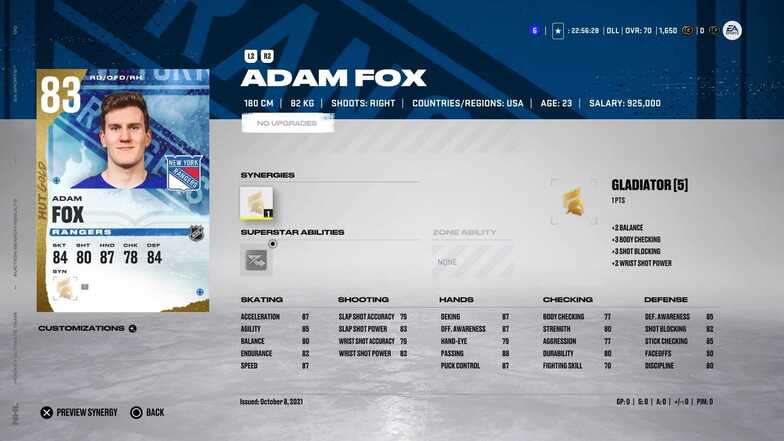 The New York Rangers defenseman Adam Fox is another great mid-range meta card on NHL 22. The 1998-born American boasts 84 skating, 80 shooting, 87 hands, 78 checking, and 84 defending. He's amongst the most well-rounded player within his price range.
Yes, he might not be quite on Makar's level, but what's worth mentioning is that he only goes for fraction of the price, making him a very solid pick for anyone that's looking to start taking their NHL career to the next level.
Nikolaj Ehlers
Another meta player in NHL 22 is the 82-rated Danish left-winger, Nikolaj Ehlers. The 1996-born Winnipeg Jets player boasts 85 skating, 83 shooting, 86 hands, 76 checking, and 80 defense. His attacking performance stats from skating to shooting to hands are some of the best that I've seen in his price range.
The Winnipeg Jets left-winger boasts 89 speed, 89 acceleration, and 87 ability. Combined with 83.5 shooting and 88 deking, the Dane is capable of converting shots, creating chances, and completing any sort of deke that you are capable of performing.
Taylor Hall
On the upper range in terms of price, we have the Boston Bruins winger, Taylor Hall. The 83-rated player boasts 86 skating, 84 shooting, 83 hands, 81 checking, and 80 defense. It's fair to say that his offensive attributes are quite insane.
Were we to break them down, the 1991-born Canadian has 89 acceleration, 85 agility, and 90 speed. He'll literally fly on the wing. As for his shooting, it's nearly as impressive thanks to his 84 slap shot accuracy, 86 slap shot power, and virtually the same for his wrist shot abilities.
He's also very decent at deking, which is always a nice extra, especially if you're looking at learning how to score on breakaways in NHL 22.
Cale Makar
Thanks to his insane skating stats, the Canadian Cale Makar is another defense meta card on NHL 22. He definitely isn't the cheapest but once you're able to afford him, availing of his services is really a no-brainer.
He has 87 skating, 82 shooting, 87 hands, 78 checking, and 84 defense. If we take a closer look at Colorado Avalanche's defenseman's skating stats, the 1998-born has 90 acceleration, 89 agility, and 90 speed. He's genuinely quicker than most wingers out there which is always good news for you.
As far as his defensive abilities are concerned, he has 85 defensive awareness, 80 shot blocking, and 87 stick checking, which are all way above average.
Anthony Duclair
Another super affordable meta player that I've been playing with on NHL 22 HUT is the Florida Panthers' Anthony Duclair. The Canadian forward boasts 84 skating, 81 shooting, 81 hands, 77 checking, and 79 defense. Similar to other meta forwards, most of Duclair's value comes from his impressive skating stats – 89 speed and 89 acceleration.
As far as his shooting is concerned, it's fairly average and definitely better than cheap meta player's in the likes of Kasperi Kapanen, who we'll take a look at next.
Kasperi Kapanen
And last but not least, we have the Finnish right winger Kasperi Kapanen. The 1996-born Pittsburgh Penguins player boasts some of the most impressive skating stats in his price range – 90 acceleration, 90 speed, and 85 agility, making him a worthwhile addition to anyone's team who can spare a few thousand coins to acquire his services.
Most of Kasperi's value comes from his skating stats, which are very impressive. On the downside, his shooting skills aren't the best, which can be an issue for some players who are looking at building a more comprehensive and complete team. Either way, he's a worthy purchase early on when everyone's trying to build up their teams from the ground up.
Final Thoughts
Now that you have a list of the best meta players in NHL 22, it's time for you to take a look at your budget and decide which players you can make part of your team. If you end up learning how to get more coins on NHL 22 HUT, you can always come back and improve your team with some of our more valuable recommendations.
Either way, whatever you decide to go for, you'll see a big improvement in your team and the results that you end up achieving over time.