Taking control of a team from both the GM and playing side is one of the most exciting teams in each installation of NHL, and NHL 22 is no different.
With some new features, NHL 22 Franchise Mode looks even more fun, and running the GM end of things feels better than ever. To truly display your GM skills, you'll need a team that's set up in just the right way to help you achieve its full potential. This means a young superstar core, good contracts, and some useful pieces that you can either move and develop.
That said, some players just want to hit the ground running and win it all in their first season – so our list will include a good mix of high potential and already-established teams.
Read on and discover the best teams to rebuild in NHL 22 Franchise Mode!
Seattle Kraken
Starting off the list is something we're all excited about – the Kraken are playing their first season since being granted the expansion spot in 2020.
In terms of top-tier talent, the Kraken don't have much to offer. They have one of the best-rated goalies in the game in Philipp Grubauer (87 OVR) but, other than him, you'll have to build everything pretty much from the ground up.
The best young talent you'll find in Seattle are the second draft prick Matty Beniers and the defender Vince Dunn, who joined the Kraken after three relatively successful seasons with the St. Louis Blues. Their offense still needs some firepower, so expect to be making some moves here early on.
Tampa Bay Lightning
If you want instant success, look no further than Tampa Bay Lightning. The reigning back-to-back champs will be running it back this year and going for a three-peat – maybe you can be the GM to make this happen.
Talent-wise, you'll be looking at a stacked lineup with Nikita Kucherov and Victor Hedman, both of which are top 10 skaters in the game with 92 OVRs. They also have Steven Stamkos (90 OVR) and Brayden Point (89 OVR), along with some great role players. The best part is that all of these skaters are on long-term contracts, so your core will be set for a while.
The challenge with Tampa Bay Lightning may be to achieve long-term sustained success since Stamkos, Hedman, McDonagh, and Hedman are all in their 30s.
Edmonton Oilers
The Oilers are a team with arguably the best young core in the NHL. Connor McDavid and Leon Draisaitl are both top 5 skaters in the game. McDavid has a 95 OVR, while Draisaitl is at 93. They're also both on long-term contracts, and having Draisaitl for $8.5 million a year is a bargain.
Darnell Nurse and Ryan Nugent-Hopkins are both in their prime, also on long-term contracts.
The RW spot will be something you'll need to look at if you want to build a superteam and win a title early on. Right now, you have Kailer Yamamoto on a one-year contract. He's still relatively young, so you can bet on him or Jesse Puljujarvi to develop into game-changers. Otherwise, you'll probably want to move some of your current RWs and assets to get a better name.
Toronto Maple Leafs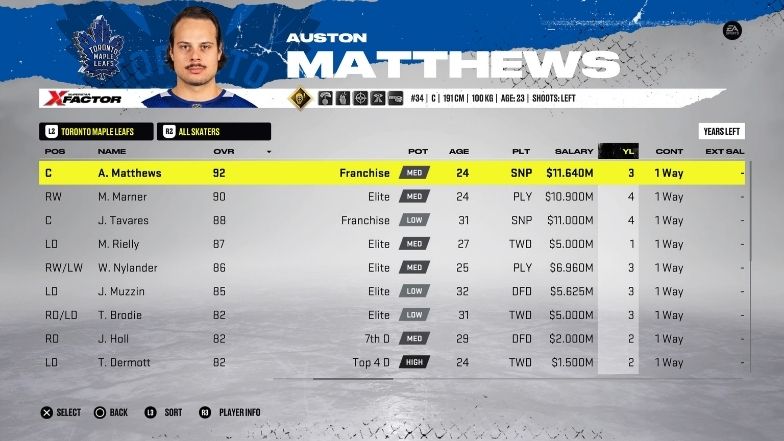 After a great start to the 2020/21 season, the Maple Leafs had an underwhelming playoff run, losing to the Canadiens in seven games. If you decide to manage them in NHL 22 Career Mode, it will be on you to break the curse – this was their fourth consecutive year being eliminated in a winner-take-all game.
To do this, you will have the support of one of the most talented young skaters in the league and the current holder of the Rocket Richard Trophy – Auston Matthews. This year, he has a 92 OVR, two more than his teammate Mitchell Marner. Together, they are arguably the best one-two offensive punch in the league.
Apart from these two, the Maple Leafs are slim when it comes to young talent. You will have some good pieces and role players around them, though, along with John Tavares on a massive contract.
Vancouver Canucks
Talking about exciting young cores, the Canucks have several prospects that have serious potential.
Elias Petterson, Quinn Hughes, and Brock Boeser are the main talents to keep an eye on. They're all on solid contracts and, more importantly, under 24 years old. The roster is filled with valuable skaters, and it's a pretty deep squad.
Other young talents like Nils Höglander and Olli Juolevi will also be fun to watch develop. Overall, the Canucks are one of the best young teams in NHL 22 Career Mode.
Ottawa Senators
If you're looking for a team stacked with truly young prospects (22 and under), Ottawa Senators are arguably your best choice.
In addition to Thomas Chabot and Brady Tkachuk – whose contract situation is still under question – the Senators have lots of potential. The talent to keep track of here is Tim Stützle (19), Josh Norris (22), and Drake Batherson, who signed a 6-year contract in September 2021.
Another great thing about the Senators is the fact that they're at the top of the league in salary cap, with over $20 million in free space. That's a lot of flexibility to make some big moves!
Buffalo Sabres
The Buffalo Sabres are (no pun intended) walking on thin ice in 2021/22, after tying the NHL record for the longest playoff drought last season with ten consecutive years missed. Add the Jack Eichel (91 OVR) situation into the mix, and it's clear that doing anything significant with this team will be a challenge.
Regardless, it's always fun to play with a team that drafted the first pick. For the 2021/22 season, the Sabres drafted the talented defenceman Owen Power and seeing what he can do will be exciting. Rasmus Dahlin is also one of the best young prospects in the game, so you won't be building entirely from scratch.
The Sabres are also no.2 in projected cap space for this season, so you'll be able to strengthen your squad early on.
Custom Team
Even though the league has been expanded to 32 teams with the Seattle Kraken, you can still elect to play a 33-team league with another expansion team you can control.
As always, this is one of the most interesting ways to play since you can create an entire team from scratch and get some interesting players through the NHL Expansion Draft. You can select one player from each team and create a unique roster, in addition to a new logo, arena, name, and everything else that comes with creating a custom team.
We fully recommend this mode if you want to have an immersive experience and create NHL history!
Final Word
The best teams to Manage in NHL 22 Franchise Mode will be the ones with lots of assets. This means lots of young players, a superstar or two, good (movable) contracts, and some cap space.
Ottawa Senators and Vancouver Canucks would be my personal choices due to their young cores and solid rosters all around. If you're up for a challenge, starting with the new Seattle Kraken or the struggling Buffalo Sabres. The road ahead might not be as easy, but that just makes success more rewarding!