Drafting, signing, and developing young players is one of the most rewarding things you can do in NHL Franchise Mode.
If you manage to sign a young player with a lot of potential, you can get some of his best years and make them an integral part of the squad for several title runs. That's exactly why young, high-potential players can be hard to get through trades – their teams might require you to give up a valuable asset or two.
If you choose the right players, it will all be worth it.
So, read on and discover the best young players to sign in NHL 22 Franchise Mode.
The Best Young Defenders
RD Jamie Drysdale, 19
With two years remaining on his contract with the Anaheim Ducks, Jamie Drysdale is one of the most interesting young defenders in NHL 22.
He has an 80 OVR but he's only 19 years old so you have lots of time to see him develop. His potential is Elite Med which means he has a realistic chance of being one of the top players at his position in a few years.
Drysdale's current ratings are encouraging. He has 88 Slap Shot Power and 87 Wrist Shot Power to go along with his Offensive Defenseman player type. His Skating skills are very promising – he has an 89 rating in Speed, Acceleration, and Agility.
RD Adam Boqvist, 21
Another Elite Med defender, Adam Boqvist (82) is even quicker than Jamie Drysdale. He has a 90 rating in the same three attributes – Speed, Acceleration, and Agility.
However, Boqvist might lack physicality if you like to play a particularly aggressive style of defense. His Body Checking and Aggressiveness are both at 80 so stopping attackers in their tracks won't be as easy. He also has the Offensive Defenseman player type which is reflected in his Deking (89), Offensive Awareness (88), and Slap Shot Power (87).
You'll find Adam Boqvist in the Columbus Blue Jackets, currently in his last contract year.
LD Bowen Byram, 20
Unlike our previous two entries, Byram is a 2 Way Defender player type which makes him more skilled on defense but also less of a threat on offense. He has a 79 OVR and Elite Med potential.
Byram is not incredibly quick (87 Acceleration, Speed, and Agility) but he has significantly better Balance (87) and Endurance (85) than Boqvist and Drysdale. His physical presence is also more dominating, with 86 Strength and 85 Aggressiveness. He has solid Shot Power (88 SSP and WSP) but he's not as accurate as more offensively-oriented defensemen.
At the moment, he's in year 2/3 of his contract with the Colorado Avalanche, earning just below $1 million per season.
RD Noah Dobson, 21
Not all players need to have Elite potential to be considered worthwhile talents.
Noah Dobson is an 82 OVR defender with Top 4 D potential and some impressive Physical and Defense stats. He has 87 Body Checking, 87 Strength, and 88 Stick Checking. He's definitely a more defensive-minded player.
His offensive attributes aren't that great but can be improved to the point that they don't create massive holes in his game. His Slap Shot Accuracy (79) and Acceleration (86) are good indicators of his lack of offensive play.
After being drafted 12th by the NY Islanders in 2018, Dobson is now in his last contract year.
The Best Young Attackers
C/LW Tim Stützle, 19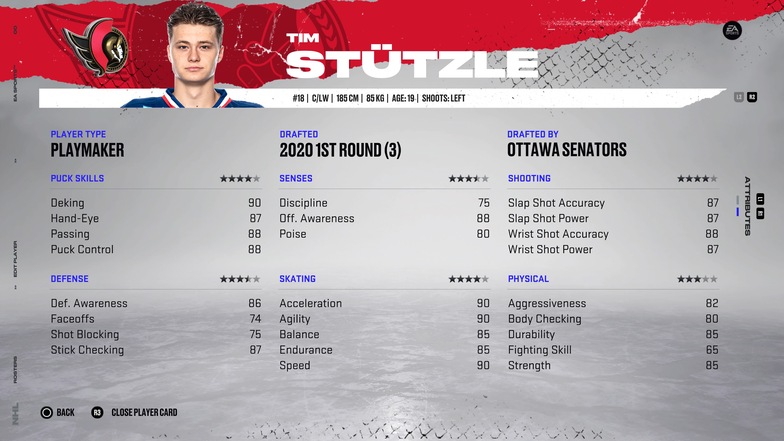 Stützle is at the same time one of the highest-rated and youngest players on this list – this should tell you a lot about his current skill and potential.
He has an 84 OVR and, perhaps surprisingly, only an Elite Med potential. Still, with Stützle, you get an incredibly mobile player with great puck skills. His Acceleration, Agility, Speed, and Deking are all at 90. He also has pretty good shooting skills and he's quite solid on defense with 86 Def. Awareness and 87 Stick Checking.
Stützle is one of the main reasons why the Ottawa Senators are one of the best teams to manage in HNL 22 Franchise Mode.
LW/RW Filip Zadina, 21
An 82 OVR winger, Filip Zadina isn't as mobile or skilled on offense as Tim Stützle but his great Shooting attributes put him among the best young shooters in the game.
He has the Sniper player type – something you always like to see among your forwards. His Acceleration and Speed (both 90) are just enough to make him fun to play and, combined with his shooting, can make him into a real offensive asset.
Zadina has an Elite Med potential and he's currently playing in the last year of his entry-level contract with the Detroit Red Wings.
C/RW Kirby Dach, 20
The third pick in the 2019 draft, Kirby Dach missed much of the pandemic-shortened 2020/21 season for the Chicago Blackhawks due to a wrist injury.
In NHL 22, he has an 83 OVR which is pretty solid, but his potential is Top 6 F. Although it's possible for players to switch Potential tiers, this might be a knock against him, especially when compared to other players on this list. Still, you need solid young players in your 2nd/3rd lines and Dach fits the bill perfectly.
He has the Playmaker player type, which means his Puck Skills are top-noth: Deking, Hand-Eye, Passing, and Puck Control are all at 87. Add to this a great Shooting profile (88 SSP, 87 WSP), and you get a great all-around offensive playmaker.
C Jack Hughes, 20
The only player on this with Elite High potential, Hughes is lightning fast (92 Acceleration, 92 Agility, 90 Speed) and has great puck skills.
The 2019 first pick also has his Shooting skills in the high 80s so he's a well-rounded offensive weapon that will make a big difference in your team early on. He really has no weak spots – he's solid defensively and relatively strong for his build (180 cm).
If you're looking for a young player that can be the future of your franchise and become one of your leaders, Jack Hughes is one of the best options out there.
RW Cole Caufield, 20
Caufield is my personal favorite on this list for one simple reason – he's a Sniper with great speed and puck skills. In other words, he's an incredible offensive asset with all the skills you can ask for from a winger.
His Acceleration (92), Speed (91), and Agility (92) make him fun to play and hard to stop, along with his 93 Deking. His shooting skills are also among the best on this list – he actually has the highest Slap Shot Power with 89.
The only knock against Caufield are his defensive skills. His Def. Awareness, Shot Blocking, and Stick Checking are among the worst of all the players on this list so he'll be a defensive liability.
Final Word
You can find the best young players to sign in NHL 22 Franchise Mode on your own by navigating to Rosters –> Edit Player and going through each team to find players with high potential.
However, even more important than Potential are specific attributes related to their position. For offensive players, take a close look at their skating, puck skills, and shooting. For your defenders, look at Defense, Physical, Skating, and Shooting.
The best young players will show clear advantages in certain categories and their Potential will usually reflect this.