Free agency is a big part of the NHL – it's when a lot of teams decide to make big moves and hunt down the biggest talent to improve their squads.
More importantly, if you've been stuck on a team you don't like, you've probably noticed how hard it is to get traded in NHL 22 Be a Pro. Until your entry-level contract expires, you'll be pretty much stuck on the team that drafted you, unless you increase your Persuasion. Even then, getting traded comes with too many risks (you might get rejected and your Likeability might decrease drastically), so waiting for free agency can be the best move.
Here is what happens when you're a free agent in NHL 22 Be a Pro.
When Will You Become a Free Agent in NHL 22 Be a Pro?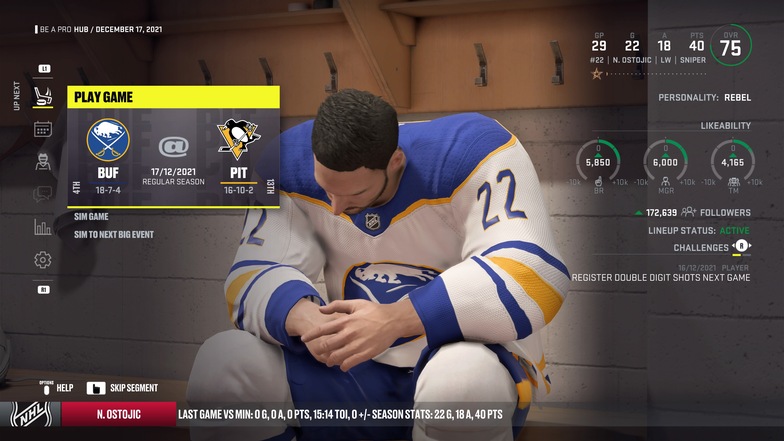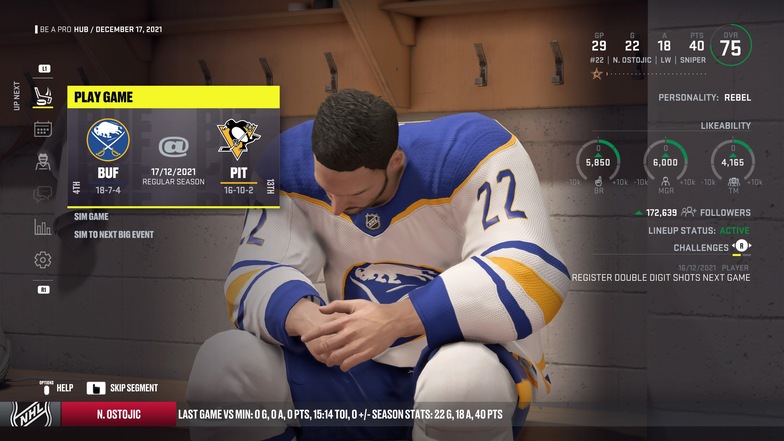 If you were the number one draft pick in NHL 22 Be a Pro, you landed on the Buffalo Sabres.
Personally, I had a great experience with the team and formed a strong relationship with Jack Eichel up front. Of course, a lot of players might be looking for a change of scenery or simply want to play on one of their favorite teams.
By default, you'll be signing a 3-year entry-level contract with the Sabres, after which you'll be a free agent. So, you'll be playing for three years – make the most out of this period and be patient. You can try and simulate heavily through a season or two, although I wouldn't recommend going too hard with simulation. It will be detrimental to your progress since you won't have the in-game XP which is the biggest source of progress points in the game.
What Happens When You're a Free Agent?
Unfortunately, EA still hasn't improved the free agency in the NHL series even in the 2022 installment.
Once your 3-year ELC expires, you'll receive a two offers. No conversation with your GM, coach, teammates, or even agent (the latter would make a lot of sense). All you can do is view these offers on your home screen and decide which one you're going to accept.
One offer will be from your current team (in this case, the Sabres), while the other one will be from a suitor. There really isn't much more to free agency in NHL 22, which is a shame. You can decide to stay with your first team or switch.
What Kinds of Contract Offers can You Get?
In my case, both offers were 2-year contracts, on a salary close to $2.5 million per year. The suitor team, Chicago Blackhawks offered me a little better salary but I wasn't that interested in joining them anyway.
One thing I noticed is that your position or playing style might not play such an important role as one might expect. For example, I play as LW but the Chicago Blackhawks already have 13 left wingers, 5 more than my current team.
There is a case to be made that, the better you play, the better offers you'll get. Since I simmed my entire 3rd season to speed things up, that may be the main reason why I only received one offer from a 36-37-2 team. Still, I won the Calder Memorial Trophy in my first year, led the league in scoring in second, and became the team captain in my final contract year.
Final Word
So, that's what happens when you're a free agent in NHL 22 Be a Pro.
Overall, it feels like the experience needs a little improvement, especially given how many aspects of your career you can control. You will chat with your teammates, the media, and the coach around 50 times each season, always completing challenges and earning Likeability. You will buy cars, houses, and expensive watches – but the entire free agency experience is reduced to a single screen where you can accept or reject a few offers.
In any case, make sure you play as much as you can during your first two seasons if you want to land on a good team. While it's not clear if this will help, you can't really choose the team you want to go to, so you better become a valuable asset before free agency.