The Advanced SBC is the second Squad Building Challenge (SBC) in the League & Nation Hybrid section of challenges in FIFA 23. It is the follow-up to The Challenger SBC.
For completing Advanced, you'll receive an untradeable Mega Pack, which has a coin value of 35,000 and gives you 30 gold items, 12 of which are rare.
Here is a working Advanced SBC solution for FIFA 23, along with an explanation of how to complete it in case you need to shop for cheaper alternatives.
Requirements
Exactly 3 leagues in squad
Exactly 4 nationalities in squad
Maximum of 5 players from the same league
Maximum of 6 players from the same nation
Minimum team rating of 79
Minimum of 29 squad chemistry points
The key to this puzzle seems fairly obvious straight away, right?
We'll need to load up our squad with players that play in the same league and have the same nationality – but do this no more than 5 times for each league.
The only thing that makes this slightly tricky is that whilst it may appear that we can comfortably reach the chemistry goal by selecting something like 5 Spanish players from La Liga, 4 German players from the Bundesliga, 1 Bundesliga player of another nationality, and a final random player, this is not the case.
In order to meet the chemistry requirement, we'll need to have something similar to:
4 Spanish players from La Liga, 4 German players from the Bundesliga, 1 non-Spanish La Liga player that plays for the same club as one of our other La Liga players, 1 player of this same nationality that plays in the Bundesliga, another player of this same nationality that plays in a league we haven't already used, and then 1 non-German Bundesliga striker.
You can swap out the countries and leagues however you see fit and these are just example leagues and nationalities.
Also keep in mind that all players should be gold at a minimum as we need to hit a 79 team rating.
Solution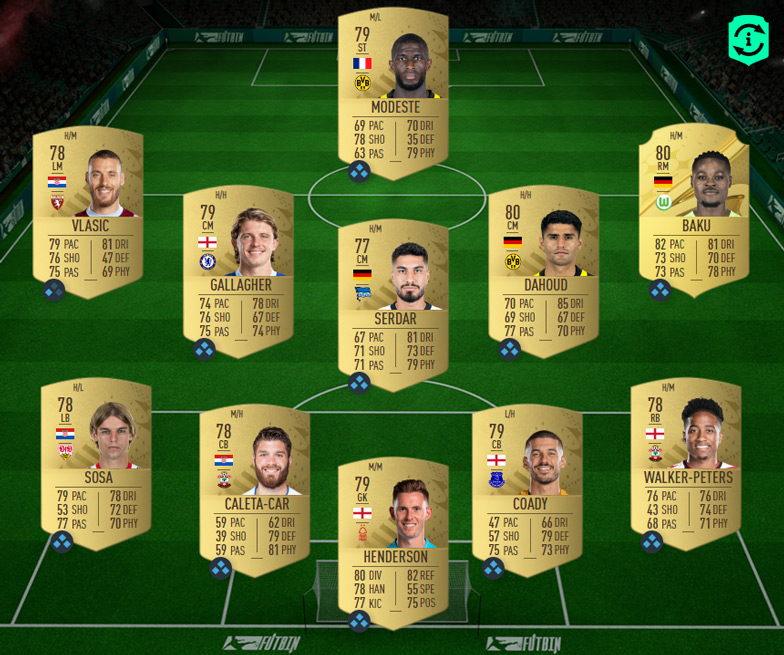 GK: Dean Henderson (Nottingham Forest)
RB: Kyle Walker-Peters (Southampton)
CB: Conor Coady (Everton)
CB: Duje Caleta-Car (Southampton)
LB: Borna Sosa (Stuttgart)
RM: Ridle Baku (Wolfsburg)
CM: Mahmoud Dahood (Dortmund)
CM: Suat Serdar (Hertha Berlin)
CM: Conor Gallagher (Chelsea)
LM: Nikola Vlasic (Torino)
ST: Anthony Modeste (Dortmund)
The trickiest part of this challenge is probably finding your 3 players that all have the same nationality but play within different leagues and don't clash with the other chemistry requirements.
Obviously that isn't that hard in isolation, but the small level of complexity comes when you're trying to complete the Advanced SBC in FIFA 23 as cheaply as possible.
Because we need the players to have an average rating of 79, we need our 2 matching players to be quite good, common golds – and ones that haven't had their prices driven up by SBC traders.
Fortunately, with the new chemistry system, you can utilize these players in any position on the pitch – as long as it fits the formation.
In the Advanced SBC solution that I went with, I matched the Premier League's Caleta-Car with Serie A's Vlasic and the Bundesliga's Sosa.
Alternative Solutions
There are quite a few ways you can vary the completion of this challenge up.
The most obvious way is to swap out the Bundesliga players for La Liga players or Ligue 1 players.
These are the best leagues to utilize because all the clubs within them boast lots of common gold players – so they should be cheap.
Up next, it's time to use my FIFA 23 Fiendish SBC solution.