Fiendish is the third Squad Building Challenge (SBC) in the League And Nation Hybrid section of advanced challenges in FIFA 23. It is the follow-up to the Advanced SBC.
For completing Fiendish, you'll receive an untradeable Prime Gold Players Pack, which has a coin value of 45,000 and gives you 12 gold players, 6 of which are rare.
Here is a working Fiendish SBC solution for FIFA 23, along with an explanation of how to complete it and alternative players to look for.
Requirements
Exactly 4 leagues in squad
Exactly 5 nationalities in squad
Maximum of 4 players from the same league
Maximum of 3 players from the same nation
A minimum team rating of 80
Minimum squad chemistry of 25
This immediately seems like quite a tricky challenge once you see the requirements. Most of the complexity comes in the level of chemistry needed.
To complete the Fiendish SBC, we'll need to make use of players from the same clubs where we can and we'll need to intelligently use nationalities across different leagues to ensure that no-one is left with 0 chemistry.
The minimum team rating of 80 means that we'll likely have to spend at least 7,000 coins on this one, unless you're completing it way after the game's initial release.
Solution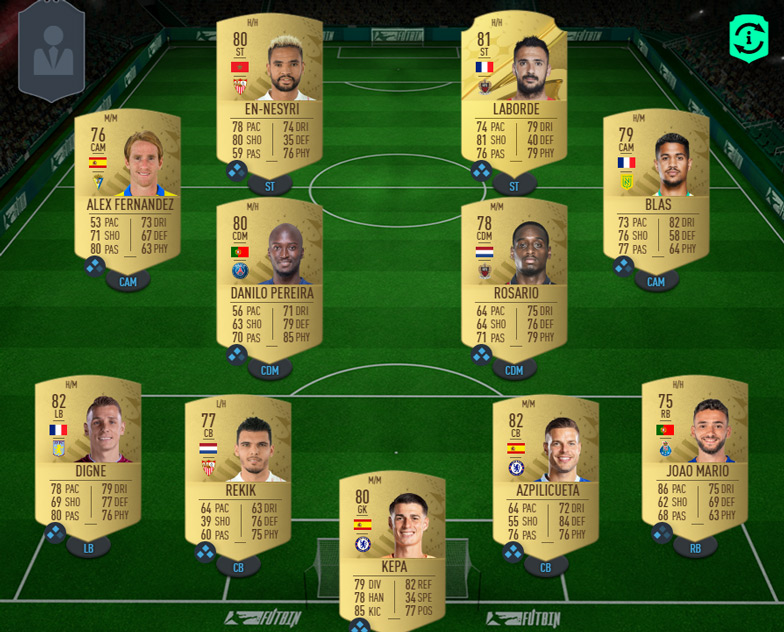 GK: Kepa Arrizabalaga (Chelsea)
RB: Joao Mario (Porto)
CB: Cesar Azpilicueta (Chelsea)
CB: Karim Rekik (Sevilla)
LB: Lucas Digne (Aston Villa)
CDM: Pablo Rosario (Nice)
CDM: Danilo Pereira (PSG)
CAM: Ludovic Blas (Nantes)
CAM: Alex Fernandez (Cadiz)
ST: Gaetan Laborde (Nice)
ST: Youssef En-Nesyri (Sevilla)
This is quite a complicated challenge.
Within it, I've used 4 Ligue 1 players, 3 Premier League players, 3 La Liga players and 1 Liga NOS player. However, that's just the start.
The nationalities of the players across the leagues also match up for quite a few of them.
For example, 2 of my Spanish Premier League players link with my Spanish La Liga player. My Dutch La Liga player links with a Dutch Ligue 1 player. My French Premier League player links with a couple of French Ligue 1 players. My Portuguese Liga NOS player links with a Portguese Ligue 1 player. Needless to say, this is quite a complex web of chemistry.
Copying it might be your best bet, but there are other ways you can complete this.
Alternative Solutions
If the Fiendish SBC solution above gets too expensive for any reason, there are alternative ways to complete this – but they'll all require some thought and planning.
Remember that you can only use 5 nationalities and 4 leagues in this squad. Therefore, you want to select some leading nations that have players in a few major leagues; Spanish and French players are great for this.
Brazilian players are also a good option as you have quite a few highly-rated common gold players spread across the Premier League, La Liga, Serie A and La Liga.
After completing this, it's time to move on to the big one: my FIFA 23 Puzzle Master SBC solution.