Give Me Five is the first advanced SBC in FIFA 23, and is found under the 'advanced' section of Squad Building Challenges.
For completing Give Me Five, you'll receive an untradeable Premium Gold Players Pack, which has a coin value of 25,000 and gives you 12 gold players, 3 of which are rare.
Here is a working Give Me Five SBC solution for FIFA 23, along with an explanation of how to complete it so you know how to work in some of your untradeable players too, if needed.
Requirements
Exactly 5 leagues in squad
Maximum of 4 players from the same league
Maximum of 4 players from the same club
Minimum 6 rare players
Minimum team rating of 69
Minimum 15 squad chemistry
This squad should be fairly easy to complete thanks to the low team rating requirement.
The most simple way to complete Give Me Five in FIFA 23 is to buy 4 players from the same club. This will net you 12 chemistry and will make it very easy to achieve the remaining chemistry requirements.
The only other thing you really need to pay attention to is the 'exactly 5 leagues in squad' rule.
If you sign 4 players from the same club, this means you need 7 players across 4 other leagues. You can break this down however you wish, but it could be done by signing 4 players from a second league and 1 player from 3 other leagues.
If you use 3-4 common gold players in this solution, you can fill the remaining squad with rare bronze players to keep it nice and cheap.
Solution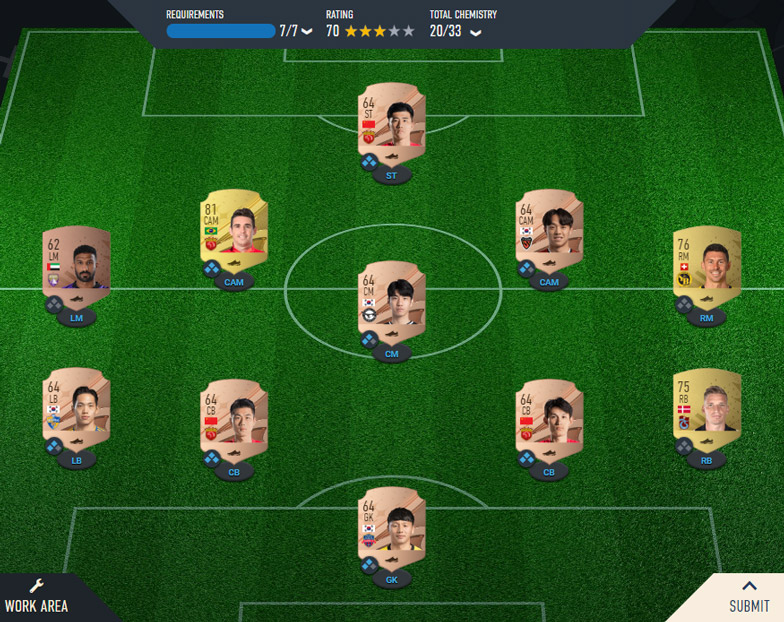 GK: Yoo Hyun (Suwon FC)
RB: Jens Larsen (Trabzonspor)
CB: Wei Zhen (Shanghai Port)
CB: Wang Shenchao (Shanghai Port)
LB: Lee Myung Jae (Ulsan Hyundai)
CM: Kim Min Hyeok (Seongnam FC)
CAM: Oscar (Shanghai Port)
CAM: Goh Young Jun (Pohang Steelers)
RM: Christian Fassnacht (BSC Young Boys)
LM: Sultan Al Shamsi (Al Ain FC)
ST: Li Shenlong (Shanghai Port)
This solution comfortably meets all of the goals of the challenge.
I already had Oscar as an untradeable player and had no other untradeable players remaining in my club due to completing this in the extreme early game, so that's why I included him in my submission, despite being a rare gold. I would advise not using rare golds if you are purchasing players for this challenge as it's a waste of a minimum of 350 coins.
You can swap Oscar out for any common gold player, as long as the player matches any of the other 5 leagues that you use.
Alternative Solutions
There are lots of different ways that you can complete this SBC and it shouldn't take you much effort at all.
If you'd like to look for an alternative solution – perhaps the players above have increased in cost (they were all purchased for their minimum prices) – this is the best advice I can give you:
Apply your search filter to look for rare bronze players throughout smaller leagues. Pick any smaller league with plenty of teams in, it really doesn't matter too much.
Then, sign 4 players from the same club within that league. It's important to look at positions of the players at this stage – don't waste money on players that don't fit the formation, e.g. wing backs or wingers.
Repeat this process for another small league, but this time sign 3 bronze players, and don't focus on a single team. Signing players from various teams within the same league is fine for this part. Only 2 of these need to be rare, but you'll be spending 150 coins regardless of if they're rare or common.
Once you have 7 players, sign one more bronze player from a random league.
Then, purchase 3 common gold players from 3 different leagues and the challenge will be complete. These 3 players don't even need to be in the correct positions so don't overspend on them.
Once you've finished here, it's time to move on to my FIFA 23 Seven-League Boots SBC solution.