First XI is the final Squad Building Challenge (SBC) in the Hybrid Leagues section of FIFA 23's advanced challenges.
For completing First XI, you'll receive an untradeable Rare Players Pack, which has a coin value of 50,000 and gives you 12 rare gold players.
You've hopefully just completed The Whole Nine Yards SBC to get to this point, but that isn't essential so don't worry if you haven't.
Here is a working First XI SBC solution for FIFA 23, along with a guide on how to complete it so that you can shop around for cheaper players if needed.
Requirements
Exactly 11 leagues in squad
All players must be gold
A minimum of 7 players must be rare
A minimum of 2 chemistry points on every player
A minimum of 27 total squad chemistry
With these squad requirements, it's clear that this is going to be the most expensive of all the starting SBCs in FIFA 23.
As all 11 players must be from different leagues and they must all have a minimum of 2 chemistry, it means we're going to need to rely on players from one nation.
Unfortunately, there aren't many nations that can boast gold-rated players across 11+ leagues around the world.
Within the small number of nations that we can use, none are suitable for completing the SBC without using a minimum of 3 position modifier cards (if you want to keep it affordable).
Solution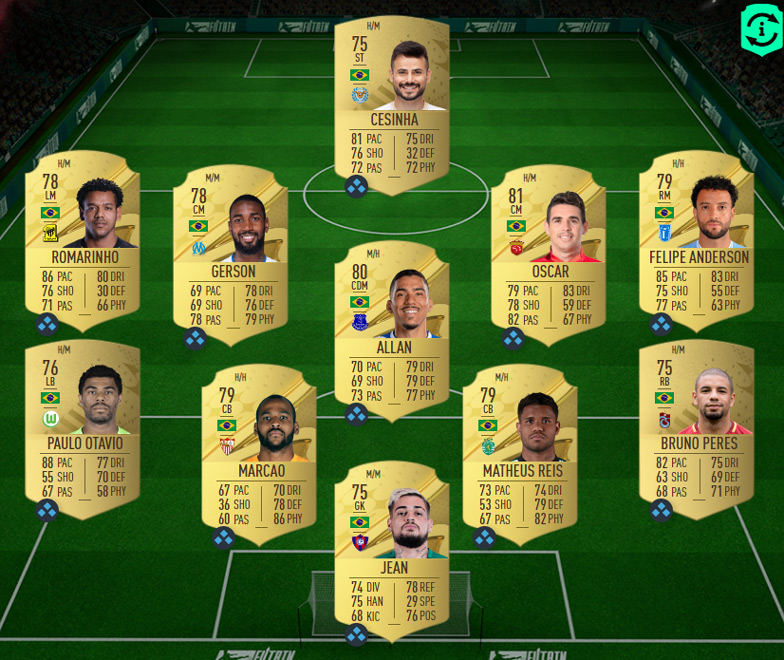 GK: Jean (Cerro Porteno)
RB: Bruno Peres (Trabzonspor)
CB: Matheus Reis (Sporting)
CB: Marcao (Sevilla)
LB: Paulo Otavio (Wolfsburg)
CDM: Allan (Everton)
CM: Gerson (OM)
CM: Oscar (Shanghai SIPG) – position modifier needed
RM: Felipe Anderson (Lazio) – position modifier needed
LM: Romarinho (Al Ittihad) – position modifier needed
ST: Cesinha (Daegu FC) – position modifier needed
As you can see, a number of position modifier consumables are needed for this one.
This is what can drive up the price – even if you get the players for cheap, you're going to have to spend a few thousand coins on changing player positions.
Alternative Solutions
There are small variations of players within the nation of Brazil that can be used if you look at the players within popular leagues.
If you want to look to other nations, you're heavily limited to Argentina and France.
This is a challenge that you're likely going to have to reluctantly fork out 20,000+ coins on.
Be strict on purchases to ensure you keep it as cheap as possible, but remember that the reward is a prize worth 50,000 coins – though you certainly shouldn't be spending anywhere near that on this challenge as the reward is untradeable.
It can also unlock an additional Jumbo Rare Players Pack, which costs 100,000 coins and has 24 rare players in, assuming that this is the final Hybrid Leagues SBC in your set to submit.
Up next, if you haven't already done so, you can move on to my FIFA 23 The Final Four SBC solution.