The Whole Nine Yards is the third Squad Building Challenge (SBC) in the Hybrid Leagues section of FIFA 23's advanced FUT challenges.
For completing The Whole Nine Yards, you'll receive an untradeable Prime Gold Players Pack, which has a coin value of 45,000 and gives you 12 gold players, half of which are rare.
To get to this point, you've hopefully already completed the Give Me Five SBC and the Seven-League Boots SBC.
Here is a working The Whole Nine Yards SBC solution for FIFA 23, along with the secrets to figuring this one out to make it cheaper for yourself.
Requirements
Exactly 9 leagues in squad
Maximum of 2 players from the same league
Maximum of 2 players from the same club
Minimum of 6 rare players
Minimum team rating of 80
Minimum squad chemistry of 21
For this one, it's clear that it will be a little bit more expensive than some of the previous challenges. With a team rating requirement of 80 and 6 rare players needed, it's likely that you'll need to purchase several 81-83 rated golds.
The way to take advantage of the chemistry system with this challenge is to make use of the fact we're allowed to use 2 players from the same team, twice.
We can also use lots of players from the same nationality; French players are pretty good for this because they're spread across lots of leagues but have a good number of mid-to-high rated golds.
If you include 8 players of the same nationality in this one, with a couple from the same league or even team as each other, you can put any cheaper rare golds in the remaining 3 positions – assuming they're high enough rated to hit the 80 team rating requirement. You don't need any chemistry from these 3 players.
Solution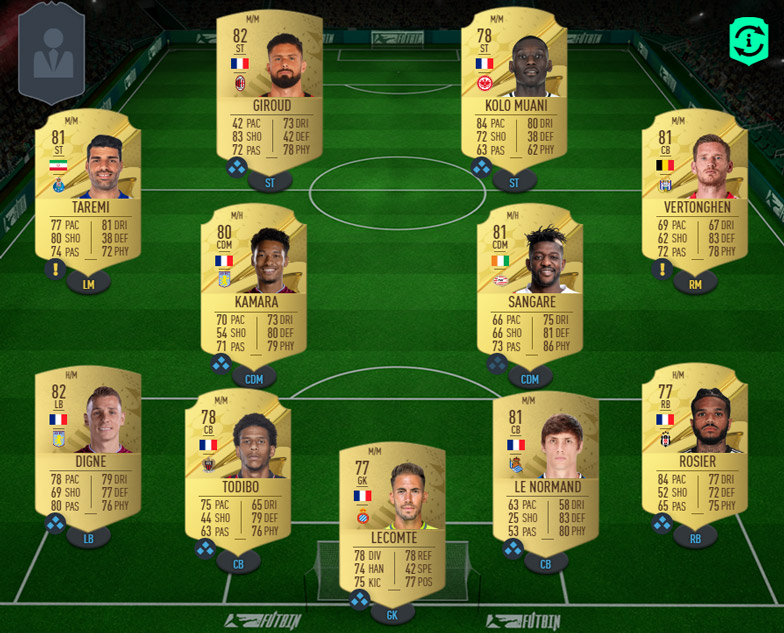 GK: Benjamin Lecomte (Espanyol)
RB: Valentin Rosier (Besiktas)
CB: Jean-Clair Todibo (Nice)
CB: Robin Le Normand (Real Sociedad)
LB: Lucas Digne (Aston Villa)
CDM: Ibrahim Sangare (PSV) – this can be any rare 80+ from Eredivisie
CDM: Boubacar Kamara (Aston Villa)
RM: Jan Vertonghen (Anderlecht) – this can be any rare 80+ from the Belgian Pro League
LM: Taremi (Porto) – this can be any rare 80+ from LIGA NOS
ST: Kolo Muani (Frankfurt)
ST: Olivier Giroud (Milan)
As you can see, I used a number of off-chem players in this solution for The Whole Nine Yards SBC in FUT 23.
To make it easy for yourself, I've shown you the 3 off-chem players that I used and the leagues that they play in, in case you want to find a different player to use. This might make it cheaper if player prices have been driven up or if you have some untradeable players to utilize.
Please note, if any of these players transfer to a different league during the season, you'll need to make sure you're signing the version of the player listed above. This is to ensure it still complies with the 'exactly 9 league' restriction.
Now that this is completed, it's time to move on to my FIFA 23 First XI SBC solution.