The Final Four is the first Squad Building Challenge (SBC) in the Hybrid Nations section of advanced challenges in FIFA 23.
For completing The Final Four, you'll receive an untradeable Mixed Players Pack, which includes 4 gold players, 4 silver players and 4 bronze players, with 1 player being rare.
Here is a working Final Four SBC solution for FIFA 23, along with an explanation of how to complete it so you can look for alternative players to use to make it even cheaper.
Requirements
Exactly 4 nationalities in squad
Max of 4 players from the same nation
Max of 4 players from the same club
Min 4 rare players
Min team rating of 70
Min 15 total chemistry points
This will be an easy one to complete. We need to look to leagues that have lots of different nationalities playing in them, with a large number of specific nationalities within that league.
Because we need exactly 4 nationalities in the squad but we have restrictions on including a maximum of 4 players from the same club and the same nation, a simple solution would be to include something like; 4 players from one nation within the same league, 4 players from another nation within the same league, 2 rare players from one nation from any league, 1 player from a fourth and final nationality from any league.
The league of the final player will not matter; try to use a cheap or untradeable rare player for this as the chemistry points will not be needed. The same is true for 1-2 of the other players within the squad, as long as you still abide by the nationality restrictions.
A simple example here would the Premier League, that have lots of English, French and Brazilian players, amongst many others.
Solution
GK: Dean Henderson (Nottingham Forest)
CB: Tyrone Mings (Aston Villa)
CB: Michael Keane (Everton)
CB: Lewis Dunk (Brighton)
CM: Joelinton (Newcastle)
CM: Arthur (Liverpool)
RM: Any rare player from a third nationality
CAM: Philippe Coutinho (Aston Villa)
LM: Any rare player from a fourth nationality
ST: Vinicius (Fulham)
ST: Any rare player from the same nationality as third or fourth
I've intentionally left a few slots blank in this solution because I want you to think about using your untradeable players if you have them, and I also don't want to drive up the prices of rare players by repeatedly including them in these solutions – I'm here to help, not profit on the market.
As my solution only currently includes one rare player, you'll need to fill out the other slots with literally any other rare players, as long as two are from one nation and the other is from a unique nation.
The positions of the blank players do not need to be correct, you already have enough chemistry within The Final Four SBC solution that I shared, so all you need to worry about are the nations.
If you're struggling to think, you could include two French rare players and a Spanish, or two German rare players and a Belgian. The list is huge for how you can go about this, honestly, especially as the players don't need to be gold, they just need to be rare.
Alternative Solutions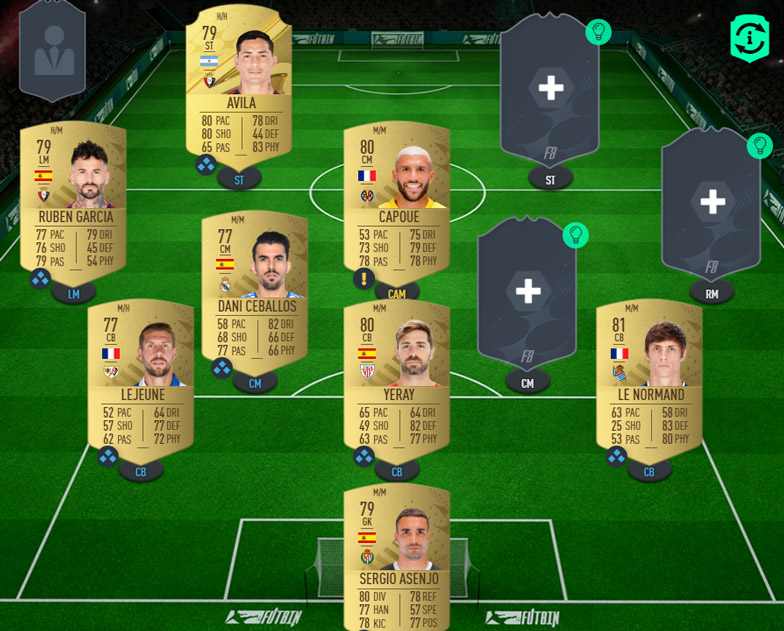 As you can see, this is a really easy SBC to complete.
The alternative squad above is completely different to the first example, focusing on using Spanish and French players from La Liga. I even threw Capoue in the wrong position just to highlight that you really don't need much to get the necessary chemistry requirements here.
Just the same as the first example, put any rare players into the blank spaces, ideally low-rated untradeables that you have – you can use bronze or silver rares and still meet the requirements.
Now that this one is ticked off, it's time to move onto the FIFA 23 Six of the Best SBC solution.