In today's short guide, we will show you how to complete the marker at Great Oak Beacon in Grounded. It's surprisingly simple to complete and doesn't take a whole lot of time so you can easily get back to building your base and fighting all of the bugs in Grounded.
Grounded Great Oak Beacon Location
The Great Oak Beacon is positioned on the north side of the garden, in very close proximity to the large oak tree and just east of the Abandoned Ant Hill. In order to get to the exact location of this quest, you must find a small broken-down log that connects to the house in the air, and walk all the way up the log. If you fail to locate it, simply look at the image provided above which is the exact place you need to go.
Note: When climbing up, note that the log is very thin and that you don't fall off by mistake and break a leg or two. It is also worth mentioning that you should try and avoid fighting any bugs as you are about to go and complete the mission. In that case, it will be much difficult for you to balance yourself on the platform and fight them without getting killed either from them or fall damage.
Completing the Great Oak Beacon Quest
Once you have reached the right location and have found your way up, as you stand on the log facing the little house, on the bottom left side of the platform, you will see a hammer icon and a transparent blue sign pinned on the floor.
Walk up to it and interact. However, before you can do that, you will need to bring with you a total of 5 items. Those are:
x2 Sprig
x2 Plant Fiber
x1 Clover Leaf
If you don't have the necessary items, don't worry. Sprig is a small, player-sized green plant that can be found growing on the ground in green grass areas. No tools are required for gathering it. Plant Fiber can be found pretty much all over the map. It is a tiny green plant, and can also be found when chopping down grass. Finally, Clover Leaf can be found from the top of a clover.
Do make sure you learn how to heal in case you get attacked by a nearby bug. You definitely don't want to get taken down while on a mission to complete the Great Oak Beacon quest.
What Do You Get Out of the Great Oak Beacon Quest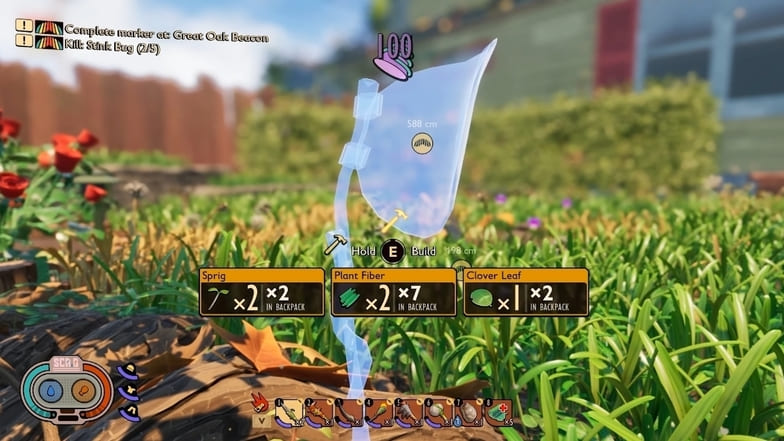 The main advantage of doing daily missions from the great robot BURG.L is that from each mission that you complete, you will be rewarded a certain amount of Raw Science points. They are essentially the currency in Grounded that is used for unlocking new crafting recipes and a range of progression-related features. So, make sure you pay the friendly robot a visit on a daily basis as it will serve you with daily missions until there is a new story update and complete your set of daily objectives.
Furthermore, beyond getting the vital Raw Science, you will get the chance to uncover some new territory within the garden, opening up a whole new level of opportunities and bugs that reside in the area.