To change difficulty level in Minecraft Legends, open up the campaign menu from the main menu and select your current campaign. It will automatically be set to fabled, which is the standard difficulty setting. You can pick from 4 options in the drop-down menu, then start the campaign.
Minecraft Legends is a game that strikes a good balance between being approachable and providing a nice level of challenge. Whether you're a fan of strategy games or brand new to the genre, you're sure to get a kick out of it.
One of the best quality of life features that the game has is the ability to switch difficulty levels whenever you'd like. It's great to be able to adjust your game depending on the situation or how you're feeling.
Here's a quick tutorial on how to change difficulty in Minecraft Legends.
How to Change Your Difficulty Level
To start, you'll need to make sure you're on the title screen. It's not possible to change your difficulty while playing through the campaign, so you'll need to do it before you start.
Select the 'campaign' option to begin.
Then, pick your current campaign. If you've got multiple and you're unsure which is which, check the play time at the bottom.
It'll take you to another screen which will show you the game log, whether you're playing alone or with friends, the player access function, and the difficulty setting.
You can also tab across to see if any friends are online.
If you've never altered your difficulty setting in the game before, it will be set to fabled, which is the standard difficulty setting.
Simply pick your desired difficulty setting from the drop-down menu and hit start.
If you change your mind at any point, save and exit your game, then rinse and repeat the steps shown above. There's no limit to how many times you can do this.
How to Pick Which Difficulty Setting To Use
There are four main difficulty settings in Minecraft Legends and if it's your first time playing, it can be hard to know which one you should pick.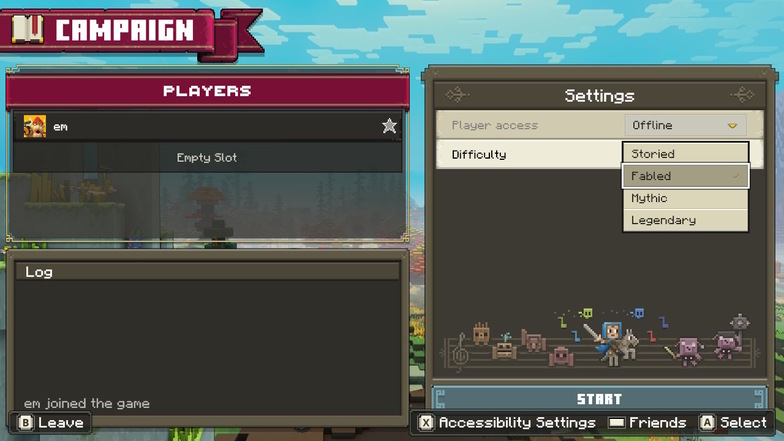 The difficulty settings (and my suggestions for which one to pick) are as follows:
Storied. If you've never played a strategy game before and you're not keen on combat or stressful situations, I'd recommend going for this mode. It's the most laid-back option on the list, and it's still a lot of fun.
Fabled. This is the standard setting. If you've been enjoying the game so far and haven't had any complaints about the difficulty level, I'd recommend sticking with this one. It will still throw some challenges at you, but it's manageable.
Mythic. If you're looking for a challenging yet enjoyable experience and have a few RTS games under your belt, this is the setting for you. It's much more unforgiving than the other two modes, but it still gives you time to figure out the combat mechanics.
Legendary. This mode is for seasoned RTS fans who are looking to really test their skills. Completing the game on Legendary mode is impressive, as it takes the difficulty level to new, dizzying heights.
It's important to note that changing your settings for one saved game does not automatically apply your chosen difficulty setting to other game files. You'll need to do it manually if you have multiple games on the go that you want to alter.
What to Do Next
If you're still looking to improve your experience, make sure to read up on the best beginner tips and strategies for the game. Even if you're a seasoned RTS pro, it doesn't hurt to see what strategies are out there.
Something else that's helped me personally with my playthrough is having a good understanding of the different mobs that exist in the game. Understanding their attack style can make all the difference in a match.