Finding the right point guard for your MyTEAM roster can be the difference between winning or losing key matches. A strong point guard can help you increase the difficulty level on Domination Mode to gain MT faster or take on challenges that would otherwise seem impossible.
Recruiting a top point guard is necessary to progress through the game and help improve your team's offense.
This article will identify the best point guards in NBA 2K23 MyTeam to collect and strengthen your roster.
This list is ranked from easiest to most difficult to get to help you gauge how quickly you can get these cards, and make your perfect starting line-up.
Evolution Starter Ja Morant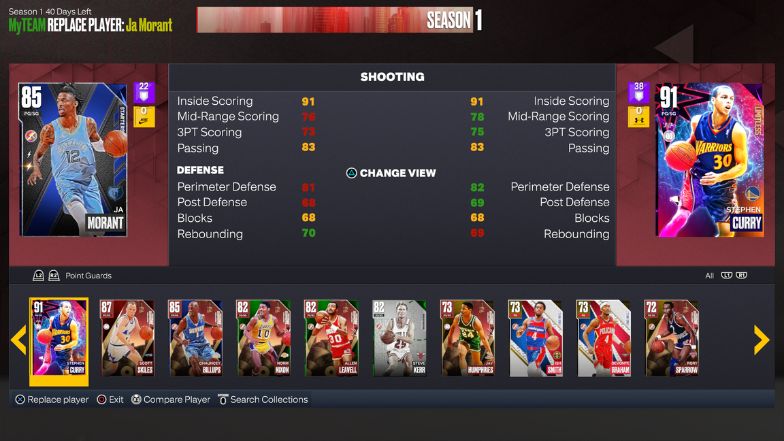 The first point guard on this list is the easiest to get and won't cost you a penny in MT coin.
The Ja Morant evolution starter card is excellent as it is available early in the game and will give you a significant upgrade in the point guard position. Morant is quick up the court and can shoot from deep or get in under the basket. He offers a wide range of offensive options for any team. This card is also an evolution card, so you can continue to upgrade it from level 80 to 88 Overall, making him a valuable card for much longer than other cards on your roster.
To get your hands on the Ja Morant starter card, you simply need to choose it from the three options you are given at the start of your MyTEAM journey. It costs nothing to acquire this card, and it will be the backbone of early iterations of your MyTEAM roster.
Season One Rewards B.J Armstrong
The next option on this list is the Season One rewards B.J Armstrong card. This card is probably not quite as strong as the Limitless Stephen Curry card, but it is a close contender.
He has an excellent close shot (88), mid shot (89), and three-pointer (89), as well as a perfect shot I! (99).
However, his speed across the court makes the Season One B.J Armstrong card so valuable. He has a 90 Speed and Acceleration score and a 95 stamina score, so you can deploy him for plenty of minutes during any game. He also has a 95 ball handle and 90 speed with the ball, so you can execute lots of fast plays with Armstrong on your team.
B.J Armstrong is a tough card to add to your roster, but if you are lucky enough to pull it from Ascension, he is a great player for any roster.
Limitless Stephen Curry
The next option on this list you should consider for your list is the Limitless Stephen Curry card. This card is a fantastic budget option for any roster.
As you would expect with any Stephen Curry card, he has a fantastic three-ball and is also excellent from mid-range, with an impressive 92 Ball Handle.
The Limitless Stephen Curry card also contains every single shooting badge at silver or higher and various play-making badges you can capitalize on.
In-game, the Limitless Stephen Curry card has extremely good shooting functionality, which makes it easy for any player to shoot from distance with precision and accuracy.
There are two ways to get the Limitless Steph Curry card. You can purchase it from the auction house or pull the card in a limitless pack.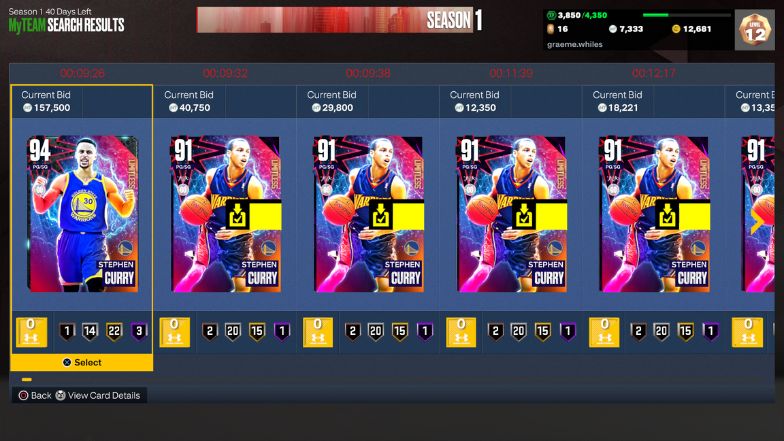 Pink Diamond Limitless Steph Curry
Would a list of point guards be complete without Steph Curry getting included? What about if he was included twice? The Pink Diamond Limitless Steph Curry cards might be one of the most difficult to get your hands on, but if you do, you will quickly realize how incredible this card is.
For starters, he has an impressive 97 three-pointer score, giving you so many scoring options from deep.
He also has 90+ speed, acceleration, mid shot, free throws, and a colossal 98 stamina and hustle. As you can see from the statistics, this is an elite card for any roster.
Pink Diamond Derrick Rose
The final card on this list is probably the hardest to get your hands on, but all that hard work will be worth it when you see Pink Diamond Derrick Rose running your offense on the court.
For starters, the Pink Diamond Derrick Rose card is incredibly fast and will glide past defenders to get to the basket for your team.
He has the Kobe escape in-game functionality and a quick release, making him a serious threat from the three-point line. You only need to create a small space to get a clean shot off and start raining threes on your opponents.
Final Thoughts
Point guard is one of the most important positions on the court and will help dictate how quickly you can work through each level of MyTEAM. Hopefully, the picks in this article help you work your way through each challenge you come up against and give you plenty of flair and variety on the court.