You know when the developers care about the players when they add things to the game that are nice but were never necessary. In the case of Pokémon Legends: Arceus, players have access to a bunch of cosmetic items that they can unlock in-game.
Those items don't change the gameplay, nor do they give you any bonuses, but they do help you express yourself better by customizing your avatar.
That sort of attention to detail and will to please fans of the franchise a bit more is one of the many things that deserve appreciation, and it certainly works to make the game feel bigger, more polished, and even more fun.
Also, I personally love customizing my characters, so if you're anything like me, there's a lot of time to be wasted by looking for the perfect clothes to go out on a grand Pokémon adventure.
If you don't know what I'm talking about, don't worry. I'm about to let you know how to change clothes in Pokémon: Arceus. That way, more people can join me in the quest for the perfect look that matches your favorite pocket monsters.
How to Change Outfits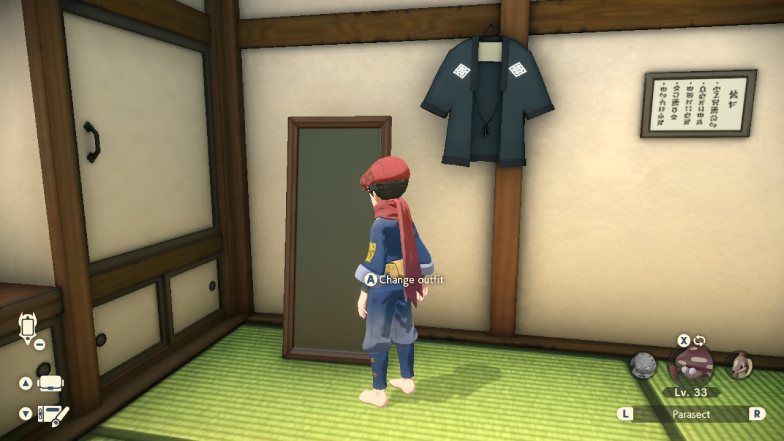 This is pretty easy, and you will end up having to do it early on in the campaign. In order to change your clothes in Pokémon Legends: Arceus, you must be in your room at the Jublife Village. Once there, check the mirror. That's it.
A menu will pop up with all the options that you have available to customize your character's outfit. All pieces of cloth that you find throughout your gameplay will be available here for you to mix and match any way you want. You can even change the color of your character's eye.
How to Change Your Hairstyle
In order to change your haircut and hair color, you can't just go to your mirror. You must find the hairdresser at the Jublife Village. It won't be hard to find it. Just look for the place with a small scissor icon on it.
You can easily find places on the map by hitting the minus button to open the map. From there, check the icons to see where you are and where you should go.
Changing your hair will cost you 500 Pokédollars upfront. Once that's done, you will be given a few options of hairstyle and color to choose from.
How to Get New Clothes
If you want more options, you will have to find Anthe, the clothier. It won't be hard to do it; she is right next to Edith.
Open the map and look for the icon that represents the clothier, then go to where she's standing. She will be near the main exit of the village. Talk to her to open a menu with some options and purchase whatever you want. The clothes you buy here will show in your wardrobe next time you visit the mirror in your room.
On top of buying clothes, talking to Anthe also grants you an option to change clothes. This means you don't have to look for your quarters when you want a different outfit, even though your room is right in front of her shop.
Final Thoughts
When you return to the village, all you will need to change your character's appearance will be right in front of you, so don't go looking around too much. You might lose sight of the places you need to go if you walk around looking for the NPCs you need to find.
Just check your map when you don't know where the shops are. Edith and Anthe are pretty easy to spot since they are always standing on the street. Just look at the shops in front of the Galaxy Hall. If you are doing your best to rank up fast in Pokémon Legends: Arceus, chances are you will be passing by the clothier and the hairdresser frequently.
I genuinely appreciate the addition of different clothes and hairstyles to the Pokémon Legends: Arceus. It does make you feel like this is your own adventure when you get to look the way you want.
Although the options are limited, the fact that you put a bit of your own personality in your avatar's looks is one more thing that helps you feel a bit more immersed in the Hisuian region.
Let's hope this will be the standard in Pokémon games going forward, or at least in those that do not have a fully fleshed character.
Maybe they can also add customization options to the Pokémon you catch at some point. Is it too much wishful thinking? It might be, but I'm happy with what we've got for now.