One of the most important aspects of developing your player in FIFA 22 Career Mode is choosing the right perks.
There are 29 perks in the game, including the goalkeeper perks. Each of these perks boosts a specific set of skills, and combining them will help you create the type of player you want to be. Since there are only so many perk slots available (3, once you reach level 19), this poses a logical question: which perks should you get?
Here are the best perks in FIFA 22 Career Mode for each part of the field.
Best Perks for Forwards and Wingers
When you're playing as a forward, focusing on your movement, strength, and various aspects of finishing is a must. Most wingers will have similar priorities, only they will be more interested in speed and crossing but less interested in strength and pure finishing.
Forwards will definitely want to take a look at the One Time Shot perk – it boosts your finishing ability for all one-time shots and headers. This perk also grants you Flair, Finesse Shot, Outside Foot Shot, and Power Header, while also increasing your weak foot ability. It's a massive improvement for anyone looking to connect on crosses inside the box.
Active First Touch is also a perk you should consider if you're a striker. This perk increases your ball control, acceleration, and sprint speed as you approach the ball. If you want to be a Haaland/Lukaku type of striker that has the perfect combination of finishing, strength, and pace, the Active First Touch perk will be a great addition to your skillset.
Distance Shooter, Set Piece Beacon, Clutch Finisher, and Physical Strength are also worth considering for forwards.
Wingers can also go for the Active First Touch perk as it grants them a boost in 1-on-1 situations. However, my no. 1 choice for a winger would be the Skiller Dribbler trait since it will help you beat defenders on the run.
Pinpoint Cross, Tireless Runner, and Distance Shooter can also come into play, depending on your playing style and opponent.
Best Perks for Midfielders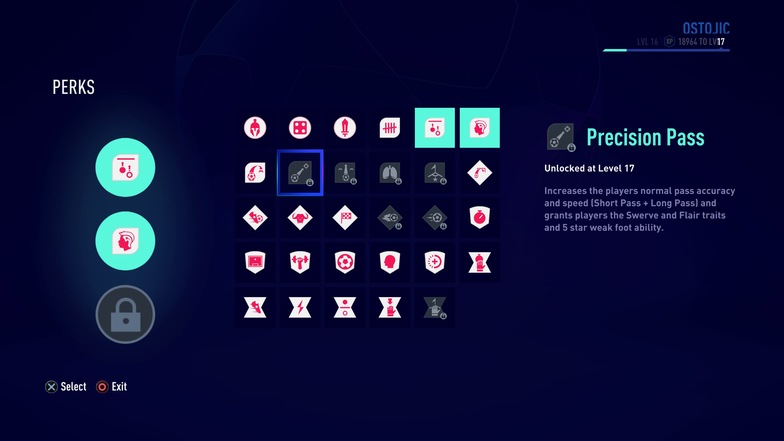 If you want to be an offensive-minded midfielder like Kevin De Bruyne or Bruno Fernandes, you need to focus on your dribbling, passing, and shooting.
Offensive midfielders will almost certainly want to get the Precision Pass and Threaded Pass perks. If your goal is to be the puppet master in the middle of the pitch, you'll need both of these. Together, they'll boost your normal pass accuracy and speed, give you the Swerve and Flair traits, as well as 5* weak foot ability. The only issue is that these two perks become available at levels 17 and 21, respectively.
Set Piece Specialist is another trademark perk for skilled midfielders, especially if you know how to take free kicks in FIFA 22. However, it's also the last perk you can unlock – it's unlocked at level 25. In other words, it takes time to become a midfield maestro!
Until then, you can look into the Skilled Dribbler, Distance Shooter, Assist Streak, and Pinpoint Cross perks.
Best Perks for Defenders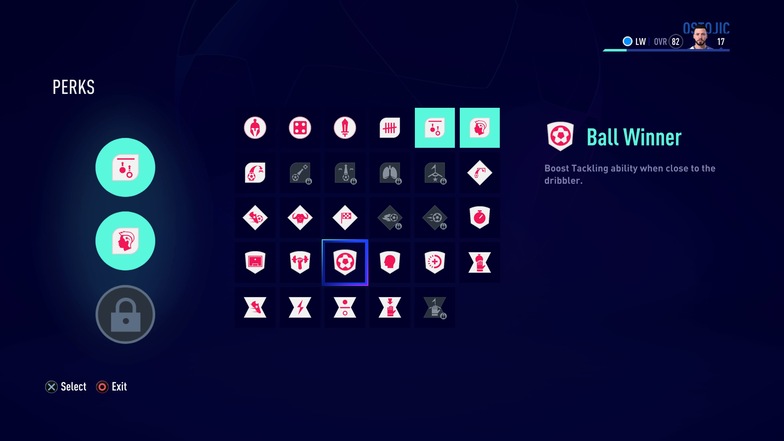 For defenders, the Ball Winner and Last Defender traits will be game-changers. The former will boost your tackling ability when you're close to the attacker. If you've already mastered tackling and defending in FIFA 22, you'll find that this perk can significantly increase your tackling success rate.
The Last Defender perk will increase your defending attributes when you're the last player between the offensive players and your goalkeeper. This is great if you're playing as a centre-back since the AI-controlled defenders have a tendency to rush and get burned.
Physical Strength and Set Piece Beacon will also be useful perks, especially if your plan is to be useful as an offensive weapon.
Best Perks for Goalkeepers
Finally, we have the six goalkeeper perks.
The first couple you'll probably be looking at are Quick Reflex and GK One on One. When combined, these will give you a significant boost in close situations and make you harder to beat when you're on the line.
The other perks you'll choose will depend on the type of keeper you want to be. If you're a Manuel Neuer type of keeper, you'll want to work on your speed and choose the Fast Rush perk. If you're more about the flashy saves, Hugo Lloris and Jan Oblak style, you should go for the GK Far Reach perk that will make you better at saving long shots.
Final Word
Choosing the best perks in FIFA 22 for your position is crucial when building your player – combining the right perks will allow you to develop a playing style and dominate.
The best part of the whole story with perks is that you can swap them out regularly and adapt to the next opponent or your current attributes. For example, you might want to use the Distance Shooter perk until you develop your Long Shots. After that, you can swap out the Distance Shooter for something more useful to create a well-rounded player.