The season is long in FIFA 22 Career Mode and the fixture list can get quite congested. This is especially the case if you've chosen one of the best clubs to manage in FIFA 22 Career Mode and you're playing in European competitions.
That's why you need a squad of players that are completely fit and ready to step in when needed. Match sharpness plays a crucial role here, allowing your players to perform at a high level all season long. Striking a balance between Fitness and Sharpness is one of the key mechanics in Career Mode and it impacts your game in a major way.
Let's see how to get high Match Sharpness in FIFA 22 Career Mode.
How Does Match Sharpness Impact the Game?
FIFA 22 Sharpness is essentially your player's condition, his readiness to step onto the pitch at any given time and perform at a standard level. We can say that a player with low Match Sharpness is rusty, without enough games under his belt.
Match Sharpness in FIFA 22 is opposed to Fitness, which is more of a medical term. A player you keep playing over and over (because he's a big part of your gameplan) will typically always have high Match Sharpness but he'll struggle with Fitness if you're not giving him the rest he needs. This mechanic is actually pretty close to what's going on in real life: teams want to get all their players some playing time so that they can stay in form and be familiar with the deployed tactics.
On the other hand, overusing players will cause them to feel jaded, increasing the risk of injury.
When you decide to field a player that has low Match Sharpness, you'll definitely notice that in the way he handles. He'll have poorer positioning and be slower to react to the ball and the situations around him. He'll also be less mobile with the ball, which can be quite frustrating in-game.
Now, let's take a look at how to increase sharpness in FIFA 22.
Use Pre-Season Games to Get High Match Sharpness
The Pre-Season Cup competition is your first opportunity to work on your team's Match Sharpness and get all your players some playing time.
Since these games have no competitive importance, you'll want to use pretty much all your players and ensure that everyone gets their minutes. In addition to training, getting playing time is the best way to develop Match Sharpness. Monitor your players and take the ones that already have high Match Sharpness out of your lineup for the day. Sub in the players with the lowest sharpness.
That way, you're ensuring the players that need more time on the pitch are actually getting it.
Play Training Manually to Get Good Grades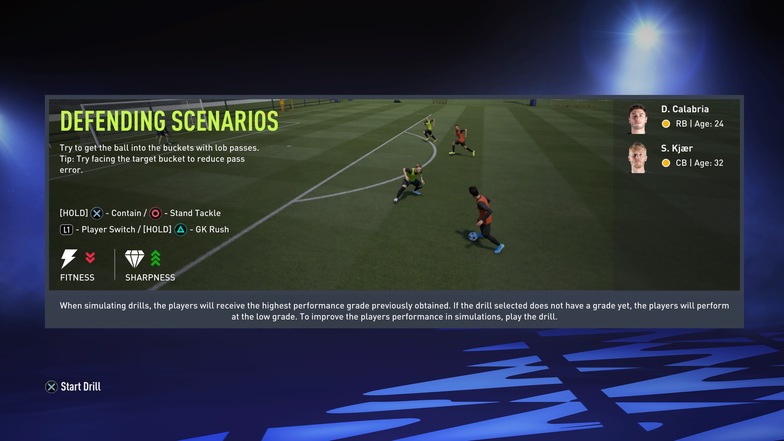 If you're new to FIFA, you'll likely find training interesting and new. If you're an experienced player, you might be inclined to simulate training sessions and just play games.
You can start doing this at one point in the season but only after you've played all the training sessions manually. As you might see in the Training screen, when you simulate training drills, your players will receive the highest grade they previously obtained. If you haven't played that drill with that player yet, he will get a low grade.
In other words, once you've obtained an A grade for a certain drill with a certain player, you don't ever have to play that drill with him again – he will always get an A. So, play as many different drills with as many different players during your first season. Once you do that, you'll be able to speed up the process by simulating drills without losing all the benefits.
The benefits are actually pretty significant. Here is the difference between an A and a C training drill: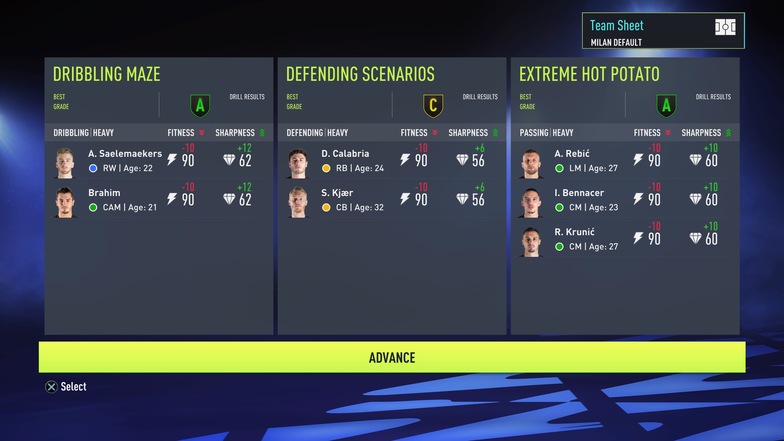 For some drills, you get double the sharpness when you get a high grade. More importantly, the Fitness impact is the same for all drills so, if you don't get a high grade, you'll just risk injuring your player without getting that much of a sharpness bonus.
Use Your Subs
Rotating players in games you've pretty much already won is an important tactic that can save you lots of frustration.
This will do two things:
It will increase the Match Sharpness of the player you're subbing in
It will help you preserve the Fitness of the player you're subbing out
In a game where these two attributes play such an important role, finding the balance is key. Neglecting your subs and simply seeing the game through is a silly mistake that will cost you both sharpness and fitness.
Another important thing to remember here is that simply accepting the CPU's suggestions for quick subs with R2/RT might not always be the optimal solution. The CPU will just identify a tired player on the field but maybe you want that player to stay in because you're looking to build his Match Sharpness. Tiring a player out will usually result in a big sharpness increase so keep that in mind.
It's much better to do your subs manually and examine each player's fitness and sharpness on a case-to-case basis.
Adjust your Training Schedule
The default schedule you'll be working with in FIFA 22 Career Mode is as follows:
Rest before a game
Rest after a game
Training every other day
The first two points shouldn't be adjusted as you want your players to be fresh for each game and have the time to rest after one.
However, the third point can be tweaked from time to time. Feel free to schedule two training drills on back-to-back days to get the most out of your players and get higher FIFA 22 Career Mode Sharpness. Tap on any individual day in the Weekly Schedule menu and schedule a training.
It's best to use this technique in the early season – don't overdo it later on because you'll be risking injuries.
Training drills are also important if you want to develop one of the best young players and wonderkids in FIFA 22. They'll help you bring their match sharpness up, identify their areas of improvement, and make them more useful early on.
Final Word
Getting high match sharpness in FIFA 22 Career Mode is one of the most important game mechanics in this mode and it will have a big impact on your game. Once you get all your players to good match sharpness levels, you'll notice that they're much more mobile and their reaction times are better.
This is crucial if you're trying to stay competitive at various stages – cup, league, and Europe.
Combine training and playing time to bring everyone's sharpness up and don't forget to sub out players who are already sharp. It will help you reduce the risk of injury while increasing other players' sharpness up at the same time.