Many people play Career Mode with their favorite team, probably because many want to restore their club to former glory or take them to the glory that they've never been able to experience in real life.
However, there's a large section of Career Mode players that don't just want to play with their favorite club, they want a challenge. Or they want to have the best experience they can in the game, and using their local club might not allow for that with the players and the budgets at their level.
In this post, we wanted to take a look at the best clubs to manage in FIFA 22 Career Mode.
We'll start by looking at the teams with the biggest transfer budget in FIFA 22 — we get it, some players just want to buy as many of the best young players as possible — and then we'll take a look at clubs that might offer more of a challenge for someone to ensure they're using the best tactics, signing high potential players and taking clubs to new heights.
Biggest Budget Teams
These are the clubs with the biggest FIFA 22 transfer budgets, for those of you that want to build a super team on your way to world domination.
Man City
Man City's endless riches have taken them from the bottom half of the Premier League to a squad of global superstars over the last decade.
Whilst they have an enormous transfer budget for you to continue improving the team from the moment you take over, they already have a squad that's well set up for you to win the Premier League and even the Champions League.
If you're looking for positions to strengthen, City could do with a world-class talent in the striker position, though Gabriel Jesus is quite a meta FIFA player, even if he's not quite as effective in real life as he is in the game.
Signing a new striker should definitely be your priority here, though also look to the defensive midfield position to replace the aging legs of Fernandinho or the slower pace of Rodri — who is effective in real life, but not so much in a game where pace has always been a decisive factor.
PSG
Perhaps the most 'meta' team on FIFA — certainly possessing the most meta attack — PSG's strikeforce of Messi, Mbappe, and Neymar has been enough to draw tears from FIFA players in years gone by. Few would have expected the trio to team up in real life, but here we are.
It's not just the front three that gives PSG incredible strength, though. They have real depth to the club, too — particularly upfront, but also in other positions across the park.
They've also managed to sign a world-class goalkeeper in Donnarumma, an incredible right back in Hakimi, and a future star in left-back Nuno Mendes. Oh, and we almost forgot the additions of Wijnaldum and Ramos — all whilst retaining every single one of their strongest players.
The only issue with PSG is that their success seems too guaranteed. You should walk the league title, assuming you're playing on a difficulty that's suitable for your ability, as there's very little competition in the French league (even if Lille did manage to win the league title in real life in 2020/21).
Salford City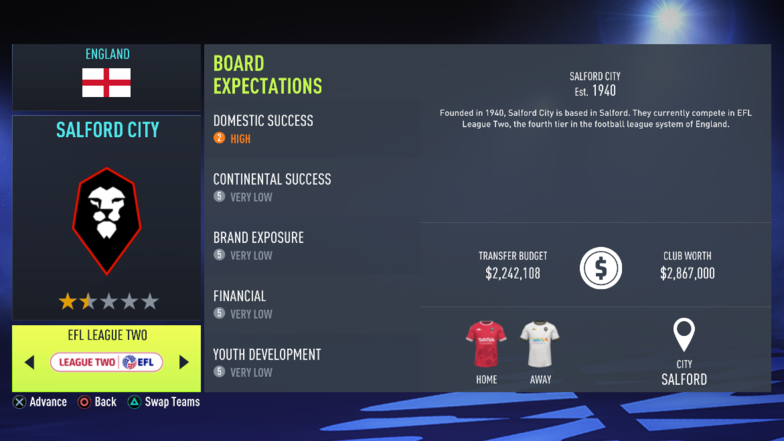 For more of a challenge whilst still having megabucks to spend — relative to the teams in the league around you — look to Salford City. The League Two club, owned by the class of '92, have unbelievable wealth compared to their lower league competitors.
Whilst you're not going to be able to go and spend a hundred million on the next big star, you can definitely use Salford to rise through the lower leagues quickly.
Once you reach the Premier League, the challenge will become a little trickier as you'll be up against multiple other clubs that are all trying to outspend and outmaneuver each other in the transfer market.
Teams That Offer A Challenge
Forget monster budgets, these are the best FIFA 22 Career Mode teams to play with:
Barcelona
It's not often that Barcelona offer up an interesting challenge in a game like FIFA, but their financial crisis in real life has suddenly presented gamers with the chance to restore Barcelona to their former glory.
With Barcelona, you'll have to battle tough financial circumstances and start with a squad that, on paper, isn't strong enough to compete for the league title.
You'll have to improve the finances, make shrewd signings, and turn the tide in your favor over the course of a couple of seasons. For that reason, Barcelona proves to be amongst the best career mode teams in FIFA 22.
Ajax
Ajax are regularly a fun team to manage on FIFA and things are no different in FIFA 22.
The Dutch club, former giants of European football, have a great youth setup and this allows for hot prospects with big potential to come through without needing to pay expensive fees and wages. You'll even start with some of these great young players in your squad that you can utilize to take on Champions League opposition or sell them for inflated fees to fund deals to strengthen in multiple areas.
The main thing you have to contend with at Ajax is the fact that big clubs are always circling and looking to take your best players at the earliest opportunities.
Brentford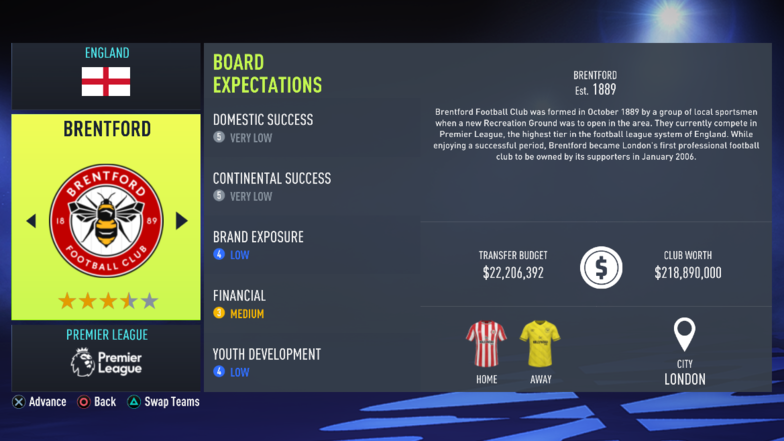 Famous for their moneyball approach, Brentford have risen to the heights of the Premier League through years of continually signing players that improve their team for small fees — even whilst consistently selling at least one-star player every summer.
In Brentford's eyes, every player has a price. It's all about whether they can buy the players they want for less than the value they'd offer to the club, and sell their own players for more than the value they provide to the team.
This allows for a fun FIFA 22 career team to manage because in the game you'll be operating much like they do in real life; smaller budgets, underdogs against many of the teams you'll face, but with the fight and desire to achieve the unthinkable.
Derby County
Derby County, also known as the Barcelona of the English second flight. Unfortunately for Derby fans, this isn't due to the standard of football, the history or the playing squad. Instead, Derby are another club in huge financial disarray.
Derby will be a great team to manage on FIFA 22 if you're looking for a club that needs rebuilding from top to bottom. They start with a very small playing squad and not a whole load of talent, as well as small financial budgets, meaning taking the club to the top of Europe will be a challenge only for the keenest of managers.
Borussia Dortmund
If you're looking for a team that has money to spend and some great players on their squad already, but at least a bit of domestic competition, Borussia Dortmund could be your best bet.
Whilst Dortmund already boast world-class prospects in Haaland and Bellingham, you also have to face the might of the Bundesliga's Bayern Munich.
The first step with Dortmund is to overcome Bayern domestically, then try to establish Dortmund at the top of Europe, leading them to more Champions League finals and hopefully some victories.
Sutton United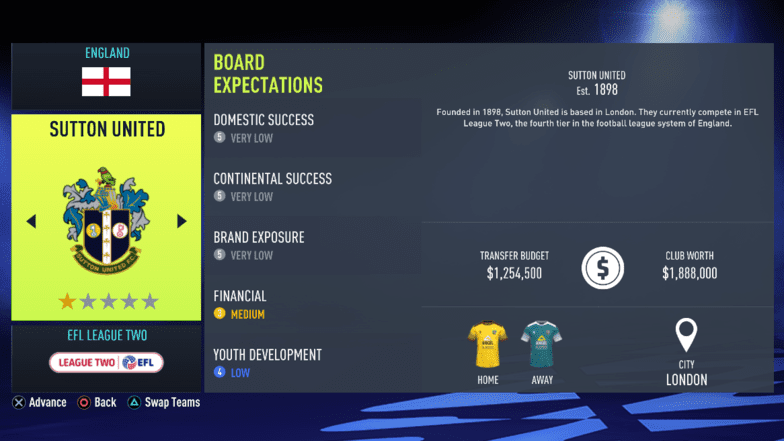 You might be wondering why we'd recommend Sutton United as one of the best teams to manage in FIFA 22 Career Mode and the reason is pretty simple: they're technically the smallest team you can start with and have the longest path to glory in the game.
Promoted from the National League, Sutton United join League Two in England — the fourth tier of English football — and you can play with them all the way through promotions to League One, the Championship, and to the Premier League, and then onto European glory.
Salford are similar in that they start in the same tier, but with Sutton United you'll have to be much more sensible with your financial management, and more realistic in the calibre of players that you can attract to the club.
Salernitana
After 23 seasons outside of Serie A, Salernitana finally returned to Italy's top flight for this season. Sadly, they lost all 4 of their first league games in real life before FIFA 22 was released, scoring just two goals and conceding 12. This suggests their squad is not quite up to scratch, and it would need a good manager to come in, steady the ship and first try to save them from an inevitable relegation.
If you manage to avoid the drop, the next steps will be to build the club up to an established Serie A team level, then European football, then the league title, and then who knows what can be achieved after that.
Aston Villa
If you're looking for a top-flight team that has lots of youth potential but also a good enough first team to play attractive, expansive football, Aston Villa might be a good option for you.
Villa also get large financial budgets thanks to their rich owners, so you can afford to strengthen the squad in key areas — but can you help fill the void left by the departure of Jack Grealish's transfer to Manchester City?
With Leon Bailey offering a pacey option on the wing, and good youth prospects in Chukwuemeka, Ramsey, Barry, and more, you might be able to fast-track some of these to the first-team squad, or sell them on to fund more the signings of more established stars.
Summary
That rounds up the clubs that we believe to be the 11 best clubs to manage in FIFA 22 Career Mode, with a mix of clubs suggested for instant success and for long-term challenges.
If instant glory is what you crave, opt for Man City, PSG, or maybe even Salford City.
If you want a more challenging and fun project to work on, look towards the likes of Barcelona, Ajax, Brentford, Derby County, Dortmund, Sutton United, or Salernitana.
Are there any other teams that you know make for an excellent team to use in Career Mode?