Developing a young player in FIFA 22 is one of the most rewarding and cost-efficient ways to build a successful team in Career Mode.
However, finding those players isn't that easy. Once you go past Haaland, Sancho, Joao Felix, and a few players we all know are destined for big things, you'll have to rely on your scouts and research skills to get the job done. This can take a lot of time and effort and bringing these players in can be a costly affair. Having something to point you in the right direction can be of great help.
That's what we want to do with this article – read on and discover the best young players and FIFA 22 wonderkids!
The Best Young Goalkeepers and Defenders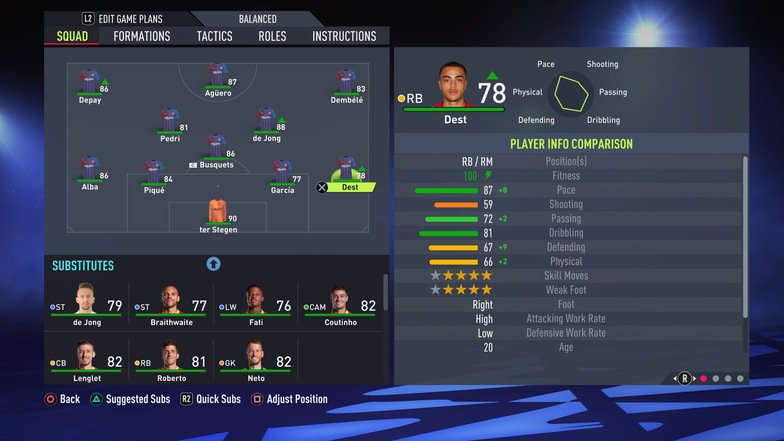 There are lots of great young defenders and goalkeepers in FIFA 22 so making this selection was tougher than usual. Here are some of the most interesting names.
GK Illan Meslier, 21
Premier League fans are quite familiar with Illan Meslier – his two seasons in Leeds have put him on the map as one of the most talented goalkeepers in the league and, arguably, in the world.
In FIFA 22, Meslier has a 75 OVR with 86 Potential. He also has the Saves with Feet trait which can come in handy.
Most importantly, he's not expensive and he doesn't play for a massively popular or competitive team. This can make a big difference and give you lots of leverage in negotiations. For example, Gianluigi Donnarumma is most certainly the best young goalkeeper in the game but good luck luring him out of PSG.
RB Sergiño Dest, 20
Unlike Meslier, Dest will be much harder to bring into your team – but not impossible.
Dest made a name for himself in Barcelona in 2020/21 after playing in almost every league game. In what was otherwise an underwhelming season for the club that certainly felt like an end of an era, Dest was one of the bright spots that still give everyone some optimism for the club's future.
He has a 75 OVR to go along with 88 Potential and 90 Acceleration. He's definitely one of the top choices when it comes to young, pacey fullbacks.
CB Sven Botman, 21
LOSC Lille had a historic 2020/21 season and, as it's often the case when an underdog becomes the champion, big clubs have already gathered around to bid for their best players.
One of those players will certainly be Sven Botman, the young Dutch center-back who missed only one game in Lille's title run. In FIFA 22, he has a 77 OVR with 84 potential. Most of his ratings are "yellow" so he's a pretty well-rounded player – although his Strength is already at an impressive 86.
He can have an instant impact but there's definitely lots of room to grow.
LB Owen Wijndal, 21
Playing for the Dutch side AZ Alkmaar, Wijndal will likely be easier to lure with the prospect of playing in European competitions but that doesn't mean AZ will let him go for nothing.
He's a 79 OVR player with 85 Potential so he'll be viewed as quite a valuable asset. His Acceleration (85), Sprint Speed (86), and Agility (84) aren't breathtaking but he's certainly a quick fullback with lots of potential. He also has 85 Stamina, which will make him a reliable, tireless fullback once developed.
The Best Young Midfielders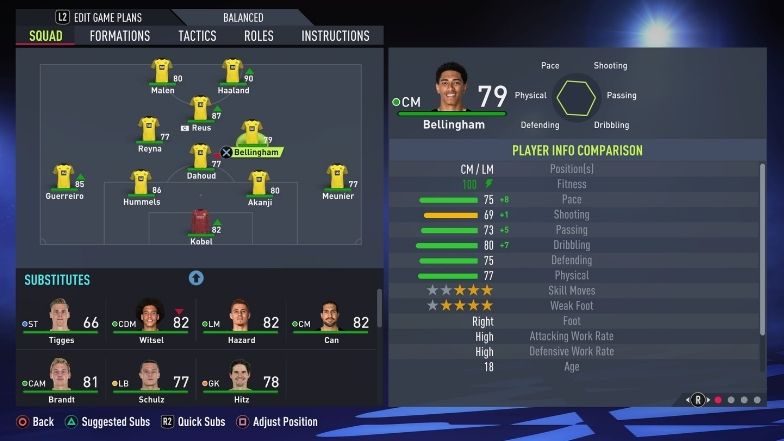 A lot of young midfielders in FIFA 22 fall in that 70-78 range but not all of them have the potential to become true superstars.
CDM Boubacar Kamara, 21
A French youth international, Kamara is currently making a name for himself in Olympique Marseille in League 1. His stellar season 2020/21 earned him an 80 OVR in FIFA 22, making him one of the best young defensive midfielders in the game.
Sure, he's not as young as some other FIFA 22 wonderkids but that just means he'll be able to have an instant impact on your team! His Interceptions and Aggression (both 83) are standout ratings that also make him playable as a centre-back.
CM Jude Bellingham, 18
The Borussia Dortmund midfielder is predicted a bright future with clubs such as Liverpool circling around the player, preparing big offers.
He'll definitely be one of the harder FIFA 22 young players to get but he'll most likely pay off. He has a 76 OVR which doesn't seem like a lot but he's only 18 years old and his Potential is 88. If you invest your time in developing him, Bellingham can turn into one of the best players on your team.
He's also deployable as a Left Midfielder so he gets some additional points for versatility.
CAM Giovanni Reyna, 18
The abundance of young talent is what makes Borussia Dortmund one of the best clubs to manage in FIFA 22 Career Mode.
The young American midfielder will likely be easier to lure from Dortmund but what you get in return might be just as impressive as Bellingham. He starts out with a 76 OVR but has the potential to go up to 87.
Dribbling and Agility (both 84) are his most interesting ratings and, if you're looking for a mobile attacking midfielder, Reyna is one of the most interesting young players to consider.
Ryan Gravenberch, 19
Talking about exciting young cores, Ajax is traditionally filled to the brim with players worth looking at.
Ryan Gravenberch is one of the latest FIFA 22 talents in Ajax's current generation, playing a crucial role in their domestic title defense. In FIFA 22, he boasts a 77 OVR and a 90 Potential, along with some solid rankings when it comes to ball control and dribbling. He also stands at 190cm and his physical attributes are pretty solid so he's reminiscent of Yaya Toure or Paul Pogba.
Gravenberch isn't too expensive, he has a solid starting rating and incredible upside. He's easily one of the best young prospects in FIFA 22 when it comes to midfielders.
The Best Young Wingers and Forwards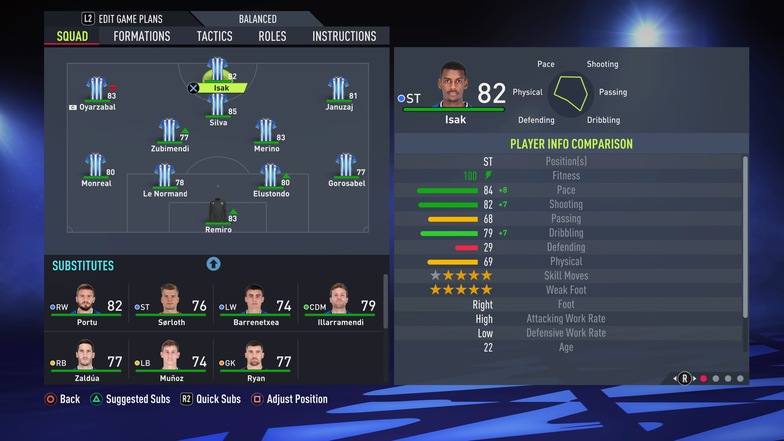 Flashy and popular, wingers and forwards are typically the hardest to get, especially since they're often expensive and efficient long before they turn 21 (think Mbappe, Haaland, Felix). So, to save us all some time, we'll skip over those superstars and look at some young attackers that are more realistic targets.
ST Fabio Silva, 19
One of the lowest-rated players on this list, Silva starts at only 69 OVR. But, don't let that fool you – he can go up to 85 OVR and his weaker foot is 4/5. His Work Rate is also High so he'll be a great young player to develop and watch grow.
The best thing about Fabio Silva is that he's quite affordable and his wage is pretty low. He currently plays for the Wolverhampton Wanderers so, if you're running a big-name club, you'll be able to make a solid offer and get him early on.
ST Alexander Isak, 21
Isak is already a pretty formed player and, if your team is in need of a striker in your first season, he's one of the best options to go for.
With an 80 OVR and 85 Potential, Isak will be a great early addition but his upside is what makes him exciting. He stands at 192cm but his Acceleration (82) and Sprint Speed (83) are great starting points. His shooting ratings are also excellent, making him sort of a more affordable, less effective Erling Haaland.
Isak currently plays for Real Sociedad and he won't exactly be cheap but he's definitely easier to get than most other famous strikers.
RW Gonzalo Plata, 20
There is no shortage of pacey, left-footed right-wingers in today's football but Gonzalo Plata is one of the more interesting young prospects in this position in FIFA 22.
He starts at 74 OVR but his Acceleration (86), Sprint Speed (85), and Agility (86) are already pretty effective. His Potential is 84 so you can develop him into a real asset.
Plata plays for Sporting CP, he isn't too expensive and his wage is more than affordable. If you're looking to make moves in your first season, look into Gonzalo Plata as one of your first long-term investments.
LW Christos Tzolis, 19
Tzolis is a left-winger that starts the game at 73 OVR but his Potential is 87. He's also really fast for a 19-year-old: 87 Acceleration and 86 Sprint Speed.
But, the best thing about Christos Tzolis is the fact that you can get him at a big discount. He currently plays for the Greek side PAOK and he's easily one of the most affordable young players on this list. His wage is also quite low so he won't put a strain on your budget.
A young, pacey winger is always a great addition early in your Career Mode and Tzolis fits the bill perfectly.
ST Dane Scarlett, 17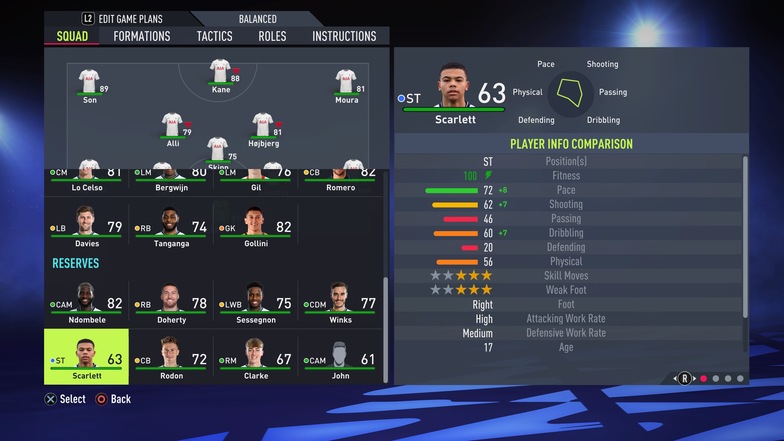 If you have patience and you're looking for a high-potential player that might not be able to produce instantly, Dane Scarlett is one of your best options.
He starts the game with a 63 OVR, making him practically useless in your first season. He has solid Acceleration (74) and Finishing (67), both of which can be developed greatly to turn him into a great player. If you give him the playing time and patience, you can maximize his 86 Potential and have a powerful all-around striker on your team.
He plays for Tottenham so you might think he's not as easy to bring in but here's the best part: he has a EUR 4,350,000 release clause which makes him quite easy to get. If you're running a team that's remotely interesting to play for, Scarlett will be one of your best cheap transfers in the early stages.
ST Dusan Vlahovic, 21
Already pretty established as one of the top strikers in the Seria A, Vlahovic won't be as easy to pry away from Fiorentina. His value is EUR 29,000,000 so you'll have to break the bank to get him, especially if you're running a small club.
However, what you get with Vlahovic is a 190cm striker with 80 Ball Control, 83 Finishing, and 82 Strength. He starts at 78 but his potential is 85. So, he's a great mix of a player that has great potential but can also start producing in his first season.
Final Word
Getting the best young players in FIFA 22 can set you up for years of success in Career Mode.
All you need to do is invest the time to develop these young players and you'll have superstars on your hands in no time. Remember to keep looking for a deal – a lot of these players have incredible upside but, depending on the team they're playing for, they can always be taken out of their hands on a bargain.