There are a lot of reasons why you'd want to ask for a transfer in FIFA 22 Career Mode.
Maybe you've won everything there is to win with one team and you're starting to feel like you need a new challenge. Or maybe you're surrounded by weak teammates that just can't seem to get over the hump and help you win silverware. A leaky defense or forwards that can't convert can be frustrating so it might be time to switch teams.
Whatever your reasons, here is how to request a FIFA 22 player Career Mode transfer.
When Should You Request a Transfer?
The first thing you need to consider is the timing of your request.
You don't want just to hand in a transfer request – you also want to generate interest from the right clubs and get everything done as soon as possible. The last thing you want is to have your request accepted but still have to play 5-10 games with the current club before your contract situation is settled.
So, the best time to hand in a transfer request in FIFA 22 Career Mode is in December. You'll have enough time to generate interest and get multiple offers before the trade deadline on January 31st.
Also, your first transfer request might get rejected so you'll have to wait a little bit before handing in another request. In other words, requesting a transfer in mid-January might be too late.
How to Request a Transfer in FIFA 22 Career Mode
If you don't know how to request transfer in FIFA 22, it's pretty easy. Simply tap R1/RB to get to the "My Pro" tab. At the bottom of this screen, you'll see the "My Career" field. Navigate to this field and move your Right Stick to the right or left and the field will switch to "My Actions".
Selecting this option will take you to the squad hub and give you several options to take charge of your career. Here, you'll be able to request a transfer and view your offers or withdraw the transfer request once it's handed in.
Once you request a transfer, you'll see no notifications or pop-ups. Don't worry – this is completely fine. What you need to do now is advance time and play your games as usual. After a while (usually in a few days), you'll get a notification in your inbox: the coach will inform you whether or not your request has been accepted.
In my playthrough, my first two requests were actually rejected, possibly because I was in form at the time.
That's to be expected – if you've become a starter in Career Mode and earned a good reputation within the club, they won't be so willing to let you go. However, you can stay persistent and keep requesting a FIFA 22 player career transfer until the club eventually lets you go.
It might help to start simming games. Your player will drop in form by default and the team might lose their interest in keeping you.
How to Accept an Offer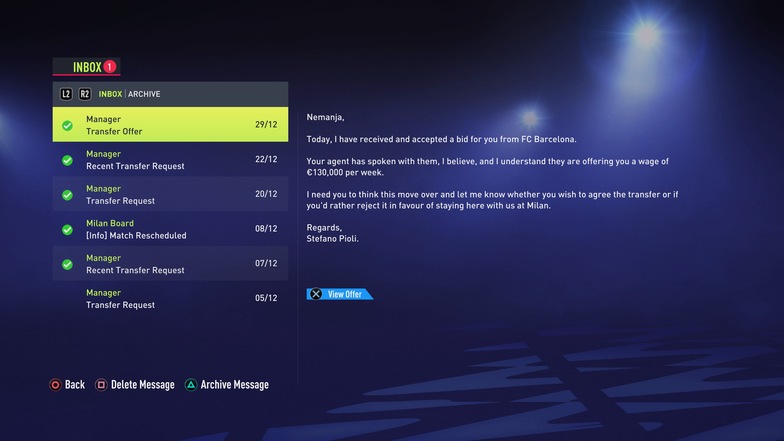 Once your request is accepted, you'll start receiving offers. Again, these offers won't arrive in the form of pop-ups or any big on-screen information. You'll need to navigate to My Pro –> Notifications to see your current offers.
In my opinion, this part of the experience could use some work. The first offer I received was from Barcelona. This was completely expected since I was one of the best young players and wonderkids in the world at that moment. However, after Barcelona, teams like PSV and Hellas Verona came knocking. The range of clubs that can offer you contracts is far too wide and it seems like the AI has no understanding of your potential and expectations.
Either way, you can see the offers in your Inbox and sign contracts directly from there.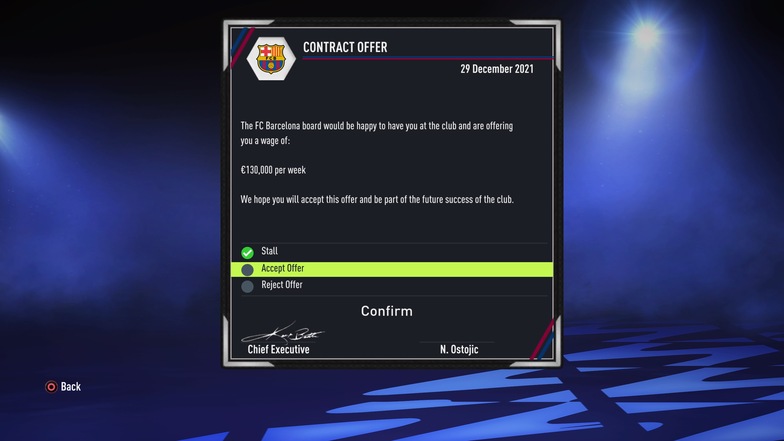 A lot of players wonder if you can choose the clubs you want to be transferred to in FIFA 22. Unfortunately, that's not the case. Unlike in real life, you can't talk to your agent or club when requesting a transfer to choose specific teams. All you can do is hand in your request while you're in form and hope that this will attract the interest of the biggest clubs.
While there is no clear proof of this in the game, it does make sense. Plus, I found that I started receiving offers from weaker clubs when I started simming games and dropping in form.
Final Word
Requesting a transfer in FIFA 22 Career Mode isn't hard but guaranteeing you land on a team you like is almost impossible. Still, if you're in form and you're already playing for a relatively known team, you might attract the attention of some of the bigger clubs.
Just make sure to hand in your request in time and keep checking your inbox to find new offers. Remember, you'll have until the trade deadline to make your decision, so let those offers pile up and accept the one you like most.