This article will discuss the best small forwards in NBA 2K23 MyTEAM that can help take your team to the next level.
It would be easy to add all the Pink Diamond cards to this list, as statistically, they are the best cards in the game. However, they are difficult to get your hands on and require a lot of time and effort to collect. Time and effort some players don't have.
Instead, we have played with each of these players on the court and created a list of the best possible players for every budget to ensure that at least one card on this list is achievable for all types of players.
Of course, if your MyPLAYER is a small forward, and you have moved them into MyTEAM, you might not want such great competition for game time!
Xavier McDaniel
First on this list is Xavier McDaniel. While McDaniel is undoubtedly a level below some of the top Pink Diamond Small Forwards in NBA 2K23 MyTEAM, with an 89 offense and 89 defense, he is an excellent addition to any team.
He has a 7'0" wingspan and a fantastic close shot. He is also extremely fast and excellent at the paint.
Don't expect Xavier McDaniel to make it rain threes for your team as his three-point shot is week, but with a CJ McCollum release and normal release time, he is easy to handle on the court.
Key Statistics:
Shot IQ – 99
Driving Layup – 85
Hands – 99
Driving Dunk – 85
Post Moves – 84
Grant Hill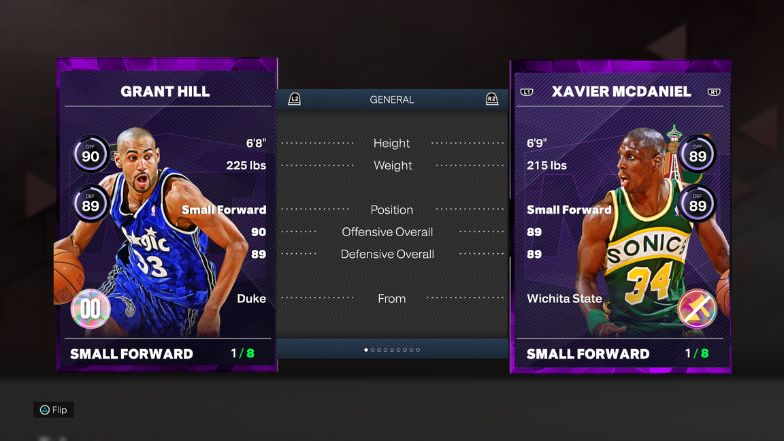 Next on this list is Grant Hill, who is by far one of the best small forwards in NBA 2K23 MyTEAM.
His three-point shot stats might not make for great reading at just 73, but when you play with him on the court, you will quickly realize that this guy can score a lot of threes for your team. He also has an excellent driving layup and dunk, so you can utilize him in many different ways going up the court.
Hill will also bring some fantastic defensive support to your team. He has excellent perimeter defense, help-defense IQ, lateral quickness, and other essential assets.
He also offers three silver finishing badges: Bully, Fearless Finisher, and Posterizer.
Key Statistics:
Help-defense IQ – 88
Lateral Quickness – 88
Perimeter Defense – 88
Driving Layup – 88
Driving Dunk – 90
Scottie Barnes
Outside of any Pink Diamond Small Forwards, Scottie Barnes is the best possible pick-up for your MyTEAM roster. He is a fantastic all-around small forward and can do everything well on both sides of the ball.
With an 89 offense, a 90 defense, and 7'2" wingspan, Barnes is a beast on the court. He has incredible defense statistics while offering plenty of variety going forwards, from his high passing statistics to his excellent statistics in the paint.
He can also take shots from the outside with plenty of success. Scottie Barnes is an extremely well-rounded small forward and will bring a lot to your roster.
Key Statistics:
Shot Close – 88
Driving Layup – 88
Offense Consistency – 95
Draw Foul – 85
Lateral Quickness – 81
Lamar Odom
The next card on this list is Lamar Odom. Some players would argue that Odom should be used at power forward instead of at shooting forward, and there is an argument for that. However, standing at 6'10", utilizing Odom at Shooting Guard is sure to give you an advantage against most of your opponents in this department.
With a 94 offense, Odom is one of the most exciting players going forwards in MyTEAM and can create lots of opportunities in your attacks.
He has a fantastic driving layup, close shot, and impressive three-point score, given he is such a big man, and power forward is his preferred position.
If you are looking for a small forward that is sure to dominate the opposition on the court, Odom could be an excellent choice for you.
Key Statistics:
Shot Close – 89
Shot IQ – 90
Driving Layup – 89
Draw Foul – 89
Hands – 98
Pink Diamond Brandon Ingram
This list would not be complete without a couple of Pink Diamond cards. However, instead of including all of them and putting no thought into this list, we will only look at one Pink Diamond small forward, Brandon Ingram.
With a 96 OVR and a 98 offense, it is quick to see why this card is so powerful, and as you would expect from a Pink Diamond card, Ingram's statistics are outstanding.
However, his outside shooting sets Ingram apart from other Pink Diamond small forwards. He has a fantastic three-point shot and the more common inside scoring statistics.
This shooting range is excellent as it allows players to mix up their offense and run various plays, which is vital as you start playing at a higher game difficulty to collect more rewards.
Ingram has ten hall-of-fame badges, including slithery, amped, deadeye, and volume shooter.
Key Statistics:
Three-point Shot – 90
Driving Layup – 92
Draw Foul – 92
Stamina – 94
Hands – 98
Shot Mid – 95
Shot Close – 92
Final Thoughts
In truth, these cards will surely provide plenty of offensive and defensive support to your MyTEAM roster. However, not everyone will be able to afford these Small Forwards. If you are a little short on the MT Coins needed for these cards, check out this range of budget cards you can get your hands on.
Did you enjoy this list? If so, check out our list of the best point guards in NBA 2K23 MyTEAM.