Elite Eight is the third of four SBCs in the "Hybrid Nations" SBC group in FC 24. The reward for completing this SBC is an untradeable Rare Players pack.
A Rare Players pack in FC 24 contains 12 items, all players, all Gold, all Rare including one 83+ OVR Rare player guaranteed.
Below are two working solutions for completing this SBC. If you've completed the Six of the Best SBC before it, understanding the requirements should be a breeze.
Requirements
Exactly 8 nationalities in the squad
Max 2 players from the same nation
Max 3 players from the same club
Min 5 rare players
All gold players
Minimum of 21 total chemistry points
The seemingly tricky part of this list of requirements is getting full chem on a team consisting of mostly players from different nations. However, the simple solution is to use players from the same league.
As always, the Spanish La Liga and English Premier League are usually the best places to look for these types of SBCs.
We'll go with La Liga for this one, picking out 6 gold common players and 5 gold rare players to meet the requirements while trying to keep the price of the SBC as cheap as possible.
Solution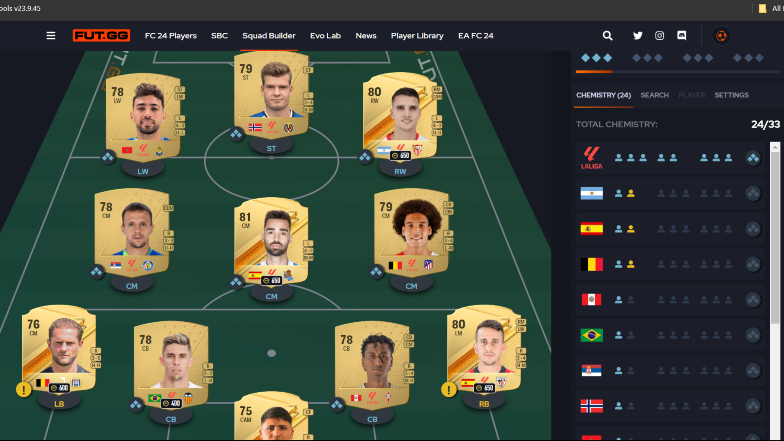 GK: any gold rare player from Argentina
LB: any gold rare player from Belgium
CB: Gabriel Paulista (Valencia)
CB: Renato Tapia (Celta Vigo)
RB: any gold rare player from Spain
CM: Nemanja Maksimovic (Getafe)
CM: Brais Mendez (Real Sociedad)
CM: Axel Witsel (Atletico Madrid)
LW: Munir El Haddadi (UD Las Palmas)
ST: Alexander Sorloth (Villarreal)
RW: Erik Lamela (Sevilla)
As you can see from the image, we've got 8 players on full chem to get 24 chemistry points.
You only really need 21 points, so you can do without one of the named players if you're trying to save coins. However, be sure to replace them with a player from the same nation and with the same card rarity type.
The same applies to the players that are not on chem (GK, LB, and RB). You don't have to use any of those three recommendations if you have players in your club that fit. The important thing is the nation and card rarity (gold common or gold rare).
Alternative Solution
Here's an alternative solution that uses players from the English Premier League (for the most part). Seven players on full chemistry are enough to get the 21 chemistry points target.
The four players off-chem (GK, LB, RB, RW) can be replaced by players from any league in the game. However, as I previously said, you should only replace any of the four with a player that shares the same card rarity and nation as the one that I recommended.
Once this is done, you can submit and move on to the next and final SBC in the "Hybrid Nations" group – the "Around the World" SBC.