The launch of FIFA 23 Ultimate Team saw a new attribute category emerge, one that can significantly impact the in-game meta.
The category is known as "lengthy" and includes players that might not seem to have the best speed statistics out of the gate, but over long sprints, they gain so much pace that many times they outsprint any other players.
And the best part? You can even turn some players into the lengthy style using the right chemistry cards.
So, who are the best lengthy players in FIFA 23 Ultimate Team? Let's jump right in and find out.
What is a Lengthy Player?
FIFA 23 launched on current generation consoles with a new animation system known as HyperMotion 2. This system has torn up the rulebook when it comes to how pace is handled in the game
This system means that some players with seemingly low-pace statistics are now potentially quicker than those with high-pace statistics due to their sprint style.
In total, there are three different sprinting styles: Explosive, Controlled, and Lengthy.
The lengthy acceleRATE tends to get attributed to taller players, and can completely change how you play the game, with players getting faster the longer they run.
Since the launch of the game, these acceleRATE types (as they are referred to) have been adjusted in terms of how they work. Lengthy players are not as meta as they used to be, but they're still pretty good for covering long-distance runs.
Explosive players are the most efficient in terms of pace, and controlled players are slightly less efficient in that department. Note that these acceleRATE types only apply to new-gen platforms such as the PS5, Xbox Series S/X, and PC.
How to Change a Player to 'Lengthy'
One of the most interesting aspects of the Lengthy attribute in FIFA 23 is that it can be achieved via chemistry styles. While some players have lengthy built into their statistics, some players can get converted into lengthy players by applying certain chemistry styles.
The best chemistry style to pick for changing a player to 'lengthy' is the architect, which increases physicality and passing by 3. Backbone also increases these stat lines, but only by 2.
Unfortunately, not every player can get turned into a lengthy player. To meet the requirements, the player in question needs 14 more strength points than their agility points.
A prime example of one player who would turn lengthy after applying the architect chemistry style would be Karim Benzema.
To make things much simpler, you can use online tools such as Futbin to check if a player can be lengthy and the right chemistry style to apply to achieve that effect.
The Best Lengthy Players in FIFA 23
With that in mind, we have built a list of the best lengthy players to pick up in FIFA 23 at this stage of the game, split by their position.
Strikers
Erling Haaland – Manchester City – 96 (TOTY)
Haaland is built like a tank, and he is one of a small number of players in his position that has the deadly combination of an imposing physical frame with lightning-quick pace.
As expected, his Team of the Year (Honorable Mentions) card this year is meta with a pace split of 92 acceleration and 99 sprint speed.
You don't need to apply a chemistry style to make him lengthy – the card starts out as that already. There's not a lot of room for improvement in the pace department, so you might want to improve his passing and dribbling with an Artist chem style instead.
If you still want to boost that 92 acceleration, an Engine chem style would be the way to go and it offers a few dribbling and passing boosts as well.
Harry Kane – Tottenham – 92 (TOTY)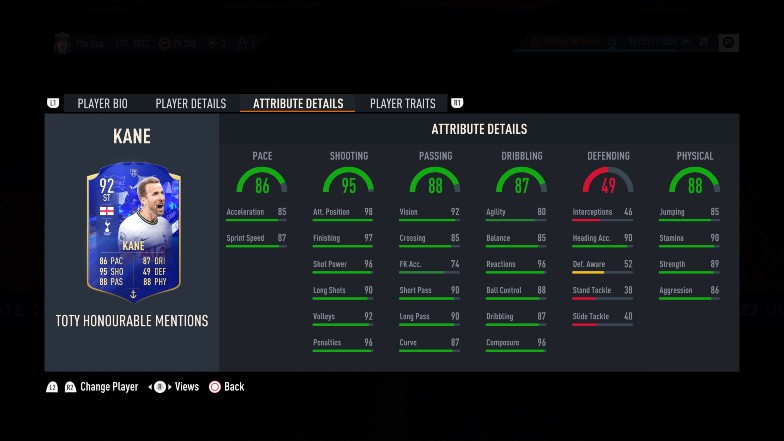 The Team of the Year promo is a game-breaking promo every year, so don't be surprised by the number of cards from there that you'll see in this guide.
This Kane card has absolutely cracked shooting, and even though we know that pace is not one of his strong suits in real life, converting his Controlled acceleRATE type to a Lengthy in-game improves the situation.
My recommendation here is a little unorthodox. You can make Kane lengthy with an Anchor, Architect, or Marksman chem style. I recommend the Anchor because it offers a small boost to the base pace stats, as well as useful heading accuracy, jumping, strength, and aggression boosts.
Many people will go for the Marksman, but I think it's a bit of a waste because his shooting stats are already OP, and he won't feel much better on the ball even with the dribbling boost due to that body type.
Zlatan Ibrahimovic – AC Milan – 90 (FUT Centurions)
This Zlatan card is one of the most overpowered and rarest cards in the game. I almost never come across it in any teams, but there is almost no other card like it.
The card starts out with a Controlled acceleRATE type to complement his 90 score for pace, but you can make him lengthy with the Anchor, Marksman, or Architect, chem styles.
It's a similar situation with Harry Kane's card as I also recommend the Anchor here. With it, you can max out his Jumping and Heading Accuracy, and the +4 boost to his overall pace score is pretty handy as well.
Cristiano Ronaldo – Al Nassr – 92 (TOTW)
Ronaldo is not as rapid as he used to be in FIFA, but his cards are still pretty OP – especially the specials.
This second in-form card has insanely good shooting, which makes him deadly in and around the box. However, he's not the quickest or strongest, and this is where chem styles come in.
With the Architect, you can make the card Lengthy while boosting his passing and physicality stats. These boosts make him a more formidable physical presence that can also bring other attackers into play in and around the opponent's box as well as finish chances himself.
You still won't be winning many foot races with him, but he's one of the deadliest strikers in the game regardless.
Charles de Ketelaere – AC Milan – 90 (Future Stars)
This CDK card was an SBC so if you don't have him already, then you missed out and it's too late.
CDK is a similar card to Ibra and Kane, but this time, I recommend using the Marksman chem style to make him Lengthy. This is mostly because I think he needs that shooting boost a bit more than the other two did.
He has ridiculously good passing stats, so he can be a creative force as well. If you're planning to use him as a target man, the passing will be very useful for bringing teammates into play while holding up the ball.
Midfielders
Casemiro – Manchester United – 91 (WC TOTT)
In the early stages of the game, Casemiro's gold card was one of the best defensive midfielders in the game despite his low pace stats in the game's meta.
Now, 76 overall pace also sounds outdated on paper, but this is one of a handful of cards in the game that plays way above its stats. He's everywhere.
The card starts out Lengthy and remains so with every chemistry style except the Artist. I recommend applying the Shadow chem style to boost his overall pace to 84 and also increase his defensive stats significantly.
Kevin De Bruyne – Manchester City – 97 (TOTY)
This KDB card is not just one of the best lengthy players in the game, it is one of the best players, period.
The card starts out with the Controlled acceleRATE and you need to apply the Architect chem style to make him Lengthy. Even though his passing is already near-perfect, the physical stat boosts definitely increase the potency of using the card in a box-to-box role.
Powerful running, strength, and excellent shooting and passing with a good level of pace and defending. It's as close to perfect as anyone could ask for.
Leon Goretzka – Bayern – 92 (RTTF)
Since receiving a couple of upgrades, Leon Goretzka's UCL Road to the Final card has found its place among the best midfielders in the game.
The card starts out as a Controlled acceleRATE type, but you can make him Lengthy with a few chem styles.
When it comes to deciding which one to choose, I'd say it depends on how you plan to use the card. If you want to use him as a purely defensive player, then the Anchor is the way to go. However, if you want to use him as a deep-lying playmaker of sorts, then go for the Backbone.
Personally, I'd go for the latter because I think it complements his High/Medium work rates better.
Karim Benzema – Real Madrid – 92 (Winter Wildcards)
If you've not been following FUT this year, then Benzema's inclusion as a midfielder might be a bit of a surprise.
He got an out-of-position special card during the Winter Wildcards promo that's actually not too dissimilar from KDB's special cards. It's a very well-rounded card with very good shooting, passing, and dribbling stats as well as solid defending.
To make him Lengthy, you need to apply the Anchor, Architect, or Marksman chemistry style. Again, your choice depends on how you plan to use him in-game.
If you want a more defensive player, go for the Anchor. If you want a box-to-box playmaker hybrid, go for the Architect and if you want an attacking midfielder, go for the Marksman.
Paul Pogba – Juventus – 90 (TOTY SBC)
During the TOTY promo, EA released this Flashback SBC and it is one of my favorite cards in the game – simply undroppable from my starting XI.
Despite his bulky size, Paul Pogba's unique body type in-game offers the perfect blend of a physical presence with technical ability. His shots are powerful, his passing is excellent, and he can put in a shift defensively as well.
Of the chem styles that you can apply to make Pogba lengthy, I recommend using the Anchor because he needs the pace boost. It would also make him a stronger unit defensively, which is always nice.
Defenders
Virgil van Dijk – Liverpool – 96 (TOTY)
I don't need to waste too many words on this guy. Perhaps the highest praise that I can give is that his gold card is still in the starting XI of many teams, and it's still OP.
The only "weakness" that the gold card has is the pace split, but even that is not really an issue in-game. Now, with 88 pace and a pace split of 80-95, this meta card is as overpowered as it gets, and it's lengthy as well.
Apart from the Artist, Engine, and Finisher, you can apply any chem style to the card without losing the Lengthy acceleRATE.
His defending is near-perfect already, so I recommend the Catalyst chem style to boost his pace and passing.
Eder Militao – Real Madrid – 94 (TOTY)
This Eder Militao card starts out with the Controlled acceleRATE, but you can make him Lengthy with an Anchor chem style.
His pace split is nicer than VVDs with 91 acceleration and 96 sprint speed when you apply the chem style, and his defending and physicality stats become near perfect as well.
Militao is a perfect foil for a bigger (and potentially slower) center-back, and he feels nice enough on the ball for players that like to use ball-playing center-backs.
Sergio Ramos – P.S.G – 91 (TOTY SBC)
Sergio Ramos got a Rulebreakers card earlier in the game with 80 overall pace. If you missed out on this TOTY Flashback SBC, then that card is still very usable at this stage of the game.
I have my reservations about the pace split with 90 acceleration and 77 sprint speed. I would prefer it to be the other way around, but Ramos' bullish performances in-game do nothing to suggest that this is a significant issue.
You can keep him on the Lengthy acceleRATE with most of the applicable chemistry styles, but I recommend giving him the Shadow to boost that sprint speed to 85. He'll get near-perfect defending as well, which is always a good thing.
Kyle Walker – Manchester City – 89 (WC PTG)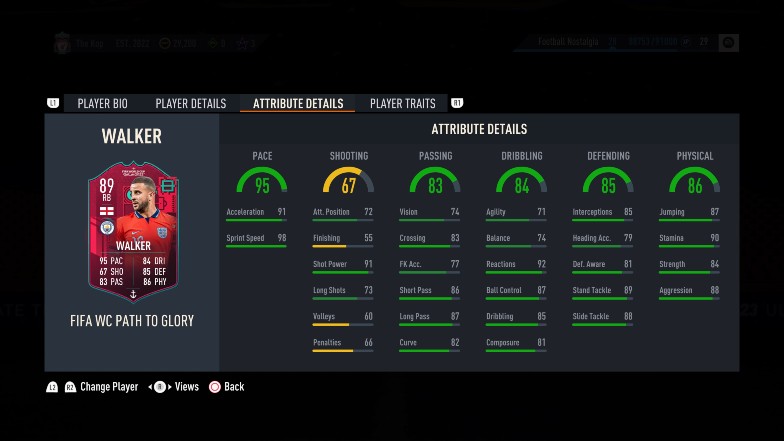 Kyle Walker's gold card was in my starting XI for so long. He was a beast defensively and his recovery pace had him blazing up and down the flanks hunting down the opponent's attackers.
During the World Cup, he got this special, upgradeable World Cup Path to Glory card that could have been even saucier had England progressed more than they did.
However, the card remains meta as is and you'll still find some pros using him in their starting XIs. It is quite rare as well, which is no surprise really given the price it goes for on the market.
If you slap the Anchor chem style on this card, it goes from Controlled to Lengthy with 97 overall pace, 90 defending, and 92 physicality. It doesn't get more meta than that.
Theo Hernandez – AC Milan – 89 (WC TOTT)
On the opposite side of Walker's flank, we've got Theo Hernandez whose World Cup Team of the Tournament card is similar in some ways to the Englishman's.
Like Walker, Theo is also extremely rapid and his gold card was OP in the earlier stages of the game. He's also pretty strong with a base score of 87 for Physicality.
To make him go Lengthy, you can only apply the Architect chemistry style. It boosts his Physicality to 95 which, combined with his base 96 score for pace guarantees that you can chase down and bully almost any attacker in the game off the ball.
The passing boost to 89 also helps with building play from the back, making Theo the ideal left-back both in defense and attack.
Final Thoughts
Speed is a crucial part of the FIFA 23 meta and an essential attribute for anyone who wants to build an elite Ultimate Team. The emergence of Lengthy changed how players approached this meta, especially in the early stages of the game.
Now, the lengthy acceleRATE is not as meta as it was, so you might need to do a bit more scouting for the best meta players in the game. Good luck!