The most anticipated promo so far, the Premier League Team of the Season started on May 5, 2023. We definitely got some exciting players but, a significant number of the FUT community have also voiced their disappointment with the upgrades that some players were given by EA.
Has the promo been worth the hype? I've tested out most of the players myself (some objectives can not be completed yet) and put together this review to help you decide.
Let's get into it!
Aaron Ramsdale – Arsenal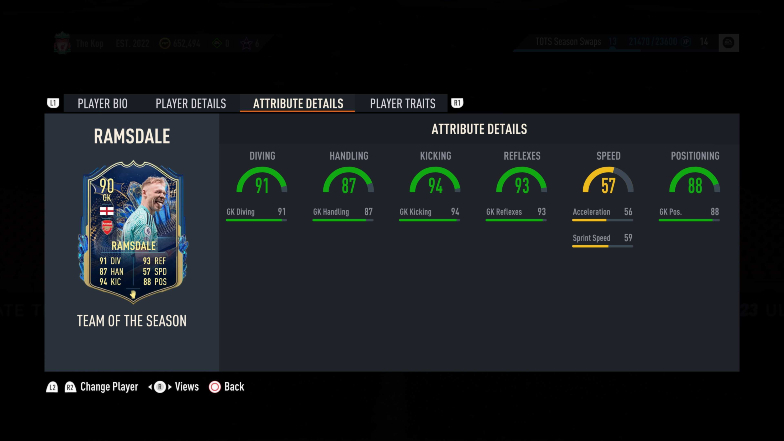 Like De Gea in the Community TOTS before him, Aaron Ramsdale's new card is nothing to get hyped up about. Unless, of course, you're an Arsenal/Bournemouth/Sheffield United fan that needs him for the p&p.
That said, the card is a nice upgrade from his 82 Gold Rare and 85 in-form cards with +5 or +6 upgrades on all face stats compared to the latter.
If you like to play the ball into your attackers straight from the keeper, you'll be happy with that 94 Kicking stat. Solid card, good price.
Oleksandr Zinchenko – Arsenal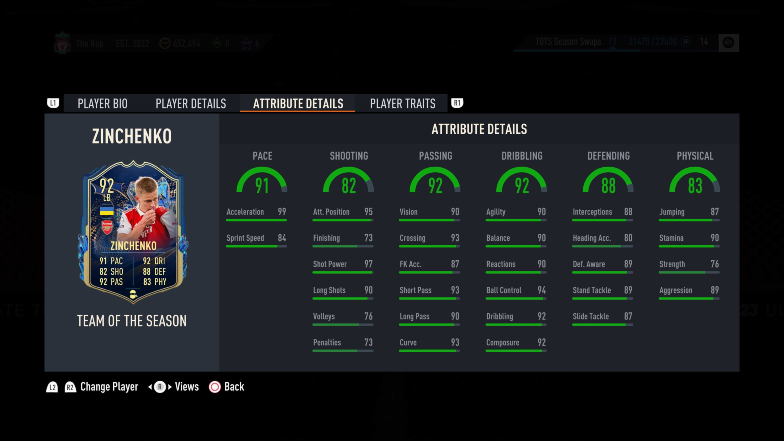 Now, this upgrade I'm not so sure about. Sure, EA has boosted every stat as expected. It's a huge upgrade from his 79-rated Gold Common card and +2 from his FUT Birthday card, but I would argue that the latter still represents better value overall.
First of all, the most significant stat upgrades are in the shooting and passing departments. At left-back, it would've been nicer to have those upgrades for pace and defending instead. Instead, EA has only added +1 upgrades in those two areas.
Secondly, this TOTS card only has 3-star skills and a 4-star weak foot whereas the FUT birthday cards have 4/5. That, in my opinion, is a big deal at this stage of the game.
The TOTS and FUT Birthday cards are priced in the same range, and I would recommend the latter if you're planning to pick one up.
William Saliba – Arsenal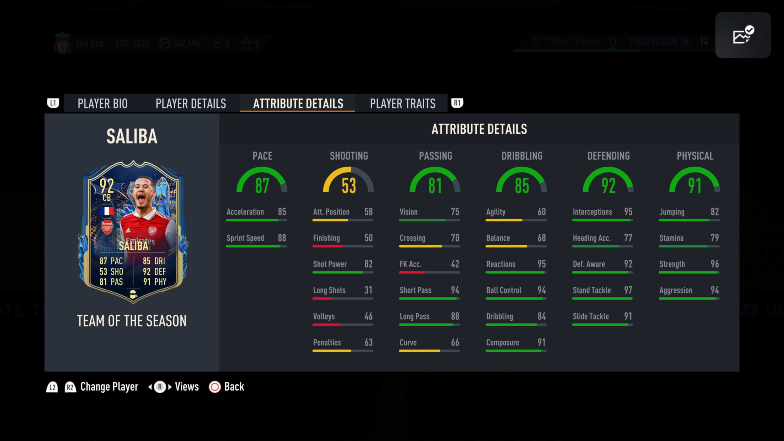 I feel a bit upset on behalf of Arsenal fans with the upgrades that their TOTS representatives got. Saliba is another card that's not a huge upgrade from his existing promo card – this time, the 90-rated FUT Fantasy version.
Again, EA has only added +1 upgrades to the most important areas – pace and defending – and then gone ahead to juice up the passing, shooting, and dribbling stats. It's a bit confusing.
Regardless, this is still a very good card and if you can pick him up while the market is low (possibly right after the weekend league), I'd still recommend getting him over the Fantasy FUT card.
However, if you already have the Fantasy FUT card, you're probably better off keeping him and spending your coins elsewhere. The upgrades don't make a huge difference, especially when you slap a Shadow chemistry style on him.
Ruben Dias – Manchester City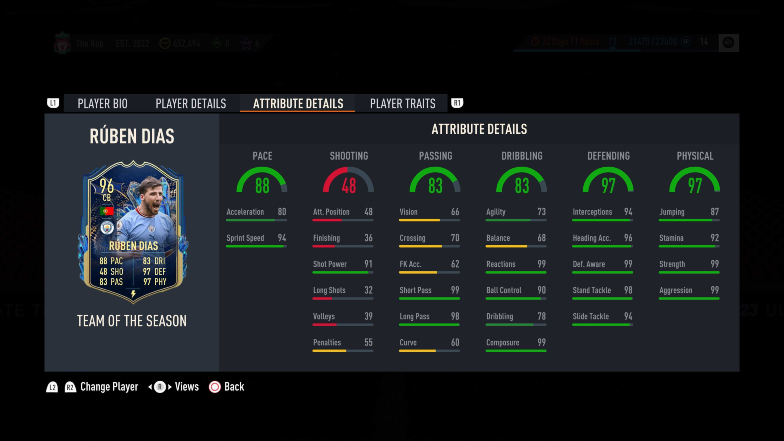 Ruben Dias' gold card was just high-rated fodder until the Fantasy FUT promo. That juiced card got upgraded to 93 as well, putting it only 3 points behind this new TOTS card.
This, in my opinion, is one of the best value cards of the promo. He has great links, stats that can compete with any defender in the game, and he plays very well in-game too.
His pace split is not the most ideal, but it's very solid if you use the Achor or Shadow chemistry style on new-gen for that Lengthy acceleRATE type. He has near-perfect defending on his base stats and nice animations in-game as well.
He's no TOTY VVD or TOTS Moments Varane, but he's the closest thing you'll get to those levels for the price.
Raphael Varane – Manchester United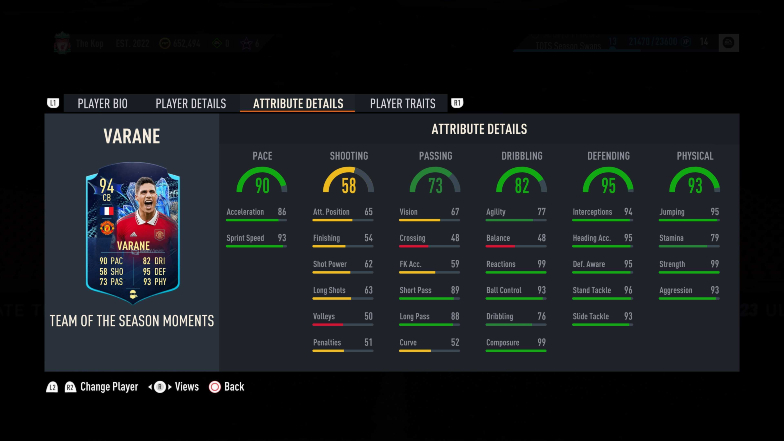 Speaking of TOTS Varane, this card looks absolutely ridiculous and is priced accordingly.
Although it is not an official TOTS (only a Moments card), this version of Varane is clear of any defender in the promo so far.
I'm not quite sure about him being priced the same as TOTY VVD as I still think VVD is better, but I'll chalk that down to two things. One is the fact that it's a relatively new card, ad the second is that he is significantly faster than VVD – on paper.
In-game, I would still say he's faster, but not as much as the stats suggest. Everyone knows that VVD plays way above his stats ad he's far from a slouch despite the unideal pace split.
Another factor to consider is that Varane's Winter Wildcard special was very popular and one of the best center-backs in the game for a couple of months, so the hype surrounding this juiced-up 94-rated version was rightfully immense.
With a 4-star weak foot to go with all of this, there are no significant weaknesses to note. He does have 48 balance which is very poor, but it does not affect how he feels on the ball or on the turn too much.
If you've got the coins to blow on a center-back, I'd recommend TOTY VVD over him, but this is a great card as well. If you packed him, then I hope you won Employee of the Month at EA.
Kieran Trippier – Newcastle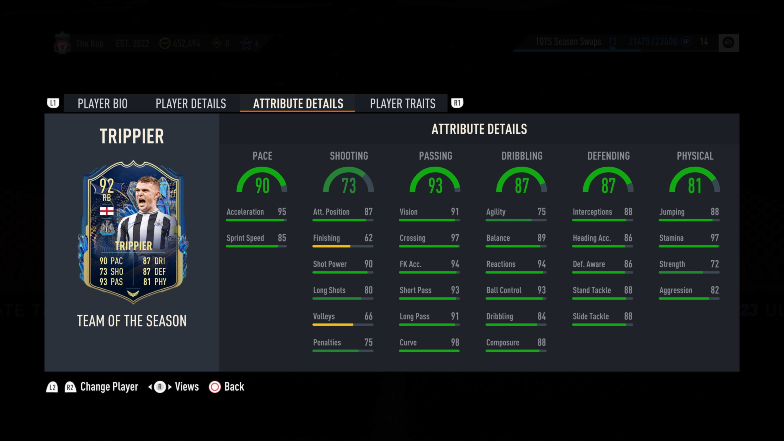 This card is very cheap on the market and upon closer inspection, it's easy to see why.
90 pace looks good on paper, but a pace split that includes 85 sprint speed is poor, to say the least. Even with a Shadow chemistry style applied, you'll still be getting outpaced by wingers constantly at this stage of the game.
The card's biggest strength is passing. For a right-back, it's nice to have, but he simply does not fit the meta of the game.
If you're looking for someone to fill the position for chemistry purposes, then he can do a job. Otherwise, I'd steer clear and go for alternatives such as FUT Centurions Trent or TOTS Moments Reece James.
Reece James – Chelsea
Yes, Reece James got a TOTS card. Well, a TOTS Moments card actually. Off the top of my head, I'm not sure which moment it's for, but I really enjoyed his Gold Rare and Out of Position cards earlier in the game, so I'll take it.
This card has the same 90 pace as Kieran Trippier's TOTS, but the pace split is much better and you can boost it further to 98 with a Shadow chemistry style on old-gen.
However, on new-gen, the Anchor chem style is the way to go as it makes him Lengthy and also boosts his already-solid physical stats.
Compared to FUT Centurions Trent Alexander-Arnold (which is the best alternative in my opinion), this card is better defensively but not quite as good going forward. He's not expensive though, and you can't go wrong if he fits into your budget.
Joao Palhinha – Fulham
EA has knocked it out of the park with this Objective card. I absolutely loved his World Cup PTG card and used it for months, despite the fact that he had quite low speed compared to other meta cards in the game at that point.
Now, 80 pace is still relatively low for his position at this stage of the game, but this is one of those situations where the player performs better than the stats suggest. His animations are one of the best for players in his position and he's just so good at winning the ball back.
With a Shadow chemistry style to make him Lengthy and boost that pace, I can see myself using this card fairly regularly. Just remember to keep things simple with him once you win the ball back – don't try to dribble or run with it too much.
Casemiro – Manchester United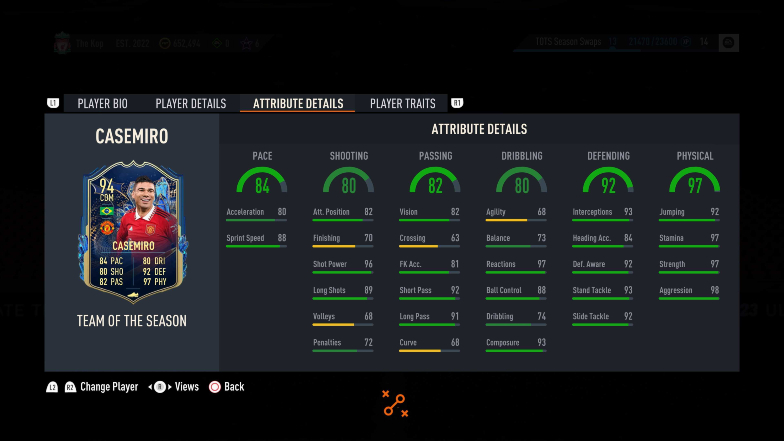 Casemiro's cards in FUT23 are pretty similar to Palhinha's in the sense that they both feel faster than the stats suggest.
Even with 76 pace on his World Cup Team of the Tournament card, he was one of the best DMs in the game for a while, and certainly the best in his price range.
This new TOTS card comes with a significant +8 pace boost and a sizable physical boost as well, so he's back among the best DMs in the game.
With a Shadow chemistry style applied, you're looking at a 6'1″ defensive midfielder with high/medium work rates, a unique body type, a 4-star weak foot, 92 pace, 97 defending, and 97 physicals. He's the complete midfield bully.
Despite all of this and great links as well, he's relatively cheap. However, there are no guarantees that it'll stay that way, especially when the PL TOTS players are out of packs. So, I'd recommend picking him up immediately if you can cough up the coins.
Martin Odegaard – Arsenal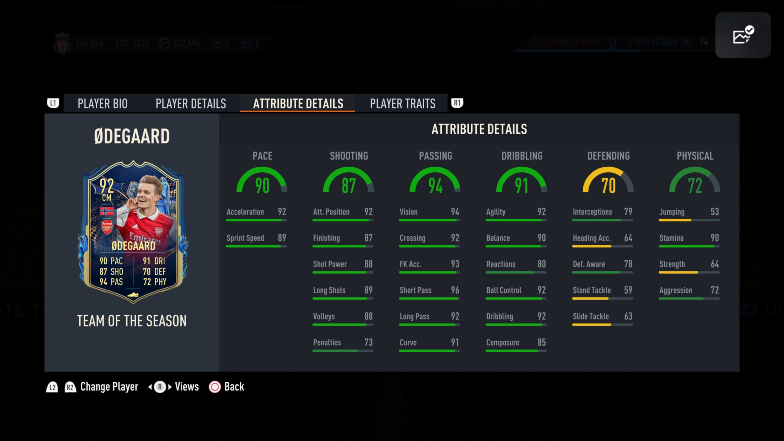 I'll be frank, Martin Odegaard's card is quite underwhelming given his performances for Arsenal over the course of the season. He's been one of the best players in the Premier League, but his TOTS card is one of the lowest rated – and he didn't even get a significant weak foot upgrade!
In terms of strengths, he's very good on the ball with 5-star skills, 91 overall dribbling, and a Lean body type. He's also an excellent passer and has a fair bit of pace – sufficient for the middle of the park at least.
However, this card is nothing special overall. You may also struggle with linking him unless you're building a Premier League team, so it's a pass from me.
Bruno Guimaraes – Newcastle
It's never a good sign when a supposedly upgraded card costs about the same as the "inferior" card, and that's exactly the case with Bruno Guimaraes' FUT Birthday card compared to his new EPL TOTS card.
While the TOTS is a +2 overall upgrade, the stat upgrades are not enough to beat the 5-star skill moves on the FUT Birthday card, especially at the elite level.
To be fair, there are many players that don't care about 5-star skills on a central/defensive midfielder. In fact, I am one of those people. However, there is no denying that it increases the value and appeal of cards in FUT.
The TOTS card only has 3-star skill moves, and Bruno's 3-star weak foot has not been upgraded either.
That said, it's still a very good card with barely any other significant weaknesses, so don't be afraid to splash the cash if you're eyeing him up. If you already have the FUT Birthday card, I'd hold on to that and pass on the upgrade.
Kevin De Bruyne – Manchester City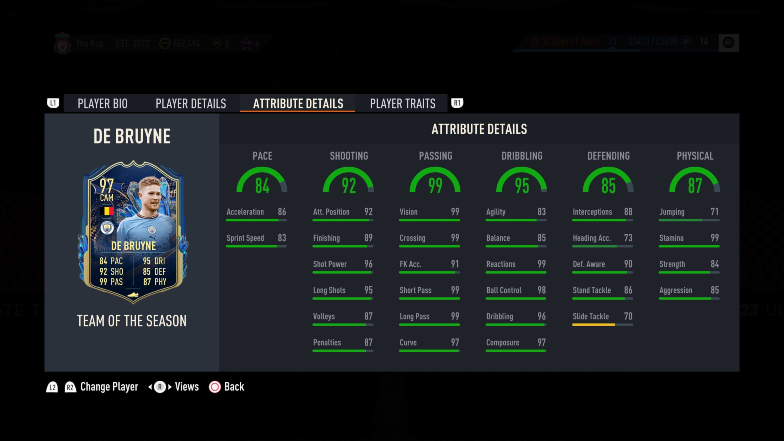 Kevin De Bruyne's EPL TOTS card is a bit of a strange one when compared to his TOTY card.
Both cards are 97-rated and nearly identical, although the new card has 4 more face stats and 10 more in-game stats. On the new TOTS card, you get slightly better passing, dribbling, and physical. However, the differences are so small that I doubt you'll feel the difference in-game.
A +4 upgrade to defending is more significant, and it bodes well if you're planning to use him in a box-to-box or deep-lying role in the midfield.
I think it will come down to a matter of the prices of both cards whenever you're ready to spend your coins. Personally, I'd just go for whichever version is cheaper at the time – both cards are incredible.
Kaoru Mitoma – Brighton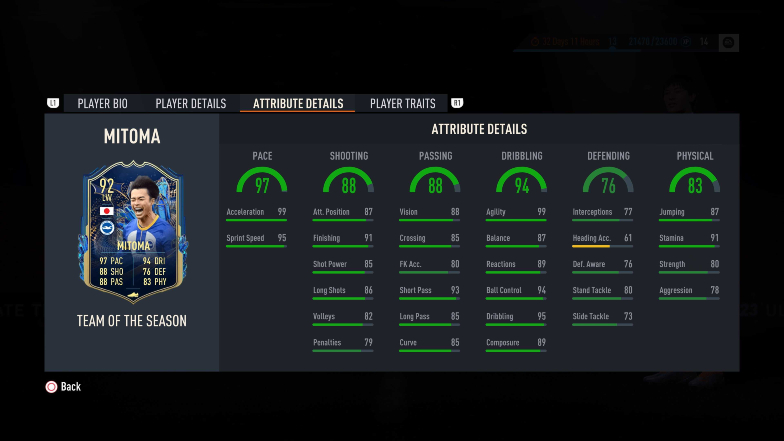 If you've been eyeing Kaoru Mitoma's Fantasy FUT card, then the drop of this new TOTS objective card should be amazing news for you.
It's a nice +2 upgrade to the 90-rated Fantasy card, and he looks really good on a Maestro chemistry style. The main negative here is the fact that his national links make it a bit difficult to get him on full chem.
That said, it might be a nice card, but there are loads of better options in the market which is why it's free. I can only really see him being used in starter teams or p&ps.
The Objectives that require completion to get him don't involve playing games, so he shouldn't be too difficult to craft. Even if he doesn't get into your team, it's good fodder for free.
Marcus Rashford – Manchester United
Do we finally have a worthy competitor for Mbappe's FUT23 throne? Nah, I'm kidding. No chance.
In all seriousness though, this Marcus Rashford card looks absolutely ridiculous. Sure, there are a handful of 99-pace attackers in the game at this point, but that's not all there is to this card.
He has a 4-star weak foot and 5-star skill moves; his unique body type feels fantastic on the ball in-game; he FINALLY has good work rates (medium/high); and you can see the rest of the stats for yourself – absolutely ridiculous.
His shooting, dribbling, and passing are all cracked. You almost don't need to apply a chemistry style to the card at all! Despite the relatively low 87 balance, I would leave him on the basic chemistry style to boost multiple areas. Any other style would feel like a bit of a waste.
This is what a TOTS upgrade should look like, and it's no surprise that EA saved some of the best for one of the most popular players.
He's elite, but that also means that he costs a fortune. If you're not a pro or a trader, you have some serious savings to do to be able to afford this guy. But, I can tell you for free that he will be worth every penny. He is one of the best meta players in the game.
Gabriel Martinelli – Arsenal
A lot of people might disagree with me, but I actually believe that this Martinelli card got exactly the upgrade it deserved.
Yes, he's been one of Arsenal's best players this season, but a 93-rated card with those stats is nothing to scoff at.
Now, one might argue that Son got a 94-rated card and isn't even officially part of the TOTS squad, and it's a good point, but EA's rebuttal would be that it's a Moments card that is not determined by long-term performances like Martinelli's.
If you slap a Deadeye chemistry style on this card, he has 98 pace, 97 dribbling, 94 shooting, and 90 passing. Football fans might want more, but considering his bargain price on the market, I'm more than happy with what we've got.
Perhaps, a 5-star weak foot/skill move upgrade would've made it perfect, but then he'd probably cost a million.
Heung-Min Son – Tottenham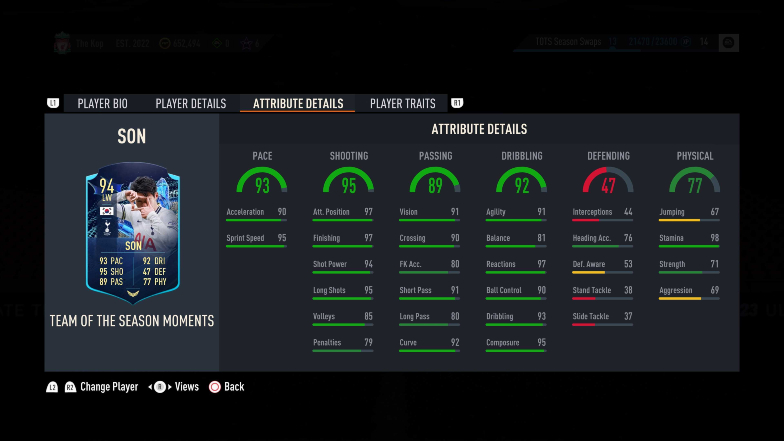 The elephant in the room, Heung-Min Son's TOTS Moments card is the metric by which many other official TOTS cards have been judged.
I imagine he got this card for his hat trick off the bench against Leicester in September 2022 (which was incredible, by the way), but I'm not here to argue about the reasoning behind making the card better than most TOTS cards.
I like Son's gold card very much earlier in the game. I did not use his Road to the World Cup card at all, but it was expensive for a very long time so I can only imagine how cracked it was.
This 94-rated upgrade comes with juiced passing and shooting, making him one of the best natural finishers in the game on either foot.
Since his shooting does not need an upgrade, I tried him with an Engine chemistry style to improve his balance and he felt better on the ball as a result.
Personally, I would recommend using him in a two-striker formation, he feels a bit wasted on the wings with that finishing and he's not the quickest either.
Despite the unpopular South Korean links, it shouldn't be too hard to get him on full chem. You've got a very nice Spurs link in TOTS Harry Kane and a perfect Korean link in Fantasy FUT Ji-Sung Park.
Mohamed Salah – Liverpool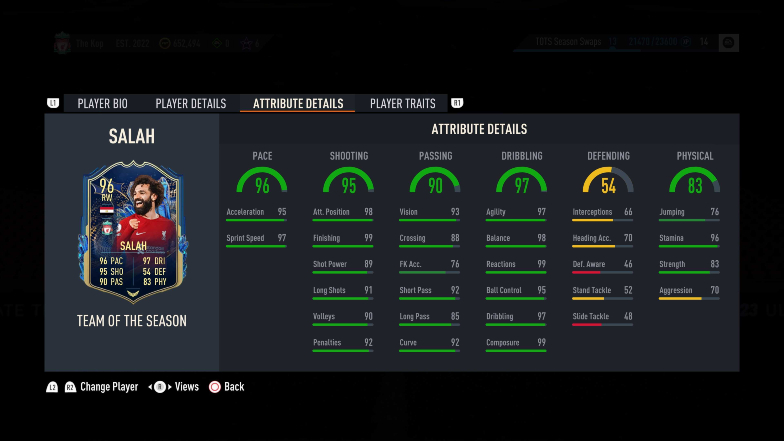 Personally, this Mo Salah TOTS card is the second-most exciting card of the promo after Marcus Rashford. Why, you ask?
Well, apart from the juiced stats, he has 5-star skills!
Now, it's a bit disappointing that EA did not upgrade his 3-star weak foot as well, but I try not to think about that too much.
The bigger conundrum is deciding which chemistry style is best for this beast. On one hand, the Artist chem style makes him explosive and adds some nice passing boosts which is ideal if you want to use him on the flanks.
On the other hand, the Hawk adds more ideal boosts to pace, shooting, and physicality. In my opinion, it is still the better option and you'll just have to overlook the buffed explosive acceleRATE and work with Controlled.
He's 5'9″ with a unique body type which means he feels incredible on the ball, and those dribbling stats complement that nicely to make him one of the best speed dribblers in the game.
Erling Haaland – Manchester City
There's not much point going on about this card. Anyone that's played FIFA this year knows how good he is, and EA has only made him even more broken by upgrading his weak foot to 5 stars.
The stat upgrades are less noticeable in-game, but that weak foot upgrade is definitely a significant jump. However, I will say that some people will still struggle to get the best out of him due to his body type and style of play.
Personally, I'm not a big fan. I prefer smaller, nimble attackers that also offer great finishing. If you're like me, then you have other excuses to avoid this card apart from the fact that it costs a fortune.
Harry Kane – Tottenham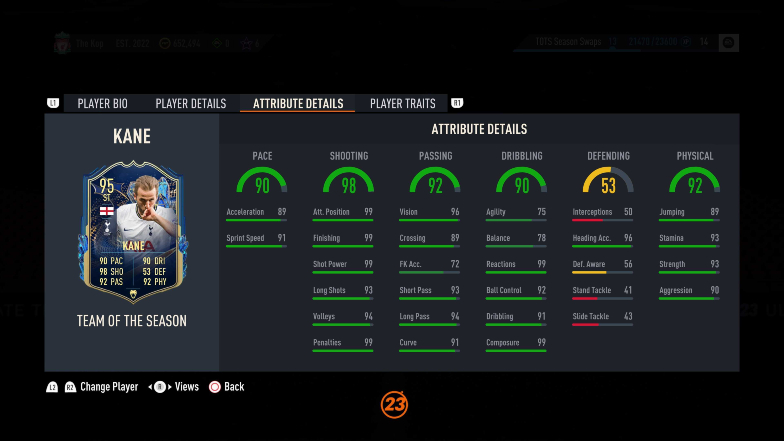 This Harry Kane card is closer to Haaland's than it's ever been. Both cards have a similar build in-game, although Haaland has always felt much faster on the ball.
Now, Kane is fairly rapid too, especially if you use him on a Hunter or Catalyst chemistry style. However, I personally feel like those styles are a bit wasteful as his passing and shooting stats are already cracked.
Since he's already on a Lengthy acceleRATE, I would suggest trying him out on an Engine to give him near-perfect passing, a small pace boost, and also improve his Agility and Balance to make him feel a bit better on the ball and less like a truck.
For the ridiculously low price that he goes for on the market, buying this card is a "risk" worth taking under any circumstances. Even if you don't buy him, chances are you'll pack him before the promo ends – he seems pretty common.
Ollie Watkins – Aston Villa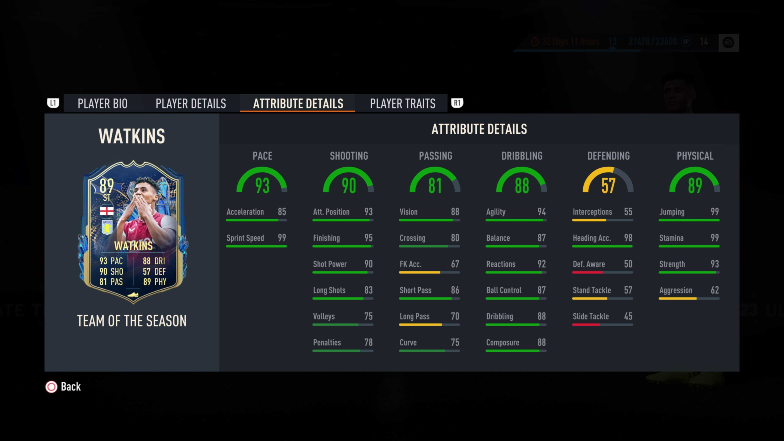 Good fodder.
What Next?
According to the FUT23 TOTS schedule, the next major team is the Bundesliga Team of the Season expected to drop on May 12, 2023.
While you're waiting for that, check out our guide to the best players for hybrid teams in FUT23. You might find one or two gems that you can potentially link with these Premier League players and the other TOTS players yet to come.
We'll also have a review up for the Bundesliga team when it is released, so keep checking back for new content!