Making the best silver team in FIFA 23 is no easy task with the slightly confusing new chemistry system.
If you want to be getting the most out of your players, you need to have 3 chemistry on every single member of your squad.
Fortunately, there are quite a lot of good silver players in FUT 23 that somewhat fit the meta; they're fast and, well…their other attributes aren't terrible (for the most part).
Below, you'll find perhaps the best silver squad to use in FIFA 23 with full chemistry.
I'll also throw in some unbelievable players to bring off the bench, along with a suggested in-game tactical tweak.
Starting XI
These are the silver players I recommended using in a pre-game formation of 5-3-2: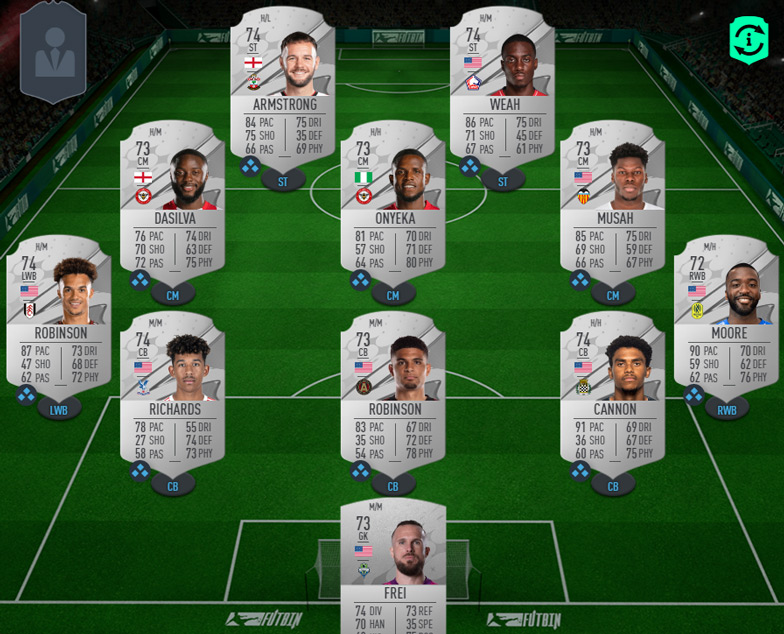 The full player list is:
GK: Stefan Frei (Seattle Sounders)
RWB: Shaquell Moore (Nashville SC)
CB: Chris Richards (Crystal Palace)
CB: Miles Robinson (Atlanta United)
CB: Reggie Cannon (Boavista)
LWB: Antonee Robinson (Fulham)
CM: Yunus Musah (Valencia)
CM: Frank Onyeka (Brentford)
CM: Josh Dasilva (Brentford)
ST: Timothy Weah (Lille)
ST: Adam Armstrong (Southampton)
You will need to use position modifiers on a small number of players; Cannon, Moore, Robinson and Musah.
I think this is a perfectly playable squad and formation, dominated by players from the United States.
However, if you prefer to play a 4-4-2 (or similar) in-game, you should set up your custom tactics so that you automatically switch after kick-off.
Substitutions
If you like to make early substitutions, or if you just want to know some amazing silver players to bring off the bench late on in a game, here's how your team could look: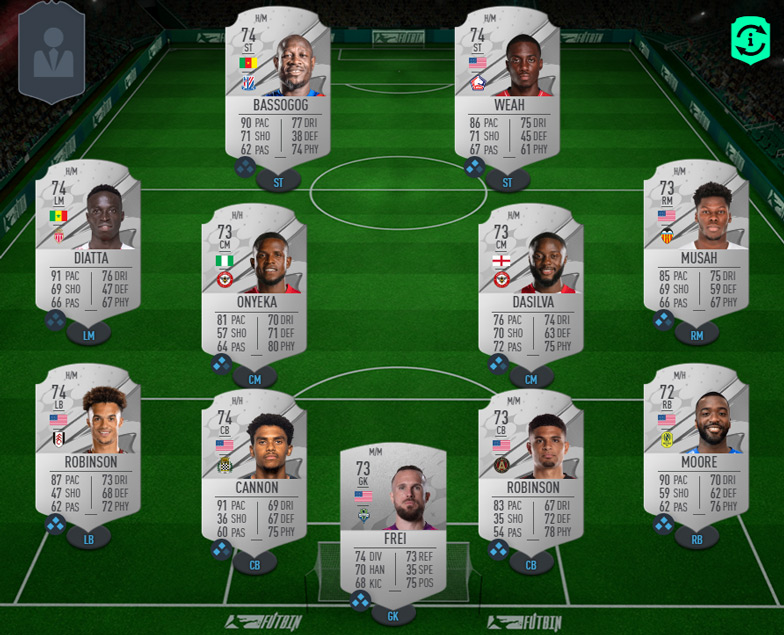 In case it's not immediately clear, this squad now has Christian Bassogog, the fastest silver striker above a 71 rating, from Shanghai Shenua, and Krepin Diatta, a 91-paced winger from AS Monaco.
There is an even faster silver winger than Diatta with a 74-rating – Gerrit Holtmann of VfL Bochum, who has 94 pace.
Holtmann could arguably be suitable for your third and final substitution, but in terms of priorities on the wing, I give Diatta the edge for his all-round ability. Despite Holtmann edging him in pace, Diatta has better shooting, dribbling and physical attributes, and is only 1 behind on passing.
Remember, chemistry only matters pre-game, so bringing off-chem players into your side from the substitutes bench is a perfectly good (and highly recommended) tactic.
An Alternative Squad
Here's an alternative silver squad you could look to use: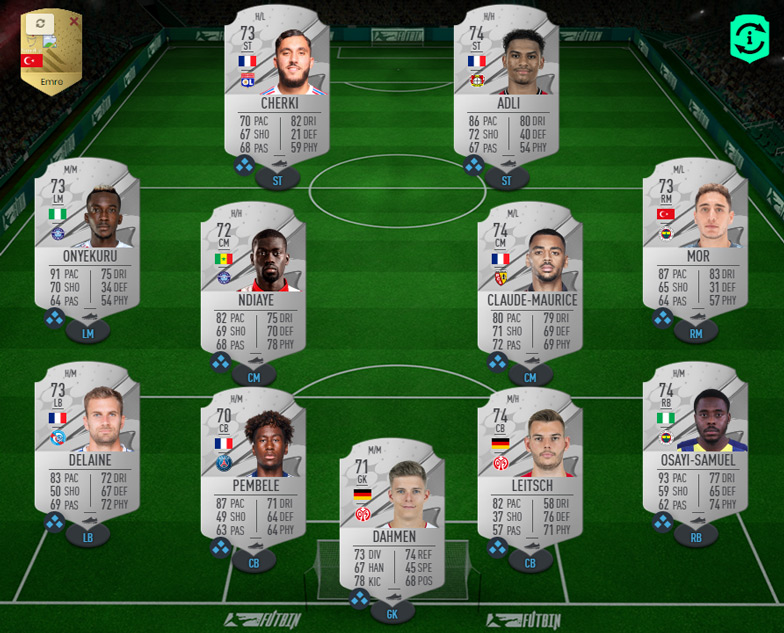 The players for this silver team are:
GK: Finn Dahmen (Mainz)
RB: Bright Osayi-Samuel (Fenerbahce)
CB: Maxim Leitsch (Mainz)
CB: Timothee Pembele (PSG)
LB: Thomas Delaine (Strasbourg)
RM: Emre Mor (Fenerbahce)
CM: Alexis Claude-Maurice (RC Lens)
CM: Badou Ndiaye (Adana Demirspor)
LM: Henry Onyekuru (Adana Demirspor)
ST: Amine Adli (Leverkusen)
ST: Rayan Cherki (Lyon)
This is a squad that I originally found on Reddit but it didn't have full chemistry. I figured out a simple fix for this issue, though – add a Super Lig manager (e.g. Emre Belozoglu) and you're good to go.
I give my original squad the edge in defense, especially in the goalkeeper position. Frei is an inch taller and is 73-rated compared to Dahmen at 71.
I think this second squad slightly edges mine in attack, though it requires an essential early-game substitution. The 70-pace Cherki is not going to be strong enough to lead the line for any silver team and his other attributes don't make up for such a lack of speed, even with his 5-star weak foot and 5-star skills.
Your early game sub could be one of my earlier player recommendations; Timothy Weah or Christian Bassogog.
One of the larger weaknesses of this second squad is the work rates of the players. Three of the players have a low defensive work rate, meaning they won't track back to help the team.
Admittedly, one of the three is Cherki who I recommend that you sub off immediately at kick-off, but having two lazy midfielders is going to make it tougher for you to win possession back from your opponent.
Compare this to my squad, only one player has a low defensive work rate and it's the striker Adam Armstrong. Having a lazier forward player isn't as bad as having them in the midfield, and I did recommend that he be subbed off for Bassogog either way.
I hope this has helped you find the best silver team in FIFA 23 for your own play style.
Now you're sorted here, you should check out our bronze squad recommendation so you're set up for bronze-only objectives.