Creating the perfect meta team for FIFA 23 Ultimate Team can be expensive. But it doesn't have to be.
There are plenty of viable defenders you can purchase cheaply to help improve your FIFA 23 Ultimate Team.
This article will identify the best fast, cheap defenders on FIFA 23 Ultimate Team. We have selected cheap options for Special (TOTW and Promo), Gold, Silver, and Bronze players, so there are sure to be options on this list that suit any player's budget.
Cheap Fast Special Defenders
This selection contains in-form cards and promo cards. All the players cost 20k or less. Special cards are known to fluctuate in price depending on events within the game, so if you can't find any of them for that price at any given time, you may only need to wait a bit.
Reinildo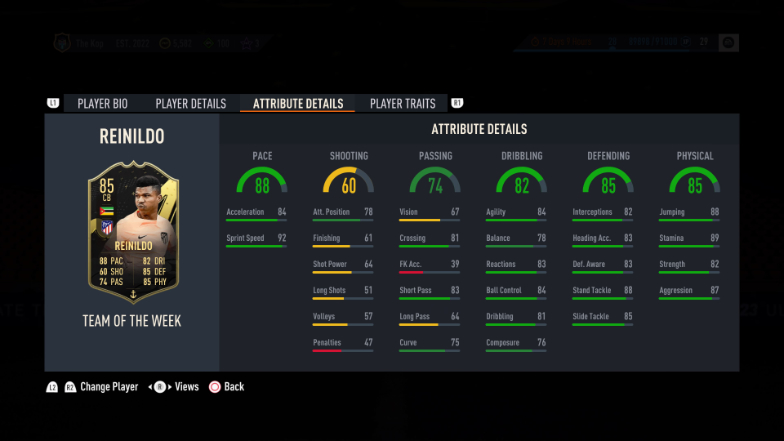 Reinildo's 85-rated second in-form card is a versatile defender that can play both the left-back and center-back positions comfortably. If you have a decent left-back, I strongly recommend playing him in the center-back position because of that pace.
He'll catch up with many meta attackers and with the Shadow chemistry style, his defending stats look excellent as well.
If you're building a La Liga team, then it should be easy to get him on full chem.
Timo Hübers
Timo Hubers in-form card is a cheap meta defender in FUT23. He is tall, fast, and lengthy (which is fantastic if you're on new gen).
He also has decent links if you're building a Bundesliga/German hybrid team, so it shouldn't be hard to get him on chem.
With the Shadow chemistry style, he has 93 pace and 92 defending – an absolute steal for the price.
Micky van de Ven
Micky van de Ven is another Bundesliga option that can slot in that left center-back spot. Like Hubers, he is tall, lengthy, and fast.
He also has the left-back position change, but I believe he would be wasted there. With the Shadow chemistry style, he has 93 pace and 92 defending which is a fantastic combination to go with his High and Average body type and base 89 score for physicality.
One thing to note if you're getting this guy is that he has high/medium work rates, so he can get dragged out of position fairly easily, especially if you're one to trigger runs often.
Jeremie Frimpong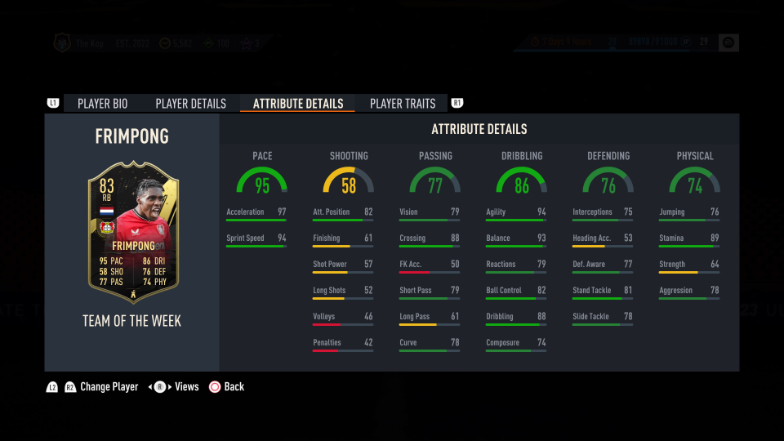 Jeremie Frimpong is one of the best attacking right-backs in the game at this price point. He has two in-form special cards so you can go for either one depending on your budget.
For what it's worth, the 86-rated one is worth the extra cash because of that defending boost. However, this 83-rated alternative is pretty solid as well and he has pretty decent links.
The best chemistry style for him is the Anchor for near-max pace and the defending + physicality boosts.
The Shadow obviously offers a bit more defending, but I think it would be a bit wasted considering the fact that his base pace is already so high and does not need that much improvement.
Junior Firpo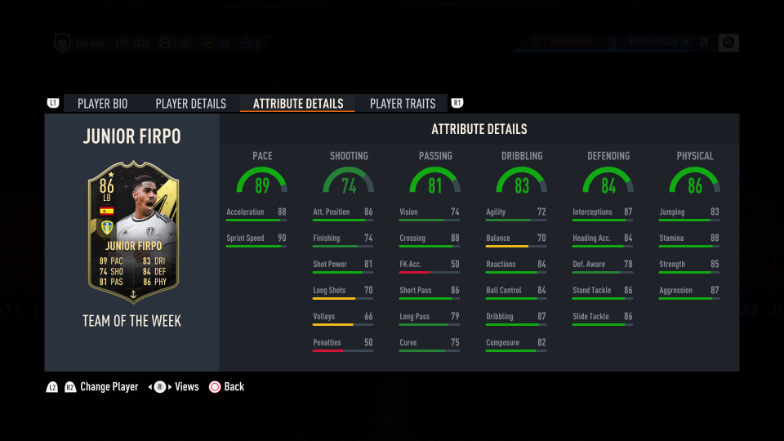 Junior Firpo's card looks like an excellent all-rounder. He's 6 feet tall, has medium/medium work rates, 3-star/3-star weak foot, and skill moves to go with very respectable numbers in all the important stats.
With the Anchor chem style, you can boost his pace to 93, defending to 89, physicality to 91, and make him Lengthy as well. He has great links with Spain and the Premier League so there are no issues there.
Cheap Fast Gold Defenders
At this stage of the game, gold cards are pretty cheap. However, if you're looking for fast center-backs that are still considered cheap even for a gold card, then this selection should interest you.
All the recommendations cost less than 1,000 coins.
Jawad El-Yamiq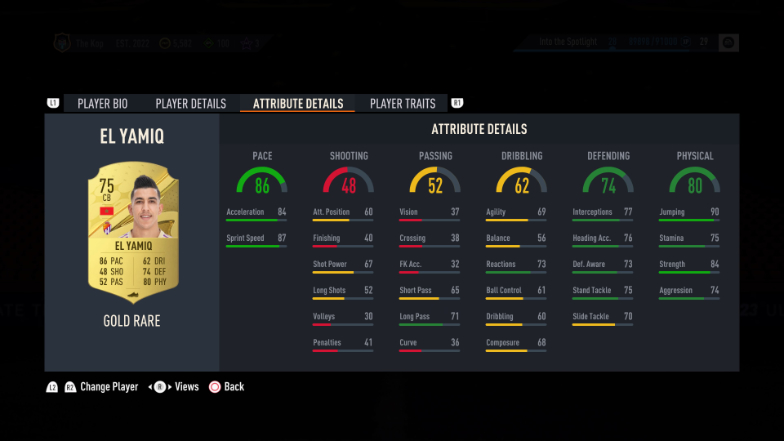 El-Yamiq's SBC promo card released during the World Cup was one of the best center-backs in the game during that period, due in large part to his pace and build.
His gold card also offers plenty as far as budget options in this category go. He's 6'4″ and Lengthy, and if you apply a Shadow chemistry style to this card, he has 94 pace and 82 defending. I very useful addition to any cheap La Liga squad!
Jeremiah St. Juste
Despite the meh links, this card is still one of my favorites from this list. With 93 starting pace, you won't need to boost that category with a chem style anyway, so it's all good.
It also bodes well for his recovery pace, especially considering his high/medium work rates which means that you may find him in advanced areas of the pitch more times than a regular center-back.
He has an alternate right-back position though, so you can just play him there instead. If you have a Dutch team, it should be easy to get him on chem and if not, his starting pace is good enough to come on as a sub for tired legs in your defense.
Alex Moreno
Following his transfer to Aston Villa from Real Betis, Alex Moreno now has two gold cards in the game, I recommend going for the Premier League one because it's just a bit better for links. But, if you have a La Liga squad, then go for the other one.
Moreno is an attacking full-back. He has high-medium work rates to compliment that, but his physicality can make him a bit of a liability when up against strong attackers.
With a Shadow chemistry style, this guy has 96 pace and 83 defending, so he will still offer quite a bit in defense. However, I only recommend buying him if you like to burst forward with your full-backs.
Alexander Bah
Like Moreno on the other side of the pitch, Bah is also an attacking full-back.
His stats look nice if you're in the market for cheap and fast players in his position, but his links might be an issue if you're not building a Liga NOS team.
However, I still think he's one of the best budget options in this category because his starting pace is enough without the boosts from any chemistry style. This means that even if you're buying him to start off-chem or come off the bench, he will still be pretty solid.
Gonçalo Bernardo Inácio
If you need a cheap fast defender that also provides various other qualities for your team, Goncalo Bernardo Inacio is an excellent choice.
He has the pace required for FIFA 23 Ultimate team, with an 80 score overall, but he also has an 80 for defending and a 77 for physicality.
These statistics make Inacio an excellent option for any team on a budget that wants a fast, well-rounded defender to improve their team.
Cheap Fast Silver Defenders
Next, let's focus on cheap fast, silver defenders you can add to your silver beast squad.
If the gold players on this list are out of your budget, increased in price, or not available on the transfer market currently, there are several silver players that you can add to your team that will also do a great job.
Hyeon Beom Ahn
If you prefer to implement formations that utilize pacy wing-backs, then you might want to consider Hyeon Beom Ahn as a cheap option for your team that provides plenty of pace down the right.
He has 84 pace statistics and is a consistent performer across passing, dribbling, defending, and physicality, making him a balanced all-round wing-back.
Georg Teigl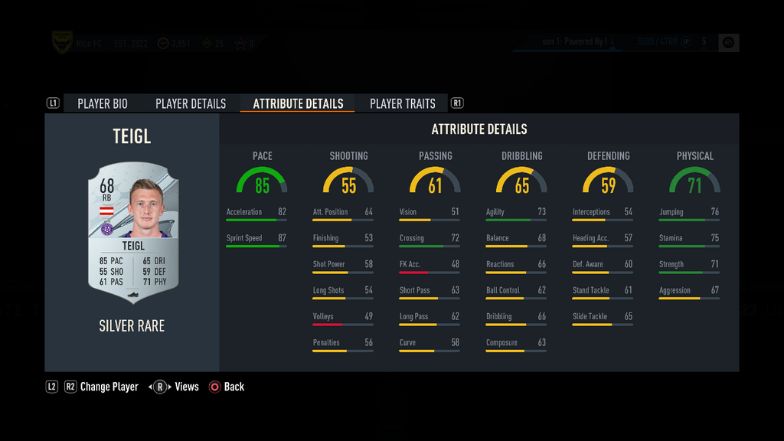 Another option for you if you like pace at right-back is George Teigl. He provides you with 85 pace, 82 acceleration, and 87 sprint speed and shouldn't break the bank.
Alongside his excellent speed statistics, he also has a decent dribbling statistic at 65 and 71 physicality.
While he isn't the most attacking right-back you can select, he is a fast, well-balanced defender that you can get your hands on for very little in-game cash.
Erick Otieno
Erick Otieno is a fantastic pick-up for any player on a budget, not least because he has an incredible pace score of 89. With 88 acceleration and 89 sprint speed, he is an excellent option at left-back for any team. He also has a 70 dribbling score and 75 physicality, ensuring he meets almost all of the meta requirements.
Unfortunately, as a Kenyan international playing in the Swedish top league, he might be hard to pair to increase Team Chemistry, but at such a low price and with such a great pace, Otieno is definitely and player you should consider for your squad.
Przemysław Wiśniewski
It is not always easy to find a fast center back without paying a premium fee, but one option you might want to consider is Przemyslaw Wisniewski.
Wisniewski has an 84 pace score, with 81 acceleration and 87 sprint speed. He has an okay defending score of 66 and a very strong physicality score of 78.
While his defending statistic could certainly use a buff for such a low fee and with such excellent pace, Wisniewski is a great option.
Lukas Klünter
Another excellent silver center-back you could consider for your team is Lukas Klunter. Like Wisniewski, he has an 84 pace statistic, 83 acceleration, and 85 sprint speed. However, unlike Wisniewski, he has a slightly higher defending statistic at 71.
He is less physical, with a 68 physicality statistic, but he is a German international, which makes it easier to add chemistry with other top players.
Cheap Fast Bronze Defenders
Finally, if you're looking to make a bronze team, there are some fast bronze defenders that you can consider adding to your team.
As you would expect, the other attributes of these players are not quite as strong, but their pace helps you get out of a lot of tough spots, and they are perfect for the FIFA 23 Ultimate Team meta.
Allan Arigoni
When selecting a bronze defender for next to no money, you might think you wouldn't be able to find a fast player. However, Arigoni breaks that thought immediately, with a 90 pace statistic, including 91 acceleration and 90 sprint speed.
He also has a respectable physicality score of 71, although his defending statistic leaves lots to be desired at 58.
However, with such blistering pace, he is sure to get himself out of many potential defending errors when up against almost any striker.
Tyler Magloire
Another rapid bronze defender that you can get for a low fee is Tyler Magloire, who plays for Northampton in England. He has an 89 pace statistic, 89 acceleration, and 89 sprint speed.
Like Arigoni, Magloire has a 71 physicality and a 60 defending statistics.
Magloire is sure to offer plenty of pace at the back, but don't expect him to be able to play out from the back, as he has very poor dribbling and passing statistics.
However, Magloire ticks many of the boxes you need for an excellent Ultimate Team player for a cheap pick-up.
Florian Heister
Next on the list is one of the cheaper bronze right-backs you can pick up that has plenty of pace. Heister has an 88 pace score, 90 acceleration, and 87 sprint speed.
Pleasingly, he also has relatively good dribbling and physicality numbers, although his defending and passing scores drop below 60, which is not ideal.
For a bronze pick-up, though, Heister has fantastic speed and plenty of other attributes that make him a valuable player for your team.
Ibou Touray
As a cheap bronze left-back, Ibou Touray is a great pick-up as he has 84 pace, with 82 acceleration and 85 sprint speed.
Tourney also has a solid dribbling score of 62 and a good physicality score of 68. However, his passing and defending are only 56, so try to use a chemistry style to improve these statistics if you can.
If you can, you will have an excellent left-back at your disposal for very little money.
Gift Links
You will struggle to find any bronze defenders at this price that have an 85 pace score with 87 acceleration and 83 sprint speed, and 74 dribbling.
If you can use chemistry-style cards to increase his passing to ensure he can produce the end product going forward, Links can be a fantastic addition to any team. However, with his nationality and club, Links is unlikely to offer strong…links in most lineups.
Also, his defending statistics are very poor, so you might need to factor that in when you make your other defensive selections. Still, he's a great option for completing bronze objectives for that pace alone!
Final Thoughts
In summary, there are plenty of affordable defenders in FIFA 23 with pace to burn.
Head to the transfer market and see if you can pick up any of these players for a good price, and ensure you select players that contribute appropriately to team chemistry.
If you're working with a large budget, consider making a selection from our guide to the fastest defenders in the game.