The La Liga Team of the Season for FUT23 is here, and as expected, it is dominated by Barcelona and Real Madrid players with each club represented by 5 players each.
Like the Bundesliga Team of the Season before it, we've got some outstanding cards in this promo. Some of the players already had excellent promo cards, so EA had to do a madness to further upgrade those cards.
Anyway, this guide briefly reviews each of the 18 cards in the promo (including the Team of the Season Moments cards). If you're planning to splash the coins for a marquee signing or improve your team with a budget option, this should help you decide who to go for without worrying about EA tax on a poor transfer.
Marc-Andre ter Stegen – Barcelona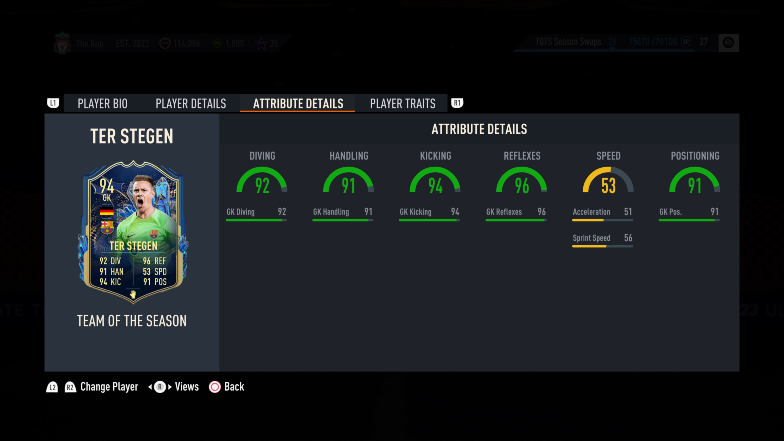 I usually don't have much to say about goalkeepers in FIFA 23. I believe there is a small group of 5 or so goalkeepers that are truly outstanding (e.g., Prime Yashin and TOTY Van der Sar) and if you use any keeper outside of that group, it could be a hit or a miss.
That explains why I will be judging this ter Stegen card based on stats alone, and they're looking pretty good. He has no weaknesses, especially when you slap on a Glove chemistry style. He also has a 4-star weak foot which is excellent for clearances under pressure.
However, he's 'only' 6'2″ so he won't have the diving reach that some of the taller goalkeepers have. It's one of the reasons why 6'6″ Van der Sar is so hard to score against, but then again, Prime Yashin is also 6'2″ and he's amazing so make of that what you will.
For the price compared to the aforementioned elite goalkeepers in the game, he's a solid card.
Javi Galan – Celta Vigo
Javi Galan's Team of the Season Moments card is one of the best bargains of the TOTS promo so far, in my opinion.
Before him, I've been using Marcos Acuna's 90-rated in-form card at left-back and I absolutely love that card. That's why the biggest compliment that I can give his new replacement is that he's the closest thing to Acuna that I've tested in-game.
My favorite thing about the card is its aggressiveness in and out of possession. Despite a smaller body type (which makes dribbling better, by the way), he's not easy to bully off the ball and wins a ton of duels down that left flank.
He replaces Acuna mostly because he's significantly faster, so I can afford to use a Sentinel chemistry style that further boosts those physical stats without worrying about pace. He also has a better weak foot and skill moves combo with 4 stars in both areas to Acuna's 3.
My biggest concern with the card is the 76 rating for Defensive Awareness (goes up to 84 with the Sentinel chemistry style). It means I have to worry more about manual recovery than I would with a card like Acuna's, but Galan makes up for it in other areas.
Alex Balde – Barcelona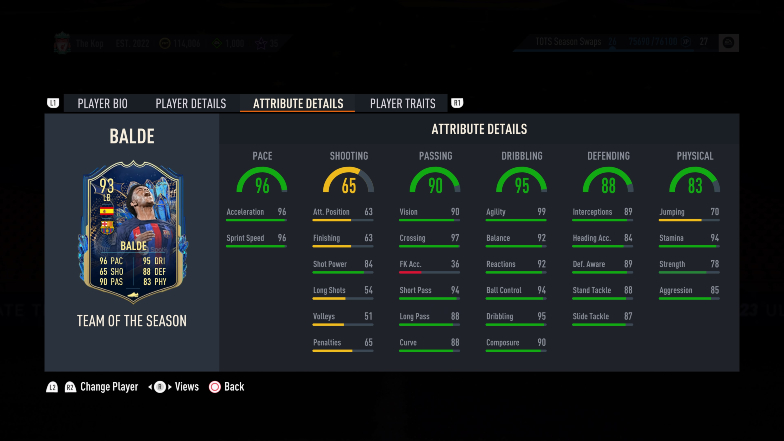 There's not much to separate Galan's card from Balde's. Both cards are quick, agile fullbacks that can put in a shift on both ends of the pitch, but Balde is significantly more expensive for obvious reasons (cough cough Barca tax cough).
To be fair, Balde feels better on the ball going forward, and his 89 rating for Defensive Awareness is light years ahead of Galan. However, he's not as strong or aggressive in defensive duels, and I personally value that over anything else.
That said, if you feel otherwise, then this would be the choice for you. He also has the 4-star combo and high/high defensive work rates, so everything checks out nicely.
If you want your full-backs to attack more than defend, go for Balde. If it's the other way around, you can't go wrong with Galan as long as you can get him on full chem despite the less-than-ideal Celta Vigo link.
Jules Kounde – Barcelona
For players that like a center-back pairing that includes a big bully and a rapid, smaller guy, this Jules Kounde TOTS card is the stuff dreams are made of.
His base score of 92 for overall pace is ridiculously good even at this stage of the game, especially with the 93-91 pace split.
If you've used any of his previous special cards (he had an in-form card and a World Cup Phenoms card), then you also know how good his jockeying feels in tandem with that pace.
Another obvious comparison would be to Eder Militao. Although Militao is a bit taller, he also fits into that category of "smaller, quicker, and more agile" center-backs. Depending on the links that you need, either one of these two will perform that role better than nearly every other CB card in the game.
I recommend using an Anchor chemistry style for the Kounde card, especially if you play on new-gen. It makes him Lengthy and adds pace, physical, and defending boosts to make him close to perfect in all the important areas for his position.
David Garcia – Osasuna
Congratulations, Osasuna p&p squad-builders.
For every other player, this is good fodder. There's nothing special to it – not the medium/medium work rates, not the 6'1″ height, and definitely not the 84 overall pace. This card is as generic as they come and is clearly a pack filler.
Eder Militao – Real Madrid
Everything I said about the Jules Kounde card earlier on is pretty much applicable here as well. As I said, Militao is the taller of the two players as he stands 6'1″ tall. But that still falls in the "smaller" category of good center-backs in the game considering the meta heavily favors bigger defenders with long legs.
One more advantage that this card has over Kounde's is the work rates. Kounde's high/high work rates can be an issue if he gets forward too often (especially if you use the L1 trigger often), so Militao's high/medium offers more balance.
It's only a +1 upgrade compared to his TOTY card, but there are subtle major changes that you may not notice at first glance. One is the fact that his TOTY card only has medium/medium work rates which is not too bad for a center-back but definitely not as good as high/medium.
Another is the fact that EA has added the Giant Throw-in trait to the TOTS card. If you know how to use that trick, it should create quite a few extra goals for you.
With that said, I don't think the new card is worth double the price of the TOTY card. So, unless you have a ridiculous amount of coins in the bank, then this will only really be a worthwhile purchase if/when the price drops.
Nahuel Molina – Atletico Madrid
I'm always happy to see a good bargain, so I love this Molina card. He ticks all the right boxes – speed, defending, work rates, and aggression.
He even adds a few extra skills with good dribbling, solid passing, and shooting which make him a decent option for the right midfield spot if you ever want to try that.
With the Anchor chemistry style applied, we're looking at a card with 99 overall pace, 94 defending, and 94 physicality. That's everything you need from a good defender, and the 91 overall dribbling and 86 passing are very fat cherries on top of that.
Obviously, I wouldn't rave about this card if his performances in-game did not match up to the stats. He's very quick to catch up to attackers, and his defensive AI has bailed me out of numerous tricky situations with a last-ditch tackle or shoulder barge.
Marcos Llorente – Atletico Madrid
Marcos Llorente's gold card was still in many teams months after some of the earlier promos were released, and it's a testament to how good the player is in the game this year.
Since then, he has also had a special Fantasy FUT card which was pretty rare but also overpowered in multiple positions.
This guy can play right-back as well as he can play central midfield and right-midfield. But, make no mistake, this is not a "jack of all trades, master of none" situation – he's world-class in all three positions.
Taking a look at the stats, his best attributes are pace, passing, and defending. He does have 91 dribbling as well, but he doesn't feel the most agile on the ball due to the fact that he's a taller player. However, he's far from clunky.
Compared to his 91-rated Fantasy FUT card, this TOTS Moments card has upgraded 4-star skill moves, and EA has also added the Swerve Passes and Finesse Shots traits.
The most notable stat upgrade is the +5 defending which makes this card significantly more viable in the right-back spot than the previous special card. It is now, in my opinion, the best position to play him in.
Pedri – Barcelona
I have used every Pedri card so far this year and loved every single one. There's the gold card, the World Cup Phenoms card, the TOTY Honorable Mentions card, the FUT Birthday SBC card, and now the La Liga TOTS card.
Despite the existence of all those special cards, this TOTS card is still a significant upgrade compared to the most recent one (FUT Birthday). It's a +4 overall upgrade, but the +6 and +5 upgrades for defending and physicality on the face stats really stand out.
It is also the only double 5-star Pedri card in the game so far. The TOTY card had a 4-star weak foot and the FUT Birthday card had 4-star skill moves. Now, we have the best of both worlds and it's a big deal.
My favorite things about every Pedri card, this one included, are how agile he feels on the ball and how persistent he is when pressing the opponent. He's one of the best dribblers in the game, and now with the upgraded defensive stats, we have a Kante + Iniesta hybrid on our hands.
He's not cheap, but he's worth every penny.
Mikel Merino – Real Sociedad
Speaking of cheap, this Mikel Merino card is a great midfield option for players that need an all-action central midfielder but don't have a lot of coins. His stats tell some of the story, although they don't exactly translate in-game the way you might expect.
The best chemistry style for this card depends on the exact role that you want to play in that midfield position.
If you want an attacking midfielder, try the Hunter on old-gen or the Hawk on new-gen. If you want a defensive midfielder, try the Shadow on old-gen or the Anchor on new-gen. For a balanced midfielder, try the Gladiator for defending and shooting boosts.
The stats look incredible with either one of these chemistry styles applied but don't expect performances similar to the likes of Goretzka and Bellingham. He's cheap for a reason, but he's still an absolute bargain that can put in a shift anywhere on the pitch.
That 5-star weak foot and the Outside Foot shot trait are fantastic to have as well.
Gabri Veiga – Celta Vigo
This Veiga card is a strange one. EA has given him some really nice traits with the Bicycle Kicks, the Finesse Shot, and the overpowered Outside Foot Shot traits. His shooting stats are generally very good, but 99 shot power is not ideal for trivela shots even with the trait added.
Also, the 94 dribbling score does not feel like it in-game, but that's to be expected because he's a bit tall. He's not clunky, but he's not particularly agile either.
His best traits are definitely passing and shooting which points to the fact that he should be used as an attacking midfielder, but I wouldn't recommend buying him with coins because there are simply better alternatives even within La Liga.
Fekir's new TOTS card, for instance, is more slippery in possession despite his stocky body type because he's a shorter player, and Lamela's RTTF card is a good shout too especially if Sevilla goes on to win the cup.
If you're looking outside the league, I would also take Joe Cole's Titans card over him in that CAM position, especially if it's for a multiple CAM formation such as the 4222 or the narrow 4231 so he can operate in the RAM position.
However, if he's going to be an attacking CM, then Veiga is one of the best options in this price bracket.
Luka Modric – Real Madrid
Like teammate Eder Militao, Modric also had a TOTY card. Also, like Militao, the stat upgrades on this TOTS card in comparison are minor. His TOTY card was a 96 overall, so this is only a +1 upgrade.
However, EA has boosted his passing and dribbling stats to 99 overalls, making him perfect in those areas. These upgrades definitely look good on the card, but his TOTY card was already excellent in those areas and the difference in-game won't be major.
The changes that I'm happier about are the work rates and the weak foot upgrade. This TOTS card now has a 5-star weak foot instead of 4, and much better medium/high work rates instead of medium/medium. The difference is noticeable in-game because the TOTY card often went missing in games while this one feels more involved.
With a lean body type and a height of 5'8″, Modric belongs to the same category of nimble, agile dribblers as Pedri. I wouldn't recommend playing both in midfield because they're so similar unless you're playing a formation that includes a big and strong DM with wide midfielders instead of wingers.
This is an elite card by all standards, and unlike some others in that category, seems very reasonably priced.
Federico Valverde – Real Madrid
I used Valverde's gold rare, POTM, and in-form cards at various stages of the game.
At the time, I preferred having a workhorse in midfield alongside a defensive midfielder and a playmaker. He fit that workhorse description very well, and that remains the role that I would recommend you play this new TOTS card in.
I'm a bit disappointed that EA has not upgraded his weak foot or skill moves as they've done with others, but the additions of the Outside Foot Shot and the Giant Throw-In are useful at least.
The stat upgrades are significant as well, compared to his TOTY Honorable Mentions card. He's gotten major boosts in every area except pace where he's only a +2. Still, 94 pace is better than what you'll get from almost every other player in his position.
I've seen pros use his TOTY card in the right-back position and that's definitely something that could work with this card as well, especially since he's better defensively. However, that box-to-box role is still my preferred option.
If you're not running a La Liga team, the Araujo TOTS Moments SBC card would be a good way to get Uruguayan links for Valverde. If you completed it, that is. If not, then you may have to run a hybrid team that involves at least 5-6 La Liga players, including one or two players from Real Madrid.
Nabil Fekir – Real Betis
I think Nabil Fekir's cards in FUT23 have been very underrated. They're always dirt-cheap even though he performs above his stats in-game. I packed this La Liga TOTS Moments card soon after the promo started and, as expected, he's quite good.
His TOTY Honorable Mentions card already had both shooting traits and the new TOTS card keeps them. He still only has a 4-star weak foot and skill moves which is disappointing, but he feels nice on the ball and his only real weakness is the fact that he's short.
That "weakness" is one of the reasons why he feels good on the ball though, so I can't complain. He has a stocky body type and if he was taller, that would be an issue for dribbling.
If you slap a Hunter chem style on this guy, he's a fantastic attacking midfielder that can compete with much more expensive cards.
With French and La Liga links, he shouldn't be hard to get on full chem too. If you're running a cheap team, Real Betis' left-back, Miranda's RTTF card is a nice club link.
There are several cheap French players in La Liga as well such as in-form Dembele, Griezmann, and Kounde. They're outdated at this stage of the game but if you're building a fun B or C team to switch things up, they're decent options.
Vinicius Jr. – Real Madrid
Vinicius has been one of the best 5-star skillers in the game right from the start. His gold rare card already had 5-star skills and a 4-star weak foot, and subsequent special cards kept that combo until the FUT Birthday promo when he got a card with the double 5-star combo.
His TOTY card did not have that, so it was not certain that this TOTS card would get it, but it did.
He's already had a perfect 99-pace score since the 91-rated TOTY card, but now, he has near-perfect dribbling to go with that.
The card is an overall +3 upgrade compared to the FUT Birthday card, but the actual stat upgrades are actually worth more. The most significant in-game stat boosts are in the dribbling and passing sections.
His work rates are the same – medium/high – which is ideal for a winger, and EA has added the "Flair Passes" trait which does not mean much if we're being honest.
When a card is this expensive, then you know it's most likely overpowered, so I don't need to say much more. Get him on the team if you can.
Antoine Griezmann – Atletico Madrid
Although he is not the most expensive option of the strikers in this promo, Griezmann's TOTS card is actually my favorite of the lot.
Forget the stats (which are incredible, by the way), there's just no other player that plays like Griezmann in-game.
The combination of his body type for dribbling with those physical stats makes him a fantastic option as a center-forward or the more fluid one of a striking partnership. He can even put in a shift defensively if you're the type of player that likes their attackers to get back on defense.
With the pace boost, he can now also play as a lone forward and be more effective than any of the previous special cards. Although he does not feel quite as fast as the 95 pace suggests, the difference is still noticeable when you go back to the overused World Cup Path to Glory card.
On a Hawk chemistry style, this guy will remain one of the best strikers in the game until EAFC 24.
Karim Benzema – Real Madrid
Like Kevin de Bruyne's Premier League TOTS card, Benzema's TOTS card is exactly the same overall rating, work rates, and traits as his TOTY card. However, upon close inspection, there are subtle differences that actually differentiate how both cards perform in-game.
The TOTY card has a 5-star weak foot and 4-star skill moves combo, while this new card has a 4-star weak foot and 5-star skill moves. Personally, I prefer a stronger weak foot to 5-star skill moves, but that's because I don't use those skill moves often. If you do, you might prefer the TOTS card for that reason.
Stat-wise, the most significant differences apply to the worse agility and better physicality on the TOTS card. If you generally prefer more agile strikers, it's easier to make Benz feel a bit better on an Engine chemistry style with the TOTY card than it is with the TOTS card.
If you prefer physical strikers instead, then you'll be happier with the new card.
The TOTS card is much more expensive than the TOTY card, but that's only because it's a newer card. That price by no means reflects the difference between the quality of both cards, so the TOTY card is still clearly the better deal until they're priced about the same.
Robert Lewandowski – Barcelona
I'll be honest, I'm not a fan of Lewandowski's cards this year, for the same reasons that I don't really enjoy playing with Kane either.
Both players have incredibly good shooting and physical ability, but that's not what I want from my strikers.
That said, I'm also self-aware enough to know that this is a "me" problem, and it doesn't change the fact that this Lewandowski TOTS card is absolutely cracked. 99 in every shooting stat is crazy enough, but I think the most significant upgrade is the pace upgrade.
Before now, Lewy's Ones to Watch was his highest-rated card in the game and it only has 81 pace which is barely usable at this stage of the game.
Now, he has a 5-star weak foot and also feels much faster with 90 pace. It gets even better if you give him an Architect chemistry style to make him lengthy on new-gen. If you're playing on old-gen, the Catalyst would be a better option to maximize the pace boost.
His dribbling stats look great as well, but don't be fooled, he does not feel great on the ball. He's decent enough for simple maneuvers, but I wouldn't try to dribble anyone with him. This is a striker that gets on the end of chances, not one that tries to create them for himself.
What Next?
According to the release schedule, the next major release is the Serie A Team of the Season which should arrive on May 26, 2023.
We'll have the review for that as well, so be sure to check back. Meanwhile, you can also have a look at some of the other reviews and other content we've posted, right from the release of the Community Team of the Season cards.