MyLeague is the perfect mix of a sports and management game mode in NBA 2K21. It is even more exciting to start a team from scratch and work your way up as an NBA powerhouse team. There are various strategies you can do to create your own version of a superteam. There will be a few restrictions but it is possible. This guide will show you how to create a superteam in NBA 2K21.
Choosing Your Team
Most players choose their team to support the organization they follow. Some even choose teams to set the difficulty where they would pick young or rebuilding teams and make them win as a challenge. Strategies are different and depend on you choosing to play with the current NBA league or do a fantasy draft type league.
Fantasy draft teams
The team you should choose for fantasy draft teams are the teams with multiple draft picks or current NBA teams that have a bad previous record. Teams with multiple draft picks are the New York Knicks, the New Orleans Pelicans, the Boston Celtics and the Oklahoma City Thunder. Oklahoma City Thunder holds the most number of draft picks and most are from the Los Angeles Clippers which could turn out great if they draft poorly in the fantasy draft.
For current NBA teams with a bad previous record, you can use their current draft picks during the start of the season and they will still be valued as a high lottery draft pick. Picking teams like the Detroit Pistons, the New York Knicks or the Charlotte Hornets can give you 3-star trading chips with their first-rounders if you choose to trade them at the start of the season.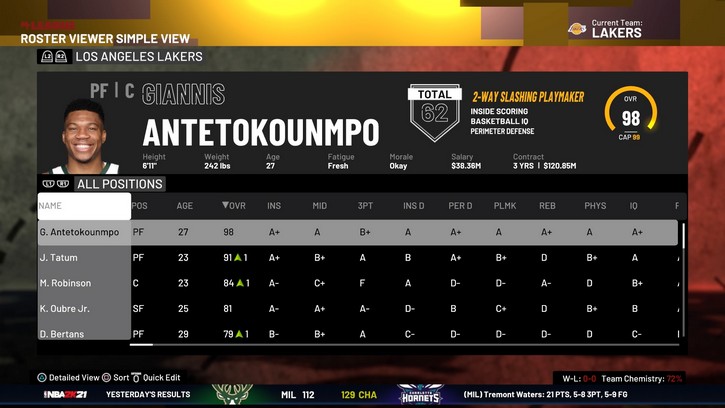 You can still choose your favorite team and hope to build it from scratch even without the bonus of having multiple picks to start. The team above was built in just one full season and could have been better if Anthony Davis or Kawhi Leonard signed along with Giannis. It was possible to sign at least one of them along Giannis but only Giannis accepted. I was able to scrap a few good players like Kelly Oubre and Davis Bertans who are young and talented enough to be a starter in any team.
Current NBA teams
These are the most well put together current NBA teams that have a ton of great assets and also have the ability to win championships. Some of these are already superteams and I just added this section for players looking to play the current NBA team and use the other information in the guide to even strengthen their superteam.
Boston Celtics
Los Angeles Lakers
Los Angeles Clippers
Dallas Mavericks
New Orleans Pelicans
Toronto Raptors
Golden State Warriors
Brooklyn Nets
These are my criteria for choosing an NBA team that is in a good position to be successful right now or in the future. The team should have multiple draft picks to work with or at least have their own draft picks available. These are great assets to be used on making crucial trades acceptable for some teams. They also act as a form of stock where you can gamble on swapping picks that can turn into a 1st pick in the upcoming NBA Draft.
These teams should also have a centerpiece to build around on. It is either they are a superstar stud like a Lebron James or a promising superstar who has unlimited potential like Zion Williamson or Luka Doncic. These pieces are untouchable and are impossible to trade for. They can only be acquired through free agency and if you do manage to trade for them, you will always be paying more than you are receiving.
Some of the teams are great because they have several expiring contracts where they can sign multiple players in free agency while competing for a championship in the same year. An example of this is the Toronto Raptors. They have their centerpiece player in Pascal Siakam. Marc Gasol, Kyle Lowry, Serge Ibaka, Fred VanVleet and 3 other bench players will clear as much as $100 million in salary cap space.
Start of the Season Trades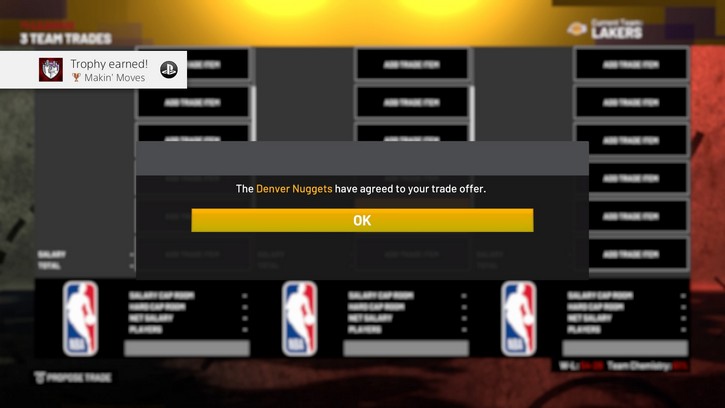 As mentioned before, the best trade to do is swapping picks for something that can be more valuable in the long run. Search every roster and find out who drafted the worst team and try to trade for their pick. It should be easy and you can even just swap your 1st round pick with their 1st round pick. If they reject the offer and you really believe that their team will have a horrible record, throw in a 2nd round pick.
You can also swap your supposedly 'high' 1st round pick if you did the strategy above where you choose a bad team like the Detroit Pistons, and swap it for at least 2 1st round picks. I ran a few simulations to check which teams will have the highest draft lottery pick available. You can see two examples of the simulations below.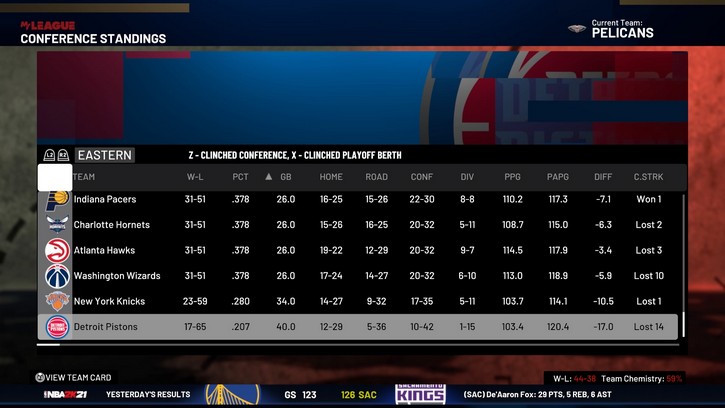 For a total of 10 simulations using the current NBA teams, the Detroit Pistons and the New York Knicks are the only consistent busts in the conference standings. Their picks are already valuable at the start and it will be hard to trade for them. It is good to know that they will be consistent lottery picks and you can prioritize getting them if you want a good chance at the NBA Draft Lottery in the offseason.
For the other conference, Oklahoma City Thunder is the worst performing team but they usually still get at least 30 wins which will give all the lottery picks to the eastern conference. You can still have a decent chance and these western picks are easy to get. The San Antonio Spurs and the Phoenix Suns are both bad performers as well during the 10 season simulations.
The next trade you should do is getting rid of bad contracts. Bad contracts are usually players who are grossly overpaid and locked for multiple years. Harrison Barnes, Khris Middleton, Thaddeus Young, Andre Igoudala and Terry Rozier are a few examples of bad contracts.
It might be a challenge to trade these bad contracts because most of the teams will be over the salary cap limit. The best way to deal with these contracts is to trade them for another big expiring contract. The keyword here is the word expiring. Try trading Harrison Barnes for Marc Gasol.
Player Development
Player Development is vital for young players to increase their overall rating. The first one will be Player Mentorships. Young and developing players will be assigned a specific player to be their mentor and improve their game. You will most likely get veterans on your team that can help young players like Jayson Tatum, Luka Doncic and Zion Williamson grow even more. They will slightly improve their rating while putting more focus on badge improvements.
The next step for player development is adjusting their training. You can focus on which part of their game to improve and increase the sliders on specific attributes to help them in the drills the team assigns. You will notice multiple team training schedules in the calendar and these are the training your team undergoes. These are often simulated without setting the priorities so make sure to change that if you want to take player development more seriously.
Trade Deadline Trades
This is where you should double down on increasing your 1st round picks. By this time in the NBA season, you should already know which team will have the best lottery pick and you can trade your role players for them. Prioritize players with bad contracts when trading and hope for the best in the draft lottery. To provide some more information, a potential 1st round lottery pick will always be valued at 3 stars in a trade. Once you enter the draft lottery and win the 1st or 2nd pick in the draft, that pick will move up a whole star in value and maybe even more.
That is already huge and can be a crucial piece in landing a superstar talent for your team outside the free agency period. The next trades will be to again get rid of bad contracts if you have not done that yet. Always prepare for the offseason as best as you can because that is where the magic happens.
Offseason moves
The first hurdle here is getting a lottery pick in the NBA Draft Lottery. You can turn off autosave and keep on repeating the NBA Draft Lottery to get your pick but that would not sound fair and you might as well just set the sliders up. Getting a bad draft pick after investing is not a huge setback and can even help your team if you scouted really well.
This is where you should try and form your superteam. If you are on a fantasy draft league, you will be in a good position to get 3 superstars on your team, provided that one of those 3 superstars is on a rookie contract. This limits your option to just a few players which are Jayson Tatum, Luka Doncic, Ja Morant, Zion Williamson, Deandre Ayton and Donovan Mitchell.
Imagine having Luka Doncic, Kawhi Leonard and Anthony Davis with decent role players surrounding them. That will be the goal here because the League Moratorium section is where you discuss contracts verbally with superstars. Make sure you release all cap holds on the expiring contracts you are holding before the League Moratorium phase.
Do not try to lowball any superstar and you can check the countless offers they are getting and just offer the max like the rest of them. Hopefully, you can land two of them because you will only have 3 chances per day to make them agree verbally to your contract. They can disappear after a day if they agree to a different team immediately so choose your first 3 superstars carefully.
Giannis Antetokounmpo, Anthony Davis, Kawhi Leonard and Paul George will all be available as long as they did not agree to a contract extension during the season which is unlikely to happen. There are more players available and teams even holding star rookies might choose not to offer them a contract that can lead to you signing them as well.
After you get your superstars, find role players to fill your roster with the remaining salary cap. You can use the mid-level exception to sign above the salary cap which can be your key role player for the team. The next will be undergoing training camp and you will have 3 players to use it on. Perfect, you have exactly 3 player-specific training camps to further improve your superstars.
Conclusion
There are many ways in forming a superteam and it is more common to use a guide like this in a fantasy draft. You can even use these strategies in a serpentine fantasy draft and still form a superteam. It feels more authentic when you do it without using sliders or trade overrides and it is quite easy. Some of these strategies have been around since NBA 2K introduced associations or league game modes. Now, go out there and destroy the league with your legally handpicked superteam that signed with you for a max deal so you can build your own dynasty.