The first major hurdle in your MyCareer journey will be getting to the NBA Draft and be selected.
This is the dream for most basketball athletes and the story progresses in the game exactly that way. You'll work your way from senior high all the way to choosing your college and preparing for the NBA Draft.
This guide will focus on exactly what you should and shouldn't do to know how to get drafted in NBA 2K21 as a first-round pick.
Multiple Ways to Increase Your Draft Stock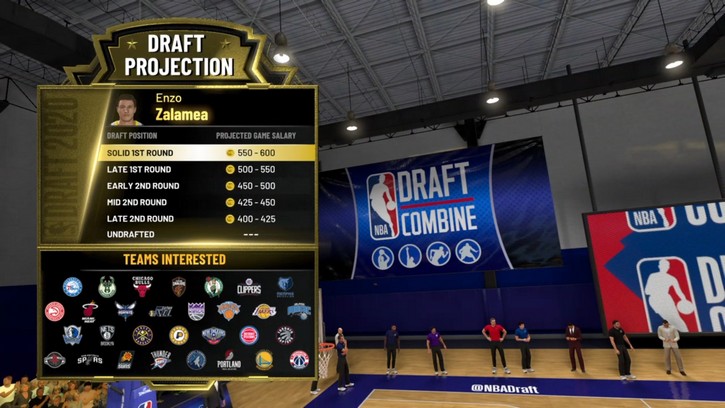 The first and main way of increasing your draft stock is by performing well during your college stint. Winning games will be the focus because not only does it increase your draft stock, but also you will be able to play more games and play for the NCAA championship. You can get as far as a solid 1st round projection before the NBA Combine with a perfect run.
Get your teammate grade up all the time and make sure to earn more VC. Focus on getting at least an A- on every game and get your stats up.
You will be introduced to a reporter named Alex who will become a double-edged sword for you. She is a member of the media and she will give you challenges like scoring 20 points in a game or increasing your averages from a certain period of time.
If you do not meet her challenges, she will decrease your stock value by reporting you as a potential bust. She will only report the truth so you should just focus on your game and keep your stats up while winning games. This reporter will interview you at another point in the game.
She'll also ask you NBA 2k21 draft questions related to your thoughts about your game and your mindset entering the draft. Always answer with the most humble answers and your stock will increase with every correct answer. As far as I know, there is only one answer that you can select from each question that will decrease your draft stock, and most of them will increase your draft stock.
You can make a few mistakes every now and then, both in games and in interviews, because the process of being drafted in the NBA is extremely long.
You'll be given multiple chances to make up for mistakes or, more specifically, draft stock drops. As long as you do not fail on multiple stages that this guide will go through, you can still earn your spot at the top of the draft class.
The Right Interview Answers to Increase Your Draft Stock
This interview is separate from the one with reporter Alex and this will happen right before your interview with Alex, after you declare for the NBA Draft. These NBA 2k21 interview questions are timed and if you wait too long, the game will give an automated response that you are unable to answer the question which will reduce your draft stock. Avoid taking too long to respond and just follow the answers I used if you want to play safe.
The first question is "How do you deal with teammates you don't like?" and I answered "I want to work out our differences immediately" which also increased my draft stock.
The second question will be "Are you the best player in this draft class?" and my answer to this is "Yes. It's a mentality you have to play with". It increased my draft stock and I am inclined on believing that most of these will increase your draft stock if you answer with a mix of confidence and humility.
The third question is "What's your primary motivation for joining the league?" and I answered with "All I care about is being the best in the world". It increased my draft stock as well. These are most of the answers NBA players in real life get asked about and they usually respond in the same kind of way.
Draft Combine to Increase Your Draft Stock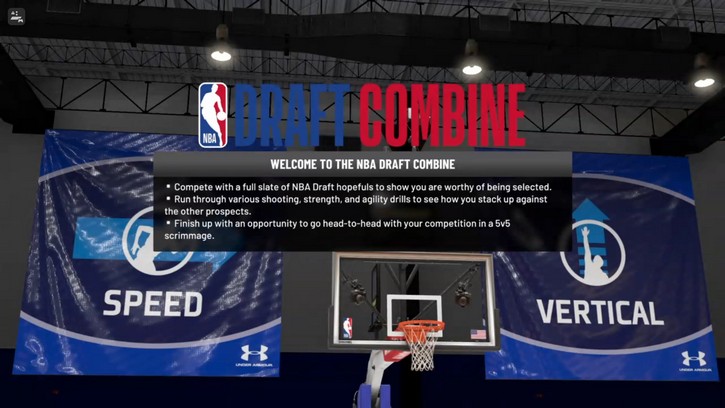 For the Draft Combine, you will be playing a various amount of minigames that involve drills and exercises to assess your skills as a player. This is what most athletes go through in any league and it provides raw data for scouts and teams to help them make their decision in drafting players.
There is a slew of drills and exercises to go through in order to get through the Draft Combine. Overall, this will affect your draft stock but it won't show on the lower left like all the other things. Your stats will matter at this point to do this effectively but doing bad in this area will not be a huge setback. Try and win the scrimmage at the end if you did badly during the assessment drills.
Playing Against Zion
During the waiting period leading towards the NBA Draft, Cobb will invite you to go out for a surprise.
You will find yourself talking to Zion and Al in the neighborhood court and get offered a chance to play some ball with them. Cobb will try to talk you into it and explain the pros and cons of doing so.
If you choose to play Zion and lose, your draft will decrease because of all the attention this will get through the media. If you win, your draft stock will skyrocket even more. It is a huge gamble especially if you were already doing great with everything involving your draft stock leading up to this point.
Even after doing well, I decided to take the challenge for fun and to experiment around it. I was already projected as a top pick and increased my draft stock even more with Alex's 2k21 draft questions and doing slightly well with the Draft Combine and winning the scrimmage too.
Taking on Zion and Al will require you to have at least an overall rating of 70 or just enough stats to focus on a way to score. If you are a finisher and slasher, you will just need enough stats on the close shot and layup attributes to have a reliable scoring option. These guys are all-stars (including your friend Cobb). If you are a big man, you will focus more on defense because Zion will eat you up in the low post unless you have decent stats already.
They are quite bad at defending screens and will almost never switch defenders. This will give you a few opportunities if you are able to use Cobb's screen effectively. You can either roll to the basket or pass Cobb the ball while he cuts.
Make sure Cobb is ahead of the defender when he cuts before passing the ball or else Al will intercept the ball. Do not worry about going to the basket to score, your shot will most likely be out of bounds if it gets blocked which will return the ball to you. This happened to me quite a few times because Zion is Zion, after all.
If you try and let Cobb play, he will most likely force up bad shots and since this is a "winner's ball" rule, every possession is crucial to reach 11 points first.
It's worth noting that you will have unlimited stamina during this match so feel free to spam that sprint all the time and put on lockdown defense with every possession even players playing on off the ball.
Conclusion
Like I said before, you can make multiple mistakes and still make up for it with the other events and decisions you make as you go closer to the NBA Draft. Following the guide will help you excel more in both the technical aspects of the game and explaining the decisions to be made.
I had a perfect game throughout college and had a minimum of an A- teammate grade for every game except for a single game where I experimented by scoring 30 points and getting a teammate grade of C in the end. I was already projected as a solid first-round draft pick before the combine and made a few mistakes there.
I answered perfectly during the 2k21 interview questions except for one where I purposely let the time run out and gave an automated response that decreases your draft stock. I finished all Alex's challenges and made quick work of Zion and Al. I got drafted 2nd by the team I chose but I believe it is related to the story. This is because the cutscene involved Cobb and I getting drafted as numbers 1 and 2 respectively by the same team.