Player badges are specialty skills or attributes where players can excel depending on the badge specification. There are more than 30 badges to work with and they are categorized into 4 different classes. The Finishing Badges, Shooting Badges, Defense and Rebounding Badges and Playmaking Badges. This guide will show you which are the best badges to use in NBA 2K21.
Best Shooting Badges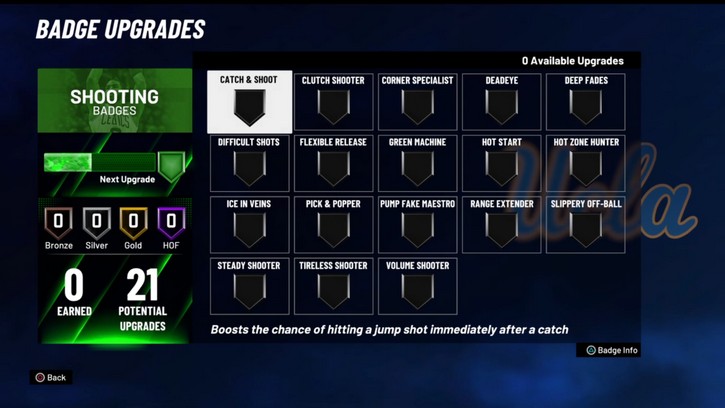 The only difference in NBA 2K21 badges from NBA 2K20 badges is the removal of the Quick Draw badge from the Shooting Badges. If you are still familiar with the badges from NBA 2K20, you can still the same builds and combinations you want because they are mostly the same.
Green Machine, Hot Start, Deadeye and Hot Zone Hunter are amazing combination for a streaker shooter. This will give you tons of bonuses for hitting consecutive shots and some of the badges will help you pick that up like the Hot Zone Hunter where you focus on which position on the floor you will shoot on. This is great for hitting threes and being a reliable mid range threat as well.
Deep Fades and Difficult Shots will focus more on low post fadeaways which are the bread and butter moves of players like Kobe Bryant and Michael Jordan. Corner Specialist can also help with fadeaways but only near the corners and it will give you a significant boost to knock down more shots consistently. You will only need to get it up to a Silver badge because it does not scale well.
Green Machine is the best Shooting Badges in the game. It works by giving you a much larger window for getting perfect or excellent releases after consecutively hitting an excellent release. Only use Hot Zone Hunter when you have multiple Hot Zones for your character. If you only have 2 to 3 hot zones, this badge will be a complete waste. If you are the main scorer in the team, Volume Shooter is a must-have because of how it boosts your percentages as you take more shots.
Best Finishing Badges
There are several badges to pick here. What you need to know are the combinations you need to that would compliment each other and fit with your playstyle. Acrobat, Contact Finisher and Consistent Finisher will be good for a slashing guard or forward.
You can also choose to add Backdown Punisher and Deep Hooks which is a good combination for getting easy buckets in the low post. This is a must have for all power forwards or centers especially offensive oriented ones.
Pick & Roller, Putback Boss, Dropstepper and Giant Slayer will be great for players who focus on the inside. Add it with the Backdown Punisher and Deep Hooks to have more flexibility in scoring in the low post. This is specifically for big man scorers which helps them become a consistent threat and a highly efficient low post offensive player.
Fancy Footwork is also a must have because of how most of the other badges rely on this skill. Scoring layups and dunks are easier with this and will even help your vertical. Giant Slayer will be amazing when you are within 6 inches from the defender. Slithery Finisher will help you avoid defenders when driving which removes the percentage penalty of making the shot. This is also a must-have for guards and forwards who focuses on driving and finishes to the basket constantly.
Best Defense and Rebounding Badges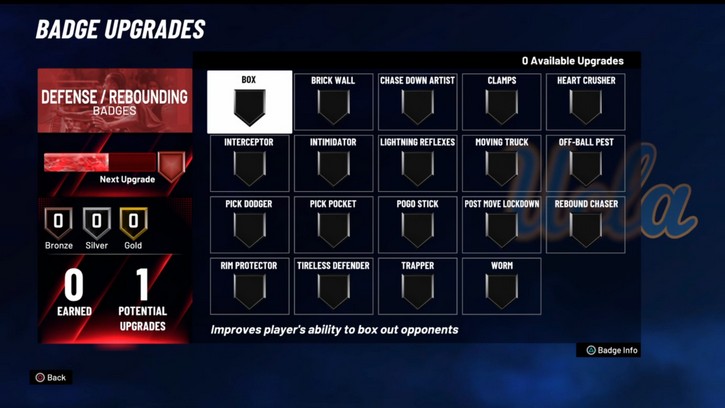 Clamps is one of the most important badges in this class. The boost to stay in front of the offensive player and increase your lateral movement will help you immensely on defending star plays on the opposing squad. Interceptor is also a great addition to be a pesky defender and play the passing lanes better. Intimidator compliments the Clamps badge well and increase your defensive presence more.
Pogo Stick allows inside defenders jump multiple times to defend the paint which can be broken because of its ability to contest every shot even after making a mistake. Post Move Lockdown, Brick Wall and Rim Protector badges will be for Power Forwards and Centers that will be constantly defending the low post.
Intimidator is the next best defensive badge in the game. It can reduce the shot making ability of opposing players even if you are not there which is totally broken. Pick Pocket and Interceptor will be for pesky guards with high steal ratings.
Best Playmaking Badges
Bailout is a must have badge that can help you make successful passes when stuck in a situation such as attempting a jump shot and passing the ball instead. Quick First Step will be good for combo guards or facilitators and great when combined with Finisher Badges where you can quickly get to the basket at will.
Space Creator will compliment Shooting Badges and even Finishing Badges. It gives you more options on the triple threat position and can either drive to the basket or create a shot for yourself. Tight Handles and Handles For Days will increase your overall ball security.
Dimer is one of the best badges in the game. It boosts shot percentages for every teammate after they catch your pass. Shooting percentage increases are one of the best boosts from badges you can get. Floor General will give +4 bonus attributes to all stats with the Hall of Fame upgrade which is insanely overpowered.
Post Spin Technician is a must-have if you are a big man scorer and compliments well with Backdown Punisher and Deep Hooks. The Tight Handles will be the best badge in complimenting your dribbling moves and is even better than getting the Ankle Breaker. It adds more explosiveness to your dribbling moves and also paired well with the Quick First Step badge.
Conclusion
There are hundreds of combinations you can do but you should really adapt to a certain playstyle you would want. There is no point in specializing on multiple aspects of the game without having that much upgrades to work with. Focus on a few badge combination that can help you immediately.