Valorant is a free-to-play game FPS game with different agents or heroes you can use. Sadly, most of these agents still need to get unlocked.
You have to grind it out and level up to unlock more agents. It is perfect because they made it easy to unlock them simultaneously; you can practice some of these agents as you unlock more.
There is a trick to making it faster, and we are here to talk about these mechanics to help you get all the agents quicker.
Free Agents
Here is the list of free agents that come with creating an account.
Brimstone
Sova
Sage
Phoenix
Jett
Every new account will have these agents available. You can test them out in unrated mode before trying them out in ranked.
Unlocking Agents
Go to the 'Agents' section in the main menu. You'll see all the agents available in Valorant. The agents here include the free agents too.
Choose the agents you want to unlock and click 'activate contract.' Once the contract is activated, you need to level it up to reach Tier 5.
Tier 5 unlocks the agent for your account. After unlocking the agent, you can switch to a different agent contract to unlock the next one.
Most players forget to switch the contracts, making it harder to unlock new agents.
Mechanics
Unlocking agents requires a bit of a grind. From tier 1 to 5, you need 10,000 experience points. For tiers 6 to 10, you'll need 50,000 experience points per level.
Tier 1 to 5 is easier, which should take about 10-15 games, but it depends on the following mechanics.
You'll see some numbers on the top-right corner of the main menu screen (beside the Valorant Points balance).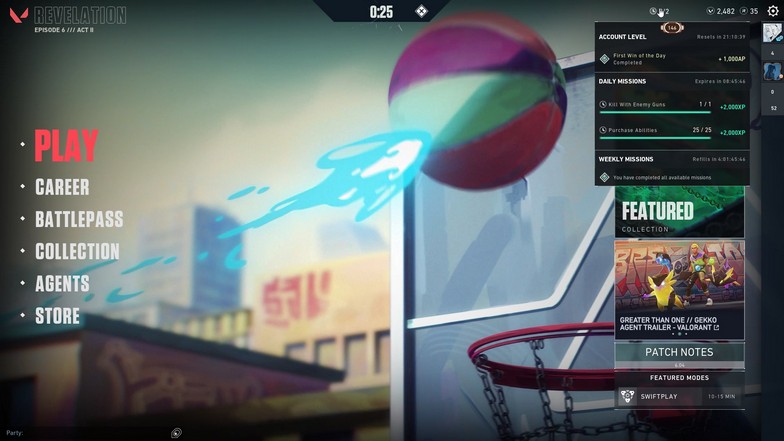 When you hover over or click it, you'll see a bunch of daily and weekly missions. Each of these daily and weekly missions helps you gain experience points.
These experience points affect three things – Battle Pass levels, player account levels, and contract levels.
Finishing these missions will boost your contract levels significantly. You should unlock an agent by just finishing the weekly missions alone.
If you want to be efficient in unlocking more agents, you want to keep changing contracts when you are about to finish a weekly mission.
Sometimes your level can go above when you finish all weekly missions in one game. If you are so close to tier 5, you want to switch to another contract and switch back after finishing the weekly mission.
The mechanics implemented is perfect for those who don't have long hours to play every day.
For those who play all the time, you'll have no problem unlocking all the agents or even getting all agents to tier 10.
Daily and weekly missions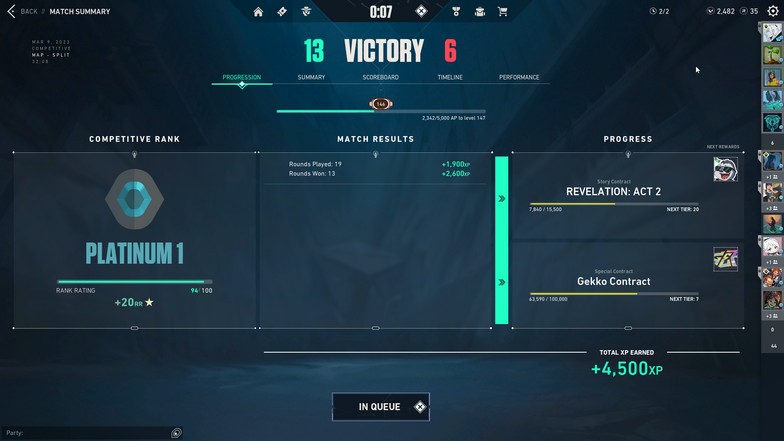 Daily and weekly missions aren't that hard. They don't require any specific agents, which means you can play whichever agent you want.
Daily missions:
Deal damage
Get headshots
Eliminate with enemy guns
Pick up ultimate orbs
Purchase abilities
Purchase items from the armory
Purchase shields
Purchase weapons
Use your ultimate
Use your abilities
You or your ally plant or defuse spikes
Get first blood in a round
Weekly missions:
Deal damage
Get headshots
Purchase items from the armory
Use your ultimates
Use your abilities
You or your ally plant or defuse spikes
Play rounds
Play a game
Eliminate enemies
All these missions are easily done as long as you play the game. There are no agent-specific quests like flashing, suppressing, or stunning enemies.
Buying Agents
Every tier upgrade on each contract costs 200 Valorant Points. With the information above, tier 1-5 is easily finished with 10,000 experience points for each tier. Tier 6-10 requires more experience points but costs the same to upgrade.
You need 1,000 Valorant Points to unlock the agent from tier 1. You can finish a few daily quests, get to tier 3, and pay 400 Valorant Points to unlock the agent.
In some situations, Riot releases overpowered agents. It'll take Riot a few weeks to balance the new agent if they are too powerful.
When you buy the new agent as soon as it releases, you can freely use the agent in games because there is a high chance nobody will buy it.
You can get a big advantage because some players don't know how the agent works yet. The biggest examples would probably be Chamber, Neon, and Gekko.
You can use these Valorant Points to buy the battle pass for more skins if you think about it. It depends if you prefer having a new agent advantage (for a few days) or if you think skins are more worth it.