The most anticipated promo in the FIFA cycle, Team of the Season has officially started, and we're off to an interesting start with the Community TOTS and Eredivisie TOTS teams.
The Community TOTS team, which is the main focus of this article, contains 15 players (including one Objectives card from the Premier League). Generally, the squad as a whole is slightly underwhelming compared to what the community expected in terms of upgrades for the players, but there are still some excellent new cards.
If you're not too optimistic about your chances of packing those cards, then the only way to try them out is by spending coins and buying them off the market.
It can be difficult to decide who to buy though, especially since there's not much room for trial and error (unless you don't care about losing coins to EA tax). This review should help you make those decisions.
David De Gea – Manchester United
There's not a lot to say about goalkeepers in this game. De Gea's new 91-rated card looks nice enough, but goalkeepers are generally hit or miss with most people this year.
He's a good option to have in the club due to good links though, and if you're a Manchester United fan, then it's even better for you.
Otherwise, I'd say this guy is just fodder.
Andrew Robertson – Liverpool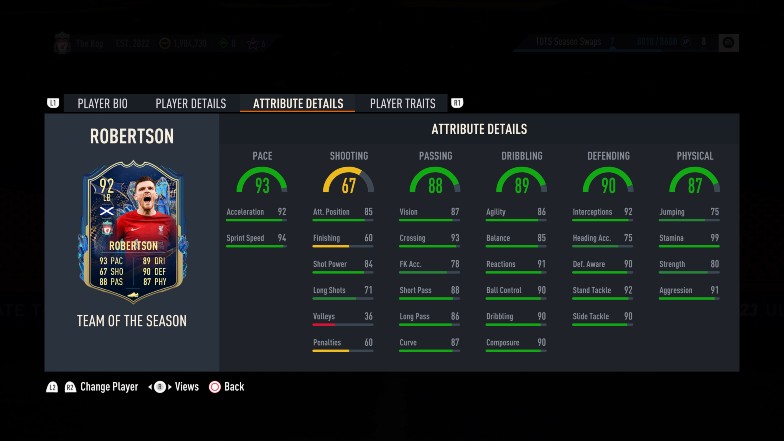 Robertson's new card has a 3-star weak foot and 3-star skill moves which, in my opinion, already makes this card a bit less fun than his Winter Wildcards 5-star skiller.
However, the new TOTS card more than makes up for it with improvements in every other relevant area. The 3-star weak foot upgrade is not the biggest change, but it's a pretty useful one. He's also quicker on the ball and has better defending stats than the WW card.
I do think that there are still a handful of better left-backs in the game though, so if you can afford the likes of Mendy's WW card and World Cup Capdevilla, then they remain better options.
If you can't afford them, I still think Acuna's in-form card is a better deal overall when the price is factored in. Despite the fact that Acuna is also small, he feels stronger on the ball and in tackles than Robbo.
However, if you need the prem/Liverpool links, then this card is up there with the best left-backs in the game that can offer that. I'd say the only alternative is Joao Cancelo's TOTY Honorable Mentions card.
Kim Min Jae – Napoli
If the links for Kim were better, he would be much more expensive than he is. His World Cup PTG card suffered the same fate of being pushed to the sidelines due to the links, and I imagine the same would happen with this card.
I expect to see him only being used in Serie A hybrid teams. There are barely any usable South Korean cards at this stage of the game unless you're building extra squads that you play with for fun.
In terms of upgrades, this card has received a +3 in the most relevant areas (Pace, Defending, and Physical) compared to his PTG. Standing 6'3″ tall with a High and Average body type, he has the right type of build for his position and should be able to deal with the physical threat of most of the attackers in the game.
If you prefer automatic defenders, then perhaps you want to look elsewhere. Don't get me wrong, his AI is good enough, but he's not at the same level as the "META automatic center-back" level of players such as Virgil Van Dijk, Sergio Ramos, or Ronald Araujo.
However, if you have a good grasp of manual defending, the level of his auto-defending will more than suffice to complement that nicely.
Nathan Ake – Manchester City
Here's another player that got a special card during the 2022 World Cup tourney. The new TOTS card is a +4 overall from that WC card, but the face stat upgrades are even more than that.
Ake, in my opinion, is one of the best cards in this Community TOTS for a number of reasons. He has great links, he has great stats across board, he is versatile (which is great for squad building) and most importantly, he is very good in-game.
With a Shadow chem style, you're looking at a 5'11" center-back with 94 overall pace, 97 defending, and 91 physical. He's not the fastest center-back you'll see, but he's a fantastic all-rounder.
James Tavernier – Rangers
Tavernier got a FUT Centurions card earlier in the game. At the time, it was a solid card but understandably did not make it into too many teams due to the lack of usable Scottish Prem links.
Now, the situation is still pretty similar, and he's only going to be fodder for most people. Obviously, we have the Scottish Prem fans, Rangers fans, and similar people that'll use the card for fun, but he's not one of the more exciting options in the TOTS.
That said, if you manage to get him on full chem, the Shadow chem style is the way to go. This card NEEDS that defense boost.
Khephren Thuram – OGC Nice
Thuram's card was one of the most anticipated for this year's Community TOTS. His 83-rated in-form card was pretty good at the time it was released, and his 87-rated Future Stars card was absolutely meta as well.
I mentioned earlier how this promo was a bit underwhelming in terms of the upgrades that some players got, and Thuram is one of those players. He only got a +2 upgrade to 89, and his 3-star weak foot and skill moves were not upgraded at all.
However, for people like me that probably couldn't afford a significantly boosted card anyway, I'm more than happy to get this one.
He's faster, stronger, and the closest thing you'll get to a "budget" Gullit in the game. In my opinion, there's no higher praise and if you can afford him – don't be afraid to pull the trigger.
In terms of how to play him, despite his high-high work rates, I find him most effective as a defensive midfielder. Now, you can play him beside a smaller player that's more mobile and can get forward, but you can also try him out in a lone CDM role as a stay-back player in a three-man midfield.
Declan Rice – West Ham
There's not much to say about Rice's card, despite the impressive stats on paper. He just isn't that guy in-game and I generally wouldn't recommend him to anyone unless you're a fan of the player or you're building a West Ham p&p team.
I do think that if you have to use him, the Backbone chem style might be the way to go. This is because his seemingly nice passing stats do not seem to translate appropriately in-game (the same was the case with his FUT Centurions card), and you might need to boost his ability in that area, alongside defensive and physical boosts.
However, if you're more concerned about his pace, then you may go for the Anchor which makes him Lengthy while boosting his overall pace to 88. For what it's worth, the Backbone also makes him Lengthy, although you don't get that pace boost.
Ismail Bennacer – A.C Milan
Bennacer is a very nice card that would fit well in a Serie A hybrid team or one with a few AC Milan players in it. It shouldn't be too hard to get him on full chem as there is a good number of Serie A links in the game and even a couple of decent Algerian ones as well (Atal RTTF especially).
I would recommend using this card as the "Get Forward" or "Balanced" center-mid in a three-man midfield. He's very agile on the ball, strong defensively, and has enough pace to compete in the meta of the game.
If you want to use him as an attack-minded midfielder, the Hunter chem style would be the way to go. If you'd rather improve him defensively, the Shadow is the clear choice.
Joelinton – Newcastle
The Newcastle and Hoffenheim p&p owners will be very happy with this Objective card, but I can't imagine many other people would be too fussed about it. The best thing about it for sure is the links to Isak and the expected Premier League TOTS Trippier.
That said, he could do a job as a flat-track bully in the midfield if you're looking for that, due to his High and Stocky body type with excellent physical attributes and high-high work rates.
With the Shadow chem style, I can see him being a solid option as long as you keep things simple when he's on the ball.
Bernardo Silva – Manchester City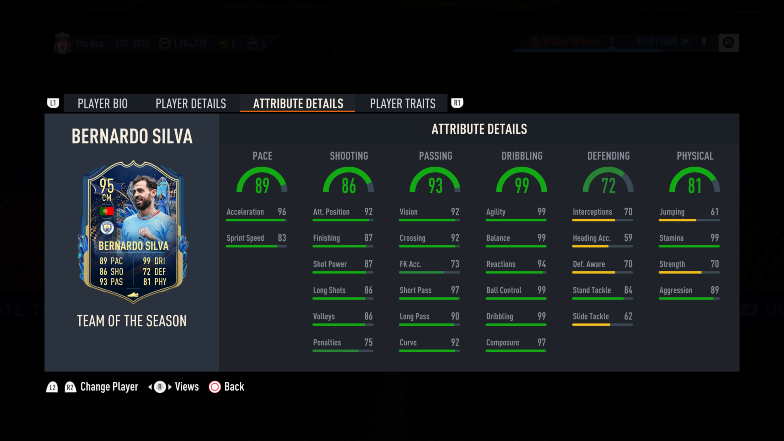 Bernardo Silva has been one of my favorite players in FUT this year. I absolutely love nimble players, especially in attacking areas of the pitch and he's one of the most agile players you'll see in the game.
It's a bit disappointing that this TOTS card does not have a 5-star weak foot like his FUT Birthday card did, but if you're using him in the midfield, that will barely matter even at this stage of the game.
That said, I still think the FUT Birthday card is the better deal because of that weak foot upgrade if you're planning to use him as an attacker.
With maxed-out dribbling and excellent passing, you can experiment with different chem styles to morph this card into whatever you need.
If you're using him in the middle of the park, the Sentinel or the Shadow would be useful to improve his defensive presence. If you need an attacking CM, the Hunter would be the way to go to improve his Shooting as much as possible.
Rodrygo – Real Madrid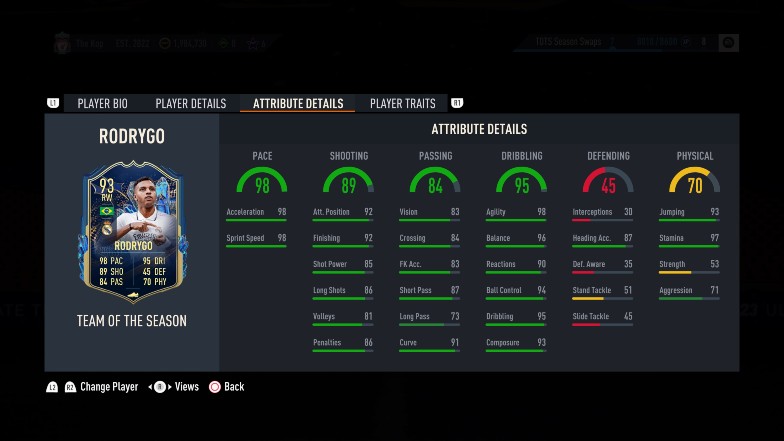 I used Rodrygo's World Cup Phenoms card for a long time, and it is still one of my best pack pulls this year (considering the power curve at the time I packed him).
That said, although he is extremely agile on the ball, just like Bernardo Silva, I think that his low Strength is more exposed on the flanks as he's going to be isolated a lot more there than Bernardo would be in the middle of the park.
That, for me, makes this a slightly tricky buy considering the price he goes for on the market. Now, if you packed him, then that's fantastic for you. But, I would recommend you look at alternatives with a bit more physical presence (or aggression) if you're planning to buy.
However, if you're bent on pulling the trigger on this purchase, or if you already did, then I would still say you have an excellent player on your hands.
He has been given a 5-star skill upgrade which will certainly be useful for beating defenders, and his 98 base score for pace is more than enough so you don't have to rely on him trying to hold off players too often.
You can even get away with playing him as a second striker in-game if you boost his Shooting stats with the Marksman chemistry style (which adds a small boost to his Strength as well). This can be particularly effective if you pair him with a more physical striker (teammate Benzema's TOTY card is a nice link for that if you can afford him)
Kingsley Coman – Bayern Munich
Coman's cards this year have not been too popular among the player base, and a large part of that is down to the fact that he plays in the Bundesliga.
However, there are many excellent Bundesliga players at this stage of the game, and they're mostly priced less than their Premier League and La Liga counterparts due to their popularity. This, for me, makes the league the way to go if you're working with a smaller budget.
For instance, if you wanted to build a meta team, players such as Fantasy FUT Upamecano, RTTF Goretzka, and TOTY Alphonso Davies are great links that should be affordable if you've been playing the game for months and earning coins.
However, with a 3-star weak foot, I cannot comfortably recommend this card for the price he's currently going for. There are simply better options on the market for that left flank, such as Sevilla's Alejandro Gomez's World Cup PTG which is one of the best meta cards in the game.
Gabriel Jesus – Arsenal
I rarely ever come across Gabriel Jesus's Winter Wildcard in the game. In fact, I've probably never done so. I think one of the reasons for that is the fact that despite having 5-star skill moves, the 3-star weak foot on that card was a turn-off for many players.
Now, his Community TOTS card has an upgraded 4-star weak foot to go with the 5-star skill moves and while that is still not fully meta, it does make his card much more usable at this stage of the game.
This card is definitely one of the best in the team. With his unique body type, those pace and dribbling stats make him feel very nice on the ball, so you can use him in wide positions if you want.
He does have some physicality to his game, so he's not as nimble as the likes of Bernardo Silva.
However, that extra bit of strength is very important if you're playing him as a striker. Slap a Hawk chemistry style on him to boost pace, shooting, and physicality and you have one of the best strikers in the game with fantastic links as well.
Alexis Sanchez – Marseille
Alexis Sanchez's Community TOTS card is the proper definition of a cosmetic upgrade if I ever saw one. To put it very simply – go for his Fantasy FUT card instead. Unless, of course, you have a bottomless pit of coins and you don't care how much you have to pay for the minor upgrades.
I think EA really missed a trick by not offering a 5-star weak foot or skill move upgrade here to increase the appeal of the new card over the Fantasy FUT card.
All that said, he is one the best agile dribblers in the game if you can get over the inability to execute 5-star skill moves. However, at the Elite level, having 5-star skills is often the skill gap difference that gets you more goals against the toughest opponents.
With maxed-out dribbling and great passing, I can see this Sanchez card being used in any position in attack. Give him a Hawk chemistry style and his stats looks absolutely ridiculous.
There are a few good Marseille players in the game now, including the Dmitri Payet TOTS Moments card in Season Rewards and FUT Birthday Guendouzi, so it shouldn't be too hard to get him on full chem despite his less-than-desirable Chilean links.
Even without the Marseille players, you can still get Pellegrini as your manager alongside a couple of Ligue players and you're good to go.
Alvaro Morata – Athletico Madrid
I contemplated completely ignoring this card and excluding it from this review, but against my better judgment, I've decided not to. However, I won't say much.
Forget the fact that the reasoning behind Morata's inclusion in this team is mind-boggling, the fact that this card is essentially a +1 from the World Cup card that was released in 2022?
The fact that a TOTS card looks worse than the Roque Santa Cruz card that you can get for free by playing a few Managerial Masterpiece friendlies?
Seriously, do better EA. This is clearly just a pack filler if I ever saw one.
What Next?
This is only the beginning of the TOTS promo and, over the next few weeks, we should see some really "special" special cards hit the market.
I plan to make more reviews like this one as we run deeper into the best promo of the year, so be sure to bookmark us and keep checking back for new content.
Meanwhile, enjoy our guide to the best 5-star skill team in FUT23. Those cards are still very much usable right now!