Managing your own livestock inside your animal barn is one of Harvest Moon's best features. Like all other Harvest Moon games, you will tend to these animals daily to nurture them and help them grow. They are also essential to help your crops grow, sustain food, and get around places quicker. This guide will show you how to get livestock in Harvest Moon One World.
Unlocking the Animal Shop or Livestock Dealer
Near the start of your playthrough, you will come across a woman in Calisson Village that will make a request. If you open the Doc Pad, you will see that the request unlocks the Livestock Dealer or Animal Shop.
You need to give the animal dealer 4 potatoes to unlock the animal shop. These are easy to obtain as long as you do not accidentally sell them or drop them in the shipping bin.
Fulfill the request and you will be able to purchase livestock such as sheep, cows, horses, chickens, and pets from the dealer.
The animals purchased will instantly be delivered to your animal barn and you will have to feed them immediately as well to avoid your livestock getting sick. These will cost you a ton of money so it is best to start with raising chicken.
Can You Breed Animals?
There is no way of breeding animals but you can start hatching eggs 1 by 1 to have more chickens. This is why it is recommended to get chickens first. When you get your first egg from a properly raised chicken, you need to put the egg on the upper right container you see inside your animal barn.
This will take more than a week to hatch but you do not have to do anything to it until it hatches. You will get notified at the start of the day when your egg does hatch.
You can use a Miracle potion to get your livestock pregnant which gives you the exact animal. You need to upgrade your animal barn if you have no space for more livestock. If you happen to use your Miracle potion when you have no space, it will be consumed and your chosen livestock will not get pregnant.
For other animals, you will just have to buy them from the livestock dealer or pet wandering animals around daily to get them.
Desert Animal Shop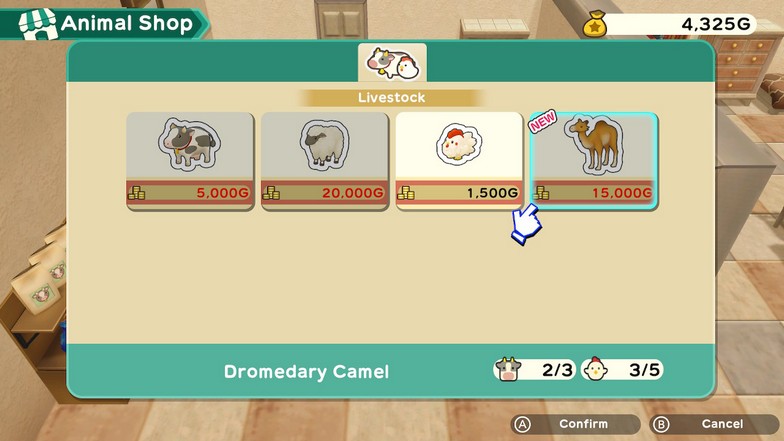 The next animal shop will be available after you reach the desert and meet Jamil. His house also has a livestock dealer inside so you will not be able to miss it. This is where you can purchase the rideable Dromedary Camel. Once you finish the requests or storyline in the town of Pastilla, you can talk to Jamil to unlock more livestock and pets to purchase.
These requests from Jamil will have a total of 5 requests that each unlocks different livestock. The first ones are easy and you would probably be getting all those requested items in your storage if you are keeping some of them. Otherwise, you can just go back to the farm and plant them again.
Protecting Animals 3
For the 3rd request, you will be needing Barley which will only spawn at one specific location in the game. It is found in the town of Lebkuchen. Just head towards the path going to the volcano and turn left at the first open area. There will also be Wheat Seeds that spawn here (2 of them).
The Barley Seed only shows up at 12:00 pm and exactly at this spot. If it does not spawn at 12:00 pm, you can proceed to the next day to get the next one because it will not spawn anymore within that day.
Protecting Animals 4
For the 4th request, you will need 4 pieces of Broccoli. There are two seed locations for Broccoli and both of them are in the town of Salmiakki. Since Salmiakki is quite small and there is only a single path going up the mountain, it will be easy to memorize.
To get the Broccoli seeds, head towards the pond above the town. Keep following the path and once you see the boulder in the open area, there will be multiple seeds in this area. This includes Romanesco Seeds, Spinach Seeds, and Broccoli Seeds. They spawn quite randomly so make sure to check this often.
The second location for the Broccoli Seed is just ahead of the first Broccoli Seed location mentioned above. Keep following the path up the mountain and there will be an incredibly large open area with trees, boulders, and a ton of seeds. The Broccoli Seed will be at the dead-end near the middle. It will literally spawn near the edge so it would be easy to notice with all the seed spawns in the area.
Another notable seed to get along the way will be the Viola Seeds. These are expensive flowers when sold and when you plant and harvest them enough, they will be unlocked in the general store in Salmiakki. With this, you can buy the seeds for 500 and grow and sell them for a profit. It is a great way to earn money fast without thinking too much about seed locations.
It is also worth noting that Broccoli Seeds can grow into Cauliflower instead so it is best to get more than what is required for the request.
Protecting Animals 5
The Pointy Cabbage Seeds are the last and hardest ones to collect for the request chain. There is only one location for the seed and it does not spawn regularly. You can find the seed just above the Harvest Goddess area. It is near the single coconut tree and below the area with 2 banana trees.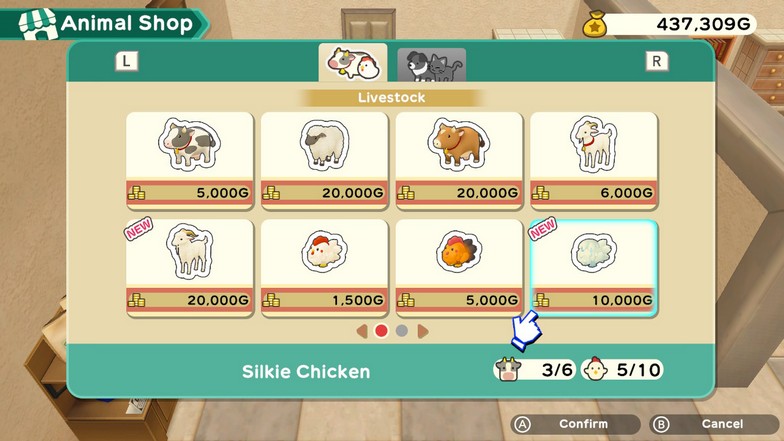 Once you have finished all the requests, you will be able to unlock the Silkie Chicken, the Araucana Chicken, the Cashmere Goat, the Jersey Cow, and the Reindeer. It also unlocks a ton of cats from the pets tab. These animals will unlock one by one every time you finish a request from Jamil.
Conclusion
Personally, the most essential animals to prioritize are chickens and horses. Getting eggs and storing them until you unlock the kitchen will be your main way of recovering stamina. You just need to cook them up and you will be stocked on food for the rest of your playthrough.
The horses will be your main way of collecting Harvest Wisps and getting around the areas. While memory portals are a thing, riding on horses or camels will still save you some stamina from walking and running when you are collecting Harvest Wisps