How to Get Married in Harvest Moon One World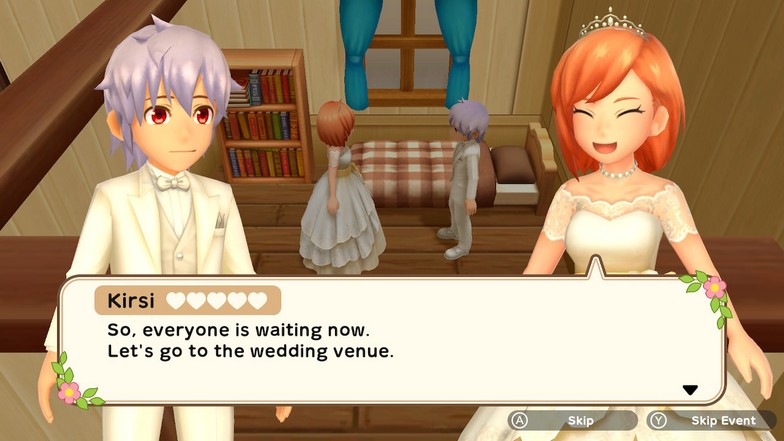 Getting married in Harvest Moon One World is one of the best features of this farming simulator game and it is only available during the postgame. This means that you need to finish the story first. Even then, there is still a long list of things you should do before unlocking the ability to propose. This guide will teach you how to get married in Harvest Moon One World.
Finishing the Story – Reviving the Harvest Goddess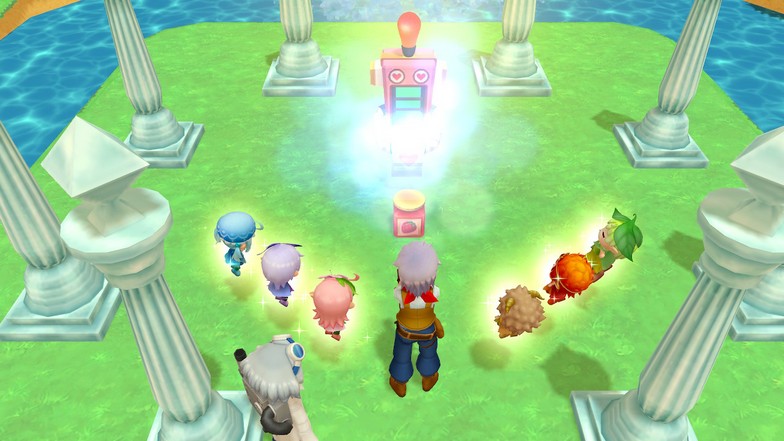 The story progresses with each town you save and after the town of Salmiakki, you will need to figure out a way to revive the Harvest Goddess. With the medallions you have collected, you can unlock the runestone down the grove which is just west of Halo Halo.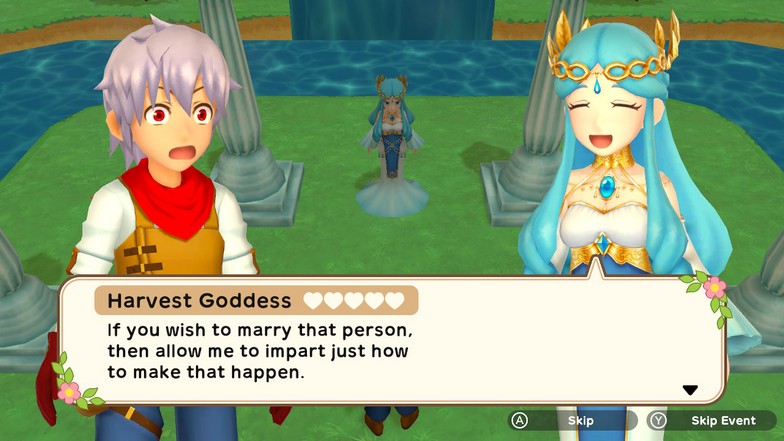 Complete the series of quests and once you revive the Harvest Goddess, she will tell you to follow the blue bird. This blue bird will give you the blue feather which you need to propose with. Before acquiring the blue feather, the blue bird will lead you to the broken wedding venue. You will need to rebuild it before obtaining the blue feather.
Marriage Requirements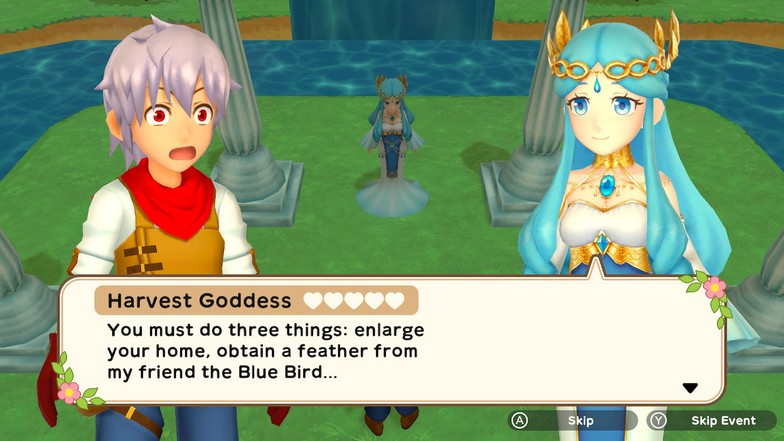 As you obtain the blue feather, the Harvest Goddess has already given you the other requirements to getting married. You will need the blue feather, another bed, and a larger house. While there are two house upgrades available, you need the last upgrade for this.
How to Upgrade Your House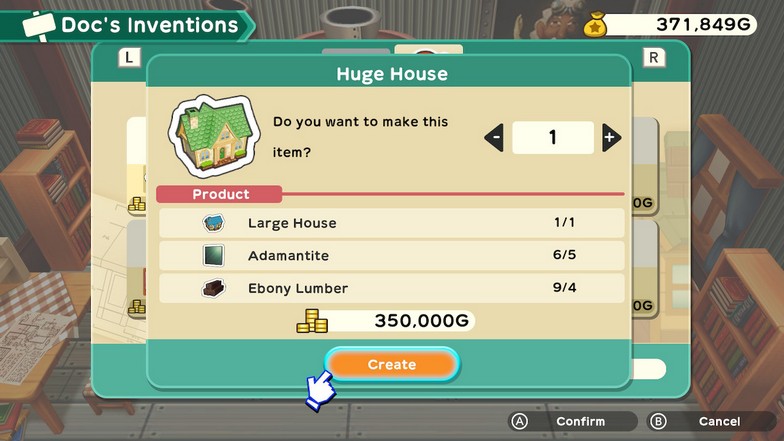 This will be unlocked after finishing Doc Jr's "Doc's Crafts" request chain. You will need Adamantite to unlock the final Doc's Crafts requests and these will be needed for the next upgrades as well. You need to get 12 Adamantite to finish the request and get the house and animal barn upgrades.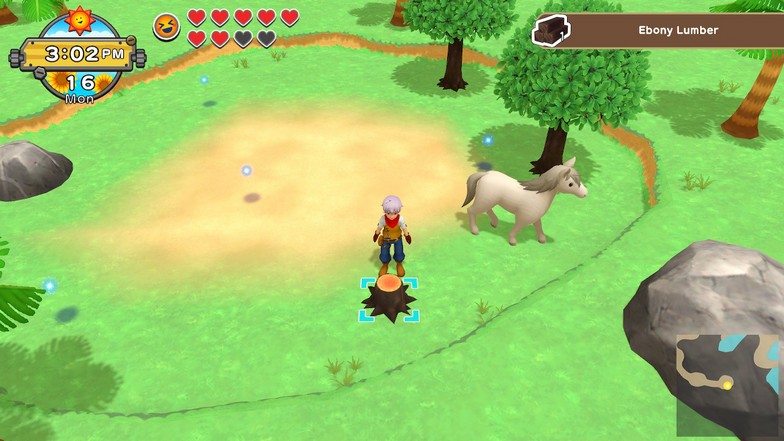 The Ebony Lumber is gotten from the trees to the north of the Harvest Goddess area. When you encounter the grove with the two banana trees, turn right and follow the road. You will need upgraded tools to break the large stone but at this point, you should already have it anyway. Go inside and cut the 3 trees in this area for Ebony Lumber. You can also plant your own Ebony Sprouts but it will take a longer time.
All that is left is that whopping 350,000G. Since I played around trying to solve this marriage confusion, I used my money-making strategy while doing it. I ended up with around 800,000G after buying all the upgrades so money should not be a problem. This house upgrade will give you enough room to live with another person and get another bed.
How to Upgrade Your Bed
This is the most annoying requirement since it lacked a few details. If you go to your workbench, you will notice some bed designs but they all look like they are just single beds with different styles. This is true and you will not have the option to get a larger bed.
After spending more than 10 hours during the postgame on finding out how to get married, I finally noticed that you only need to build another basic bed. Since every time you choose a style and change your bed, that same style will disappear on the workbench.
So after trying almost everything in the game to trigger a proposal, I played around with crafting beds again. When I crafted the basic bed, it mirrored my previous Halo Halo bed and created a new one. Now that you have 2 beds, this will trigger an event on the next day with the Harvest Goddess. Go to sleep and wait for the event to trigger.
Marriage Proposal – Kirsi
After the event with the Harvest Goddess, you just have to go to the person you wish to marry and it will automatically trigger a proposal notification. You can decide not to propose at this time and you will have the chance to do it again on the next day.
The Wedding Ceremony – Kirsi
After proposing, there will be unique dialogues and events for each character during the wedding day. After everything is finished, you will advance to the next day waking up with your loved one inside your house. There will be unique dialogues as well when you interact with the villagers after your wedding day.
What Happens After Marriage?
To be honest, it is kind of stale with fewer unique dialogues and activities to do. Waking up at 6:00 am and you will find your loved one with you. After an hour, they proceed to their own regular locations where you usually find them. Poor Kirsi, living in our home near the Harvest Goddess and commuting all the way to Salmiakki.
It is also worth noting that the dialogues for attending festivals are different once you are married. If you ever spent the festival with your loved one before getting married, the dialogue will be different if you go with them again.
Some Unique Events With Kirsi – Bonus
Kirsi's Birthday
Kirsi – Lantern Festival
Kirsi – Flower Festival
Kirsi – Autumn Festival
Kirsi – Failing a promise to go to the festivals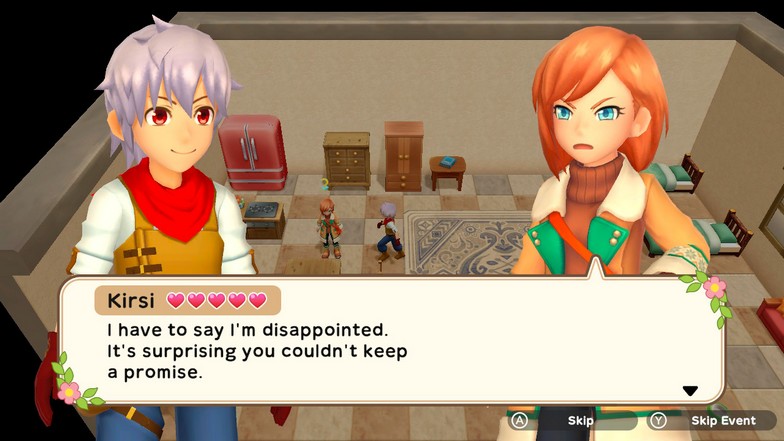 Conclusion
Before saving, you should really try to use one of the 3 save slots on your profile for this. This gives you an opportunity to see all the events with all the other bachelors and bachelorettes in the game. Now that you are happily married, you can finally enjoy the game freely.