There are many useful upgrades from Doc's Crafts that you can get after fulfilling requests. The animal barn upgrade should be the priority among them and it will be useful for your crops and completing more requests. This guide will teach you how to upgrade your animal barn in Harvest Moon One World.
What Does the Animal Barn Upgrade Do?
The animal barn upgrade changes the exterior of your barn and makes it bigger (obviously). It also doubles the livestock that you can raise. You can have 10 chickens and 6 larger animals like horses, camels, goats, and sheep.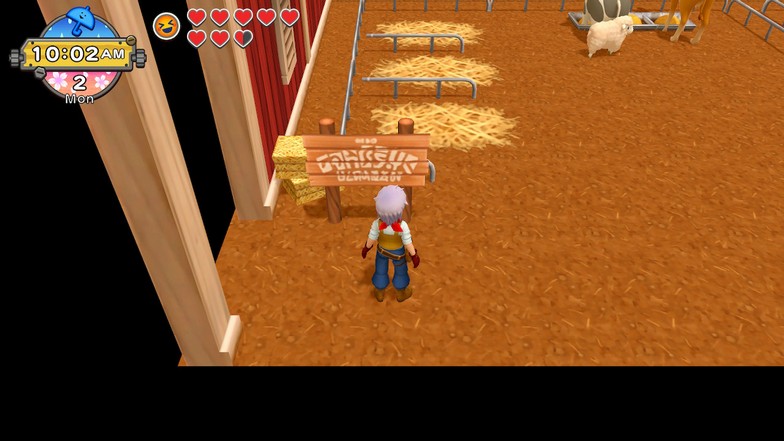 The interior does not change at all which was disappointing but there will be another entrance to your second animal barn inside. You can find it at the lower-left corner when you go inside your animal barn. The interior will be exactly the same as the first one with different animals depending on what you get. You can also exit the animal barn from the 2nd extension.
Unlocking the Animal Barn Upgrade
The upgrade is available once you have completed the Great Ancestors' Challenge 2 from Doc Jr. You need to progress through the story to trigger Doc Jr's request call when you wake up. The request requires 2 platinum to complete. If you are struggling with getting platinum, you can check our other guides on how to get platinum and titanium.
How Much Does it Cost to Upgrade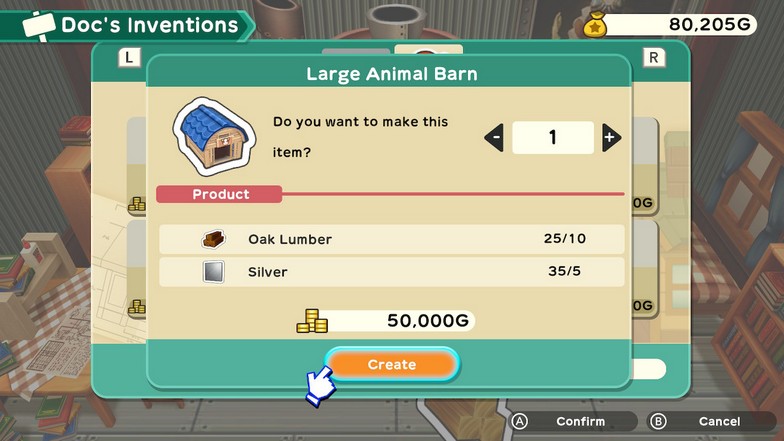 The large animal barn upgrade costs 10 Oak Lumbers, 5 Silvers, and 50,000 coins. While the materials are easy to get, it is very expensive and you need to know how to earn money fast. Not only does it cost 50,000 coins, but you will also still need to fill them up with livestock which could cost you just as much as the animal barn upgrade.
Getting More Livestock
Now that you have an expanded barn, you can get more livestock from dealers or tamed animals. You should be more selective in getting livestock because you only have a limited amount of space. Some quest even requires you to get specific things you get from livestock like the Valais Blacknose Sheep Wool which is a Pastilla exclusive animal.
Tips and Tricks for Managing Livestock
Your livestock only eats once a day and if your animal food is ready, they will start eating from 6:00 am to 7:00 am. So it would be best to tend to your crops first before going to your animal barn. This is so that you can refill the animal food they have eaten and have them ready for the next day.
You also might have noticed that without the animal barn upgrade, farm locations like the one near the Harvest Goddess, Lebkuchen's farm, and Salmiakki's farm are incredibly big. To have them growing at 100% efficiency, you need a larger barn to keep up with all the fertilizing. This means you need to fill your animal barn extension with livestock already to get enough composite for fertilizers.
Having just the ordinary animal barn and growing crops on every tile in each of the locations mentioned will make it extremely hard to manage. If you are growing crops out of season or not in the right field, they might get destroyed in the process if they are not fertilized.
The lazy way is always to fertilize them all and having the upgraded animal barn to produce composites will be more than enough to support all of the farm tiles.
Conclusion
While there are many upgrades available in Doc's Crafts, they are quite costly. You need to choose which ones to upgrade first. Upgrading the animal barn is better than upgrading your house since it helps you more in the long run.
The house upgrade will only give you new stuff to decorate, a couch that you can nap on (does not give stamina), and an additional pet slot. While it is purely decorative, the animal barn upgrade should be the obvious choice for efficiency.