In this guide I'm going to show you how to complete the Six of the Best SBC in FIFA 22.
This is the second Squad Building Challenge in the Hybrid Nations category, and you'll likely have already completed the Final Four SBC that comes before it.
You won't need loyalty on your players to submit this.
Below, I'll share an example team that you can use to complete this SBC and then I'll break down why certain players are used so you can figure out which ones can be replaced if any of them are overpriced, or in case you already have some untradeable players in your club that you might be able to use instead.
Six of the Best SBC Solution for FIFA 22
Here is an example solution for the Best SBCs in FIFA 22: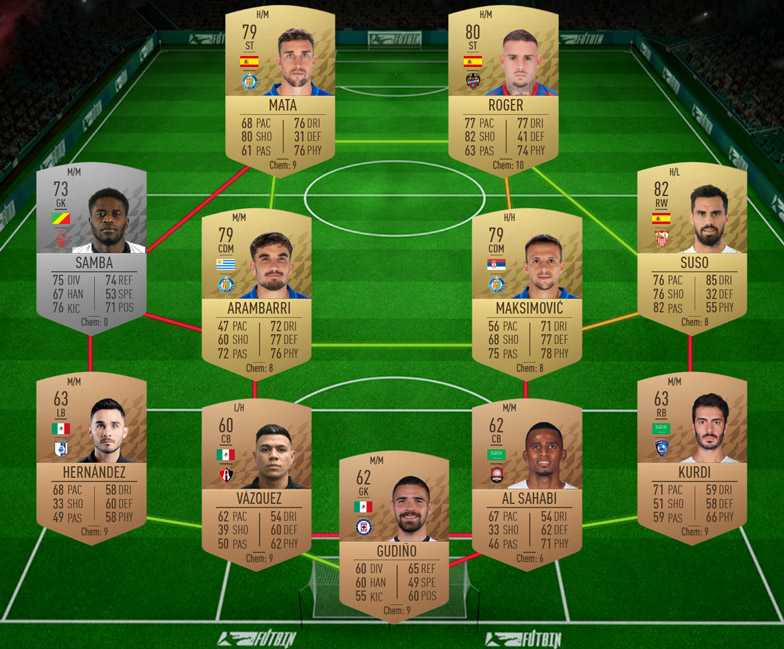 The players used in this example are:
Gudino (62)
Hernandez (63)
Vazquez (60)
Al Sahabi (62)
Kurdi (63)
Samba (73)
Arambarri (79)
Maksimovic (79)
Suso (82)
Jaime Mata (79)
Roger (80)
But notably, many of the players I actually used when I submitted this were different to the above (all of them, in fact). And there's an important reason why: price.
Prices of some bronze players occasionally have their price driven up by solutions like the one above and therefore I chose to swap them out for cheaper alternatives. I'll share how below.
What Does the Six of the Best SBC Require?
To complete the Six of the Best in FIFA 22, you'll need your squad to have:
Exactly 6 nationalities
A maximum of 3 players from one nation
A maximum of 3 players from one club
A minimum squad rating of 75
Minimum chemistry of 85
Because of the club and nation restrictions, to keep this six of the best SBC in FIFA 22 no loyalty solution, we'll need to make sure to get plenty of green links.
You'll notice if you check the example above again that the left midfielder is actually a random silver GK. This means that when we submit, we can use any player from any position, as long as they fulfil the goal of being a different nationality (a sixth nationality overall) to the rest of the team.
I used Raul Jimenez from Wolves, but only because I'd just packed a second untradeable version, meaning I had one that had to be discarded (before I used quick sell recovery to get it back after submitting this).
Not only did I swap Jimenez in, I also used a range of different players: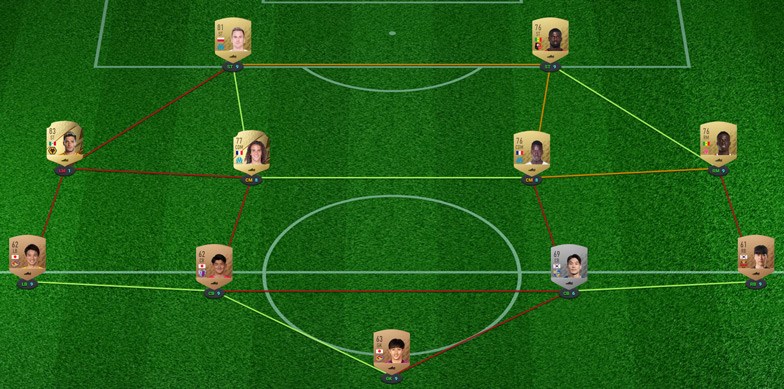 Please note, this is an intentionally small image without player names showing — my intention is not to raise the prices of specific players, but instead teach you how you can do it more cheaply. If you need an exact list to copy, you could try the previous example, though I would recommend trying to look for alternative options for profitability — and it's more fun, too!
Instead of a Saudi and Mexican defensive line, I instead went for 3 Japanese players from the Japanese league, and 2 Korean players from the Korean league.
My midfield (other than Jimenez) and attack then all played in the same league — I went for Ligue 1 as I already had some in my club, but you can use whichever league works for you — but importantly they had a total of three different nationalities. This is crucial to making this SBC work.
The main thing you need to remember with this one, aside from using the same style of build as above for chemistry, is that the squad rating needs to be 75+. Putting a higher-rated gold player into a team containing a few bronzes can bring the average up nicely, and did so for me.
This is a relatively easy one to complete, so get it submitted and then move on to the FIFA 22 Elite Eight SBC.