Building a hybrid team on FIFA 22 is not only a fairly challenging task but also a very rewarding one – provided you've done your homework and picked the best players for hybrid builds on Ultimate Team
Previously, we've built the best bronze team in FIFA 22 with 100 chemistry – that was a hybrid team between Japanese players and English players – it's insane and super affordable – definitely check it out. We've also built the best silver squad in FIFA 22 with 100 chemistry. That was a hybrid too.
Whatever your aspiration for a FIFA 22 hybrid team might be, in this article, I will show you some of the fastest and best meta players in FIFA 22 Ultimate Team that you must take into consideration when building your squad.
What Is a Hybrid Team in FIFA 22?
A hybrid team is a team of players from at least two different nationalities and two different divisions. An example of a hybrid team would be a mix of players from Germany and England that play in the Premier League and the German Bundesliga.
Best Players for Hybrid Teams in Ultimate Team
Note: I've gone for players who are a lot likelier to have decent chemistry with a vast range of players on FIFA 22 than those that will not. For example, I favored players who are German and play in the Premier League as German/English hybrids are popular as opposed to a player from Egypt that plays in the Turkish Super Lig.
This all will come in very handy, especially if you're looking at building the best hybrid team in FIFA 22 possible.
Below, I'll show you ten different players suitable for a hybrid team. I've tried to provide you with a fair variety of players from every position so that you can pick the ones that make the most sense for your hybrid squad.
1) Marquinhos – Brazil – Ligue 1 – CB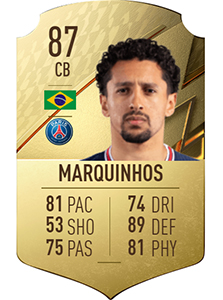 If you're looking at building one of the best hybrid teams in FIFA 22 that involves the Ligue 1/Brazil players, then you must take into consideration the PSG star – Marquinhos. The 87-rated player is not only one of the fastest center backs on Ultimate Team but also has the great potential to fit in a wide range of hybrid squads.
As you already know, pace is super important so having quick defenders will be crucial to the success of your hybrid squad. Besides his pace, the 1994-born Brazilian also boasts 74 dribbling, 53 shooting, 89 defending, 75 passing, and 81 physical. Combining that with his height of 6'0″, you've got yourself a very decent CB.
2) Neymar Jr – Brazil – Ligue 1 – LW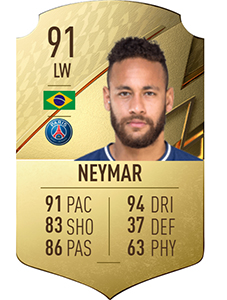 Building a hybrid team that involves Ligue 1/Brazilian players? For the ones of you that can afford him, Neymar would be one very obvious choice. He's absolutely insane and would do wonders for your team upfront. Thanks to his 91 pace and 94 dribbling, you can rest assured that he'll tear through the opponent's defense with ease.
Besides his impressive pace and dribbling stats, the 1992-born PSG left-winger also boasts 83 shooting, 86 passing, 37 defending, and 63 physical. On top of all that, Neymar has 5-star skills and a 5-star weak foot, meaning you can pull off some of the craziest skills and shoot from virtually any side of the goal without much difference in the result you can expect.
3) Theo Hernandez – French – Serie A – LB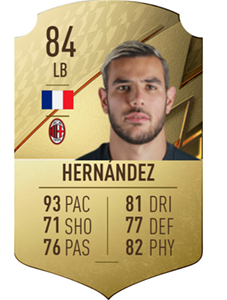 If I were to build a French/Serie A hybrid squad, Theo Hernandez would be the first player that I'd pick. Not only because he's relatively affordable and can fit into pretty much any French/Serie A squad but also because he's the 2nd quickest left-back on FIFA 22 thanks to his 93 pace.
The 1997-born 84-rated A.C. Milan player also boasts 81 dribbling, 71 shooting, 77 defending, 76 passing, and 82 physical, which are insane stats for a center back.
4) Eder Militao – Brazil – La Liga Santander – CB
The second and last CB on this list is the Brazilian Real Madrid player, Eder Gabriel Militao. The 82-rated player is particularly suitable for a hybrid team as he plays in the Spanish La Liga and is of Brazilian origin. So, those of you that are building a hybrid team with Brazilian/La Liga players, consider Eder.
Putting aside his good chemistry potential to fit in with a wide range of players, the 1998-born is also very quick for a CB. Like Everton's Godfrey, Eder also made our list for one of the fastest CB on UT with the impressive 83 pace.
Aside from the nice level of pace, the 82-rated player also has 70 dribbling, 50 shooting, 83 defending, 69 passing, and 82 physical. He's a little bit more expensive than Ben Godfrey but his stats are also on the higher end overall.
5) Paul Pogba – French – Premier League – CM
For the FIFA players looking for a Premier League/French chemistry link in the midfield, take into consideration the Manchester United CM – Paul Pogba.
The 1993-born Frencham boasts 71 pace, 86 dribbling, 81 shooting, 65 defending, 86 passing, and 83 physical. Combining that 5-star skills and 6'3″ in height, you've got yourself a very solid player in midfield.
Paul Pogba even made our best 5-star skill team on FIFA 22 with 100 chemistry.
6) N'Golo Kanté – France – Premier League – CDM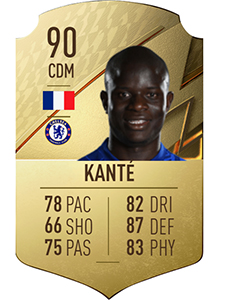 N'Golo Kanté is another one of my favorite players that I'd highly recommend to anyone building a Premier League hybrid in FIFA 22. The 1991-born is one of France and Chelsea's best center defensive midfielders ever.
The 90-rated center back boasts 78 dribbling, 82 dribbling, 66 shooting, 87 defending, 75 passing, and 83 physical, which make him the ideal defensive pick for anyone that can afford the Frenchman.
7) Presnel Kimpembe – France – Ligue 1 – CB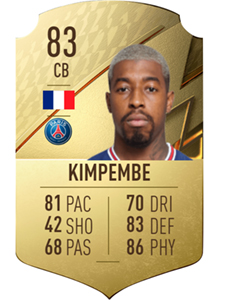 Any hybrid team involving Ligue 1 or PSG players should take into consideration Kimpembe. The PSG center-back boasts the very impressive 81 pace and at 6'2″ with 86 physical, he's a literal wall in defense both on the ground and in the air.
Aside from his decent pace, the 83-rated Paris Saint-Germain player also boasts 70 dribbling, 42 shooting, 83 defending, and 68 passing.
8) Ousmane Dembele- France – La Liga Santander – RW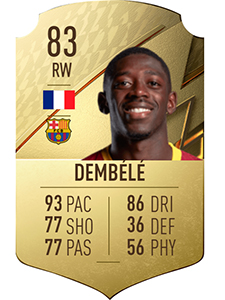 Over the last several seasons, the Frenchman Ousmane Dembele has had trouble with injuries and overall pretty poor performance for the Barcelona side. As a result, his overall rating has dropped slightly and so has his price but his actual stats haven't – or not that much at all.
If you're looking to build a French/La Liga hybrid, then do check out Dembele and see if you can afford him. If so, I'd definitely get my hands on him. He's not only quick (93 pace), but also boasts 86 dribbling, 77 shooting, 36 defending, 77 passing, and 56 physical.
With a 5-star weak foot and 5-star skills, he's one of the most lethal forwards on FIFA 22.
9) Alisson Becker – Brazil – Premier League – GK
After taking into consideration various goalkeepers for the top spot, I ended up going for the Brazilian Liverpool goalkeeper Alisson Becker. My reasoning is because he's not only a fantastic goalkeeper but is also Brazilian and plays in the Premier League, which makes him the perfect fit for virtually any Premier League/Brazilian hybrid team.
The 1992-born boasts 86 diving, 89 reflexes, 86 handling, 52 speed, 84 kicking, and 90 positioning. He does cost a decent amount of coins but I really believe that he's worth every penny.
10) Roberto Firmino – Brazil – Premier League – CF
Roberto Firmino would be one of the most obvious choices for any FIFA 22 hybrid squad that is looking for a Brazilian/Premier League center forward/striker. The 1991-born Brazilian boasts 77 pace, 89 dribbling, 78 shooting, 59 defending, 79 passing, and 78 physical.
Combined with 5-star skills, if you know your skills, you can really tear through virtually any defensive line and create opportunities out of nowhere.
Other Great Players for Your Hybrid Team
| Player Name (Rating) | Position | League | Nationality |
| --- | --- | --- | --- |
| Kingsley Coman (86) | LM | Bundesliga | French |
| Hugo Lloris (87) | GK | Premier League | French |
| Joshua Kimmich (88) | CDM | Bundesliga | German |
| Marcelo Vieira (80) | LB | La Liga Santander | Brazilian |
| Serge Gnabry (85) | RM | Bundesliga | German |
| Raphaël Varane (86) | CB | Premier League | French |
| Jadon Sancho (87) | RM | Premier League | English |
| Timo Werner (85) | ST | Premier League | German |
| Kyle Walker (85) | RB | Premier League | English |
| Luiz Felipe (78) | CB | Serie A | Brazilian |
| Antoine Griezmann (87) | ST | La Liga Santander | French |
| Marcos Llorente (86) | CM | La Liga Santander | Spanish |
| Fred (81) | CDM | Premier League | Brazilian |
| Leroy Sané (85) | LM | Bundesliga | German |
| Adria Pedrosa (75) | LB | La Liga Santander | Spanish |
| Ederson (89) | GK | Premier League | Brazil |
| Ferland Mendy (83) | LB | La Liga Santander | French |
| Nacho Fernandez (81) | CB | La Liga Santander | Spanish |
| Raheem Sterling (88) | LW | Premier League | English |
| Maxence Lacroix (79) | CB | Bundesliga | French |