To keep DiamondLobby free to read, this post may contain affiliate links. Learn more
Rhys "Rated" Price is a UK-based Twitch streamer and content creator representing the popular 100 Thieves eSports organization. Rated is best known for this 2nd place finish with Splyce in the 2016 COD World League Championship.
Today, he actively places first in a number of Warzone tournaments, which has helped him build a large following across a number of social media platforms.
If you have landed on this blog, you most likely already know a thing or two about Rated.
Due to high demand, we will take a look at all the Rated Warzone settings. After that, we will take a closer look at the current gaming gear that he uses to compliment his natural talent.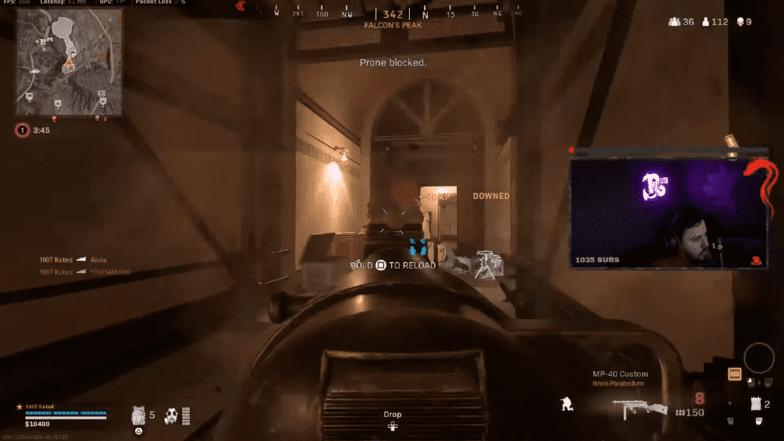 Settings
| | |
| --- | --- |
| Setting Name | Rated Controller Settings |
| BR Button Layout | Default Flipped |
| Stick Layout Preset | Default |
| Invert Vertical Look | Disabled |
| Deadzone | 0.05 |
| Horizontal Stick Sensitivity | 6 |
| Vertical Stick Sensitivity | 6 |
| ADS Sensitivity Multiplier (Low Zoom) | 1.00 |
| ADS Sensitivity Multiplier (High Zoom) | 1.00 |
| Aim Response Curve Type | Dynamic |
| Controller Vibration | Disabled |
| Aim Assist | Standard |
| Scale Aim Assist With FOV | Disabled |
| Weapon Mount Activation | ADS + Melee |
| Weapon Mount Movement Exit | Enabled |
| Aim Down Sight Behavior | Hold |
| Equipment Behavior | Hold |
| Use/Reload Behavior | Contextual Tap |
| Depleted Ammo Weapon Switch | Enabled |
| Armor Plate Behavior | Apply One |
| Slide Behavior | Tap |
| Auto Move Forward | Disabled |
| Automatic Sprint | Automatic Tactical Sprint |
| Vehicle Camera Recenter | Enabled |
| Parachute Auto-Deploy | Disabled |
From Rated's controller settings, there are a couple of things to note. He uses the "Default Flipped" BR Button Layout, which is fairly standard across the Warzone controller community.
One thing that is quite surprising is Rated's Warzone controller sensitivity. Rated's sens is currently set a 6 for both horizontal and vertical aiming.
As a general rule of thumb, you should use what is comfortable for yourself. There isn't direct proof that lower sens make you a better player as there are plenty of pro players out there with very high sens like FaZe Dirty, who uses the highest 10.
Now, let's take a look at Rated's setup:
Controller
Rhys is currently using a custom PS4/PS5 Rated Battle Beaver controller. You can get this very controller on the Battle Beaver website or you can customize it to your liking.
To get a controller from Battle Beaver, which we rated (no pun intended) one of the best pro-level PS5 controllers, it will cost you around $200 depending on the options and features you want to include on your controller.
Monitor
Your gaming monitor can make or break you as a player. Rated knows that, and as a result, he has invested a decent chunk of money in the Alienware AW2518HF.
This monitor combines 1ms response time with a native 240 Hz refresh rate, making it the perfect performance-driven monitor for his powerful gaming computer.
Headset
Rated currently relies on the JBL Quantum One gaming headset. This wired headset is one of the best choices for eSports and competitive gaming due to the JBL QuantumSPHERE 360 technology.
This technology allows you to pinpoint noise during the game and hear all positional cues from your enemies with extreme precision.
Chair
Like many other full-time streamers, content creators, and Warzone pro players, Rated has also spent over a thousand dollars on the Herman Miller x Logitech G Embody.
Due to its supreme design, build, and materials used to provide the premium level of feel and comfort to the person using it, this chair is deemed the holy grail on the market.