To keep DiamondLobby free to read, this post may contain affiliate links. Learn more
Jordan 'Huskerrs' Thomas is one of the best, non-professional, full-time Warzone streamers on Twitch who is a member of one of the largest e-sports organizations in the world, NRG. With over 400,000 followers, he has made a name for himself in the Call of Duty community for being an absolute beast.
With many people asking what Huskerrs Warzone settings and setup is, we are dedicating today's blog to that. Moreover, we will take a closer look at the individual aspects of Huskers Warzone settings and setup to find out what makes him the player he is.
Settings
Mouse Settings
| | |
| --- | --- |
| Setting Name | Huskerrs Settings Information |
| DPI | 400 |
| Mouse Sensitivity | 5.00 |
| ADS Mouse Sensitivity | Relative |
| ADS Vertical | 1.00 |
| ADS Horizontal | 1.00 |
| Mouse Acceleration | 0.00 |
| Mouse Filtering | 0.00 |
| Mouse Smoothing | Disabled |
Right away, we can see that Huskerrs plays with pretty low sensitivity as compared to the average Warzone mouse and keyboard player. A streamer with similar sensitivity is Symfuhny.
While some may see low sensitivity as a disadvantage, if you are reading this blog, you have probably seen how good his accuracy is. So, without a doubt, lower sensitivity and DPI seems to be treating Huskerrs quite well.
Now, let's take a moment to explore his keyboard binds in a little more detail.
Keybinds
| | |
| --- | --- |
| Setting Name | Huskerrs Settings Information |
| Reload | R |
| Prone | Z |
| Crouch | C |
| Jump/Mantle | Space |
| Use/Interact | E |
| Change Stance/Slide | V |
| Sprit/Steady Aim | Left Shift |
| Toggle Camera | V |
| Toggle Firing Mode | B |
| Melee | Caps Lock |
| Auto Run | H |
| Map | M |
| Scoreboard/Inventory | Tab |
| Aim Down Sight | Right Mouse Button |
| Throwables | G |
| Special Ability | Q |
| Equipment | 4 |
| Health Kit | X |
From his key binds, we can see that he uses pretty standard settings, with very little changes to what is already set by default. A pro player with very similar keyboard settings is MuTeX, who is an absolute monster in Warzone.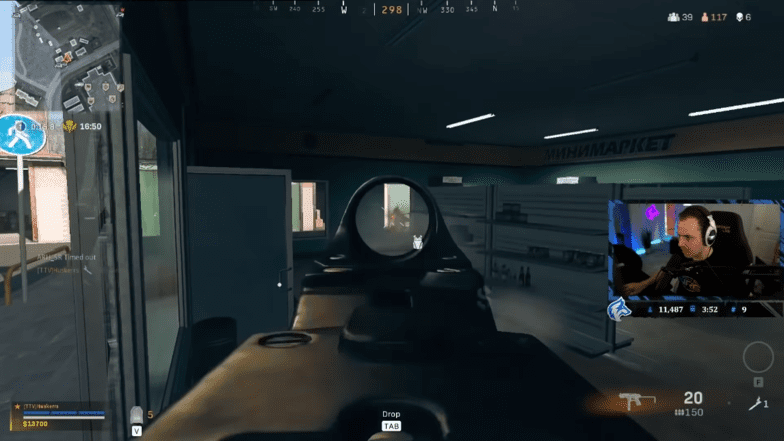 Besides having great settings, Huskerrs also makes use of some pretty great setup in order to be as great as he is at Warzone. Below, we take a closer look at his mouse, mousepad, monitor, chair, keyboard & desk.
Mouse
First and foremost, the mouse. Huskerrs uses the Logitech G Pro Wireless, which is a widely popular option amongst many Warzone competitive players due to its incredible features, characteristics, and overall quality.
Mousepad
A great mouse is often incomplete without a quality mousepad. The mousepad that Huskerrs uses is the Glorious 3XL Extended Gaming Mouse Pad. Due to its size, it is suitable for people who have larger desks and more space that they can work with.
Monitor
One of the most fundamental factors that would determine your performance in fast-paced shooter games such as Warzone is your monitor. Jordan plays on the Alienware AW2521H. This is a 1080p, 360 Hz monitor, which provides him with the ultimate gaming experience and competitor advantage.
Chair
Next up, the chair. Huskerrs is currently making use of the Secret Lab Titan SoftWeave gaming chair. As far as we are aware, his gaming chair is customized by his sponsors at Secret Lab.
Keyboard
Another very important aspect of your gaming setup is your keyboard. Huskerrs is currently using the HyperX Alloy Origins Mechanical Gaming Keyboard. Though it is full size, it is compact, very durable, and can last for a very long time.
Desk
And finally, the desk. He is currently using a desk called 'Bekant', which he purchased from IKEA. It just goes to prove that you really don't need the best of the best in order to be really good at a game.