To keep DiamondLobby free to read, this post may contain affiliate links. Learn more
Nadeshot is one of those streamers/YouTubers that started first as a professional esports player in the Call of Duty esports scene, and won multiple titles with OpTic Gaming before retiring from the sport professionally.
With this background, you would start to realize how Nadeshot got so good at playing Call of Duty Warzone.
This blog post will show you Nadeshot's Warzone sensitivity & controller settings in full detail so you can copy his playstyle.
We'll also break down his whole gaming PC setup and anything involving Nadeshot's settings and gear.
To add to his background, Mathew "NaDeSHoT" Haag was dubbed "America's favorite gamer" during his professional career in Call of Duty. After winning big with OpTic Gaming in 2011, that whole roster, which included Scump, Clayster, and ProoFy, was put on the map.
After a series of disappointing finishes, Matthew decided to call it quits.
After retiring from the Call of Duty esports scene, he focused on his YouTube channel and live streaming like most popular streamers. Once he increased his following and expanded his connections, he started his own organization a year after retiring.
Nadeshot founded 100 Thieves, one of the biggest orgs in gaming.
As the CEO and founder of 100 Thieves, it is hard to see him stream as he is not your typical full-time content creator anymore. Regardless, if you are a big fan of Call of Duty, you know that the fundamental skills will always be there for a player like Nadeshot.
Settings
General Settings
| | |
| --- | --- |
| Settings Name | Nadeshot Settings |
| BR Button Layout | Tactical |
| Stick Layout Preset | Default |
| Invert Look | Disabled |
| Deadzone | 0.05 |
| Horizontal Stick Sensitivity | 5 |
| Vertical Stick Sensitivity | 5 |
| ADS Sens Multiplier (Low Zoom) | 0.9 |
| ADS Sens Multiplier (High Zoom) | 0.9 |
| Aim Response Curve | Dynamic |
| Controller Vibration | Disabled |
| Aim Assist | Standard |
| Scale Aim Assist with FOV | Disabled |
| Jump | Cross |
| Use/Reload | Square |
| Switch Weapon | Triangle |
| Crouch/Prone/Slide | Circle |
| Tactical Equipment | L1 |
| Lethal Equipment | R1 |
| Aim Down Sight | L2 |
| Fire Weapon | R2 |
| Melee | Right Analog Button |
| Sprint/Tactical Sprint/Steady Aim | L3 |
| Scoreboard/Inventory | Share Button |
| Map | Touch Pad |
| Use Armor Plate | Triangle (Hold) |
| Scoreboard/Inventory | Down Touch Pad |
| Toggle Firing Mode | Left Touch Pad |
Graphics
| | |
| --- | --- |
| Video Settings Name | Nadeshot's Video Settings |
| Display Mode | Fullscreen |
| Refresh Rate | 240 Hz |
| Display Resolution | 1920×1080 |
| Render Resolution | 100 |
| Aspect Ratio | Automatic |
| V-Sync | Disabled |
| Brightness | 64.86 |
| Field of View | 103 |
| Custom Framerate Limit | Unlimited |
| Texture Resolution | Normal |
| Texture Filter Aniosotropic | High |
| Particle Quality | High |
| Bullet Impacts | Disabled |
| Tessellation | Near |
| Shadow Map Resolution | Normal |
| Cache Spot Shadows | Disabled |
| Cache Sun Shadows | Disabled |
| Particle Lighting | High |
| Ambient Occlusion | MDAO |
| Anti-Aliasing | SMAA 1X |
| Depth of Field | Disabled |
| World Motion Blur | Disabled |
| Weapon Motion Blur | Disabled |
| Film Grain | 0 |
Nadeshot's Gaming PC Setup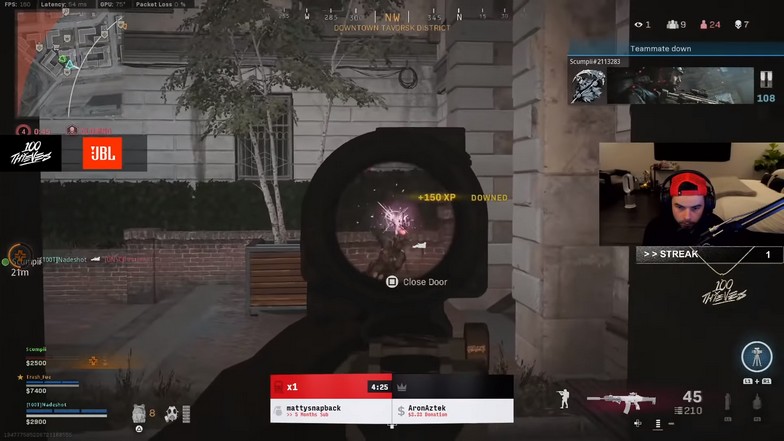 For Nadeshot's gaming PC setup, it is unclear to everyone what he actually uses. As the CEO of the 100 Thieves organization, you would assume that he is extremely busy. At the same time, he would also be getting a lot of new peripherals, gaming PCs, and other equipment from other gaming companies.
His gaming PC setup is a $10,000 custom-built NZXT gaming PC he unveiled in 2020. Here are the full PC specifications.
Case – NZXT H710i Mid Tower White/Black Chassis (Custom Etched)
CPU – Intel i9-10980XE EXTREME EDITION
GPU – NVIDIA TITAN RTX (x2) – Nvidia HB Bridge NVlink 3-slot
Motherboard – x299-E Gaming ASUS ROG STRIX
RAM – Team T-FORCE Delta RGB 128GB (16×8) 3000MHz
Cooler – NZXT Kraken Z73 AIO Liquid Cooler
SSD – Samsung 970 Evo Plus 1TB (x2)
PSU – Seasonic 1000W 80+ Gold PSU
Lighting – NZXT Hue 2 RGB Lighting Kit, NZXT RGB Cable Combs, White Cablemod extensions,
Fans – NZXT RGB Underglow Fans, NZXT Aer RGB 2 – Single 120mm (x3), NZXT Aer RGB 2
Capture Card – Elgato Game Capture 4K60 Pro
The rest of the peripherals are not included as the $10,000 custom NZXT gaming PC is just purely the tower and what is inside.
Headset
Nadeshot uses the JBL Quantum One headset. JBL is known for its amazing sound systems but this is their first entry to their gaming headset line. With such a known brand, the sound quality should resonate what they have done in the past and, if you compare this to their normal headsets, the price should be pretty reasonable.
Keyboard
Nadeshot uses the Higround Sandstone keyboard. It is a mechanical keyboard which is a must for all competitive players out there. The faster response time on the mechanical switches gives gamers a slight boost to reaction times.
Although for Nadeshot, he plays using the controller so this does not matter at all if you are planning on using a controller as well.
Mouse
Nadeshot uses the Logitech G Pro wireless mouse. This is one of the most popular wireless mice in the market. Even with the bad reputation of using wireless mice for competitive gaming, there is no visible input lag from this type of mouse.
Again, if you are copying Nadeshot's settings, you might be going for the controller as well so you can disregard this and purchase the mouse you want.
Controller
Nadeshot uses the SCUF Xbox controller which is a regular pick among all the streamers out there using a controller. Nadeshot's sens is quite low, especially for a fast-paced game like Warzone. You can follow different settings from other streamers like Nickmercs and Syndicate if you're looking for some slightly higher sens settings.
Monitor
Nadeshot uses the Alienware AW2518H gaming monitor. It boasts a 240Hz refresh rate and a 25-inch screen. Dell's Alienware brand is known for creating the best products in the gaming industry but at an extremely high cost. The quality of this monitor is unquestionable and if you are already a fan of the brand, it is definitely worth the price.
Microphone
Nadeshot uses the Shure SM7B like most of the big streamers out there.