Scump Warzone Sensitivity & Controller Settings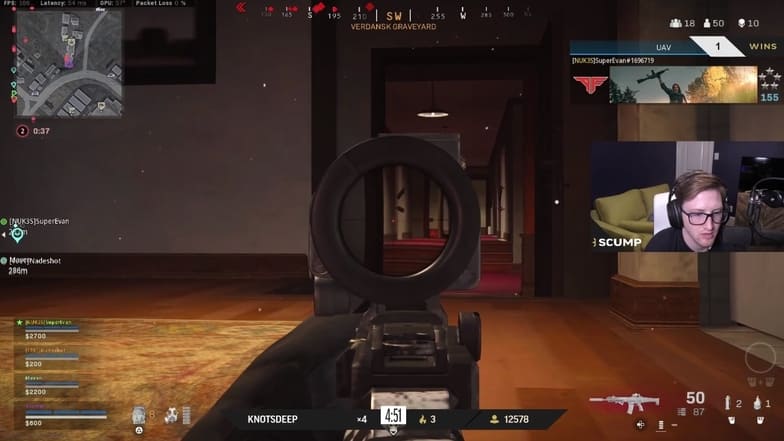 Image credit: Twitch / Scump
To keep DiamondLobby free to read, this post may contain affiliate links. Learn more
Seth "Scump" Abner is a professional Warzone and Call of Duty player that is the face of the OpTic Gaming brand and is arguably the face for the entire competitive Call of Duty scene too. The 1995-born pro is deemed one of the best CoD players to ever pick up a controller.
Scump is so talented that his millions of YouTube subscribers and Twitch followers have given him the nickname "The King".
As you've landed on this article, there's a pretty strong chance you are aware of Scump and want to replicate his exact playstyle, settings, and gear in order to achieve a higher level of success in your personal Warzone journey.
We're going to take a look at Scump's settings that have helped him become the two-time X-Games Gold Medal Champion and CoD World Champion, as well as an absolute beast in Verdansk when he finds the time to play Warzone.
Then, we will take a closer look at his current gaming setup, revealing his headset, monitor, microphone, controller, and mic stand.
Let's take a look.
| | |
| --- | --- |
| Setting Name | Scump Controller Settings |
| BR Button Layout | Default Flipped |
| Stick Layout Preset | Default |
| Invert Vertical Look | Disabled |
| Deadzone | 0.05 |
| Horizontal Stick Sensitivity | 6 |
| Vertical Stick Sensitivity | 6 |
| ADS Sensitivity Multiplier (Low Zoom) | 1.00 |
| ADS Sensitivity Multiplier (High Zoom) | 1.00 |
| Aim Response Curve Type | Standard |
| Controller Vibration | Disabled |
| Aim Assist | Standard |
| Scale Aim Assist With FOV | Not known |
| Weapon Mount Activation | Disabled |
| Weapon Mount Movement Exit | Disabled |
| Aim Down Sight Behavior | Hold |
| Equipment Behavior | Hold |
| Use/Reload Behavior | Tap to Reload |
| Depleted Ammo Weapon Switch | Enabled |
| Armor Plate Behavior | Not known |
| Slide Behavior | Not known |
| Auto Move Forward | Not known |
| Automatic Sprint | Not known |
| Vehicle Camera Recenter | Not known |
| Parachute Auto-Deploy | Enabled |
The first and most obvious thing we see in the Scump Warzone controller settings list is that his BR Button Layout is set to Default Flipped. This comes as quite a big surprise, especially because most pro players in the likes of Aydan and Crowder use "Tactical Flipped."
Currently, Scump's sensitivity is 6 for both his horizontal and vertical aim, which is considered quite low, especially since most players have their sensitivity on 7 or even 8. It goes without saying that Scump's sens has definitely benefited him towards achieving such an accurate aim.
Now that you know all the Scump settings, another very important aspect of any pro player's success is their gaming gear. As a Warzone player, there are a few core pieces of equipment that you need to pay the most attention to.
They include your controller (or mouse and keyboard), gaming monitor, gaming headset, and microphone. Other peripherals which can also have an impact on your in-game performance include your gaming chair, desk, and gaming system.
Without further ado, let's take a look at the gear Scump currently uses to dominate every Warzone lobby he enters.
What Controller Does Scump Use?
Like Tommey, Scump also uses a custom Scuf Infinity4PS PRO Scump controller. If you want to get his controller, you can get it on the Scuf website and customize it to your personal liking in terms of design and colors.
What Monitor Does Scump Use?
For a monitor, Scump uses the Alienware 25. You can grab this high-performance monitor for around $600 on Amazon.
It is by far one of the best gaming monitors on the market today. Combining a 240 Hz frequency with a 1ms of response time, you can rest assured that with this Full HD 16:9 resolution monitor, you will have a butter-smooth gaming experience.
What Headset Does Scump Use?
Your headset is one of the most important peripherals that you need to get right if you want to hear all of the enemies' positional cues. Scump currently uses the Turtle Beach Elite Pro 2, which is one of the best headsets on the market. You can get this headset for over just $100.
What Microphone Does Scump Use?
Though Scump's Turtle Beach Elite Pro 2 headset features an integrated microphone, Seth knows the importance of crystal-clear communication with his teammates.
To ensure optimal quality, the OpTic member makes use of the Shure SM7B. To ensure that his world-class microphone remains in place, Scump uses the RODE PSA 1.
Final Thoughts
Now that you know all Scump settings, it is up to you to decide what you want to include as part of your play.
Copying the Warzone controller settings and gear of top-tier pro players such as Scump is one great way to maximize your in-game progression and chances for success.
Though copying what already works is generally a good idea, remember that you are likely to have a different playstyle to that of Seth. Because of that, what works for him might not necessarily work for you.