In this guide, we're going to show you the solution to 'The Whole Nine Yards' SBC in FIFA 22.
We're also going to explain to you how you can complete it more cheaply without directly copying an example like you'll find in this post, or anywhere else online.
This is the third of the Hybrid Leagues Squad Building Challenges, after the Give Me Five SBC and the Seven-League Boots SBC.
The Whole Nine Yards SBC Solution for FIFA 22
Here is an example solution for The Whole Nine Yards SBC in FIFA 22 Ultimate Team: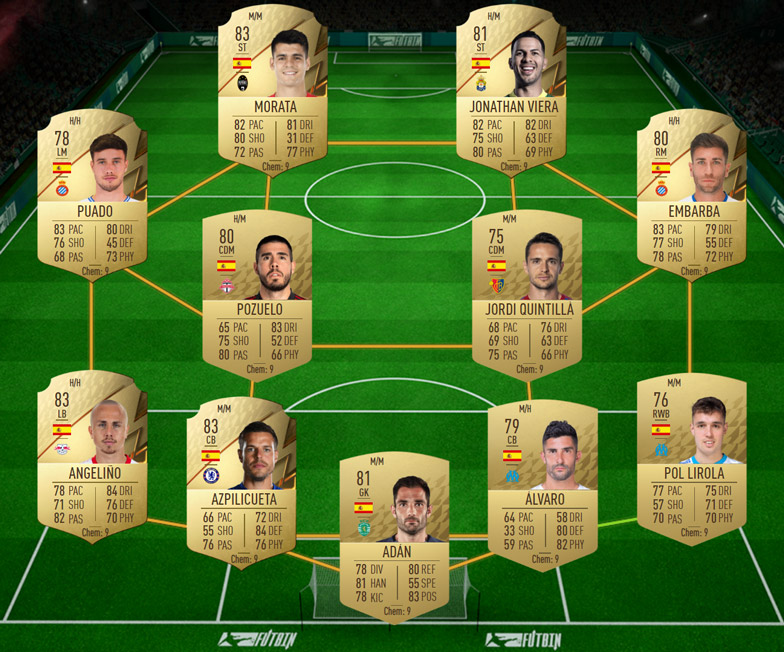 As you can see from a quick glance, this is actually quite an easy SBC to complete on the surface — every single player is Spanish (you can use other nationalities). So you don't need to worry about finding unique nationalities for every player in this one.
The players that are used in this example solution are:
Adan (81)
Angelino (83)
Azpilicueta (83)
Alvaro (79)
Pol Lirola (76)
Puado (78)
Pozuelo (80)
Jordi Quintilla (75)
Embarba (80)
Morata (83)
Jonathan Viera (80)
However, once you look into the finer details, things do become a little more tricky and this is explained below.
What Does The Whole Nine Yards SBC Require?
To complete The Whole Nine Yards in FIFA 22, your squad will need:
Exactly 9 leagues
Maximum of 2 players from any one league
A minimum of 6 rare players
A minimum squad rating of 80
Minimum team chemistry of 99
With almost all of these players needing to be from differing leagues but still requiring 99 chemistry, going with the same nationality in every position is almost essential.
However, there aren't too many countries that have players playing in at least 9 leagues on FIFA — and this list decreases significantly when you see the 80 squad rating requirement (meaning the average player in the squad must be an 80-rated gold).
If you look closely at the above and know your football well, you'll see that many of the players aren't actually playing in their original position.
Jonathan Viera is normally a CAM but is a ST in this — meaning two positional change cards were needed (CAM to CF, then CF to ST) and these can be expensive, usually costing thousands of coins. This is a lot, especially in the early SBC grind.
There are other examples in that image of players that have also had their positions modified due to the minimum 99 chemistry requirement, for example from CAM down to CDM to fit the correct formation.
The only way you'll be able to get around buying these position modifiers is if you were lucky enough to pack four or five of these players already, meaning they have loyalty, or you might have gotten loyalty on your players if any of these are already long-serving players of your active team.
How to Do This SBC Cheaply
Because of the very specific requirements, we're limited to only being able to use players from a few top nations, and Spain is probably the go-to choice here, though Portugal and Brazil are other good options.
The important thing for you to realize is that, a lot of the time, you can swap players out if you think they're too expensive.
For example, Jordi Quintilla was very overpriced when I completed this SBC because of many other players were using exactly the same solution that I was.
What did I do?
Well, I looked for the reason why Jordi Quintilla was in the squad. Who did he link with? What was his league? It turns out the reason he's in the team is because he's a Spanish central midfielder that plays in an unusual league for Spanish players (the Swiss league in his case). Remember, we need to use players from the same country but from 9 different leagues.
That meant I needed to find a different gold-rated Spanish central midfielder (this could be CDM to slot straight in, or CM or CAM with position modifiers used) that played in the Swiss league — or any other league that I hadn't used so far. Fortunately, I landed on Andres Iniesta who currently earns his wages in the Japanese league.
When you come to do this, the trick is to figure out where you can save coins. Maybe Quintilla and Iniesta are both pricey, and you need to look for a third option. Maybe it's a different position on the pitch that you're struggling with. Maybe all Spanish players are currently overpriced, and you need to look to make a team of Brazilians or Portuguese players.
Or, you can just pay the few thousand coins to complete the SBC and collect your rewards as long as you're not overdoing it.
Once you've completed this one, it's the First XI SBC up next.