In this guide, I'm going to show you how to complete The Challenger SBC in FIFA 22 Ultimate Team, which is the first of the Squad Building Challenges in the 'League and Nation Hybrid' category.
You'll get a Rare Mixed Players Pack for completing this one (12 players: 4 gold, 4 silver and 4 bronze) and it can be completed cheaply, offering great value.
Below, I'll show you a solution to The Challenger SBC, but more importantly I'll also explain to you why the solution works.
This is vital to understand because many players from solutions like this will have their prices driven up, so you might need to figure out which players you can switch out and to buy instead.
Let's get stuck into it, shall we?
The Challenger SBC Solution for FIFA 22
As I said above, I'll show you a solution and give you the list of players for this SBC, but I really encourage you to read how it's done — immediately after — so you can complete this even more cheaply if the players below have risen in price.
The challenger SBC FIFA 22 no loyalty solution from above is great because you can just buy all 11 players and the SBC can be submitted — as long as they have similar green and orange chemistry links.
None of the players are rare, meaning this should always be a fairly affordable one.
The players in this particular solution are:
Von Ballmoos (76)
Antunes (75)
Ferro (75)
Lustenberger (75)
Schar (76)
Gil Dias (75)
Daniel Braganca (75)
Aebischer (75)
Fassnacht (75)
Ricardo Horta (79)
Seferovic (78)
Let's take a look at how this solution works.
What Does The Challenger SBC Need?
To complete The Challenger SBC in FIFA 22, your squad will need:
Exactly 2 nationalities
Exactly 3 leagues
A maximum of 6 players from one nationality
A maximum of 6 players from one league
All players must be gold
100 chemistry
Whilst restrictions like this can sometimes seem tough, this one can actually be broken down really easily.
For example, you can only include a maximum of 6 players from one nationality or league, but you need 100 chemistry — this could be tough. However, if you make sure to use players that are both the same nationality and league then you'll get a green chemistry link, helping to make this much easier.
So, what you'll need to do here is be sure to have plenty of green links so that you can disregard chemistry in other areas of the pitch.
The trick to this one is to almost have two mini teams within one team. In our example solution, we have 5 Portuguese players from the Portuguese league and we have 4 Swiss players from the Swiss league. Remember, we can only use two nationalities here.
The final two players are also Swiss (bringing the total to 6) but one is from the Portuguese league, allowing for an orange link, and one is from a different league altogether because this SBC requires you to use exactly 3 different leagues.
In our example, Fabian Schar is the player we used from a third league, but you'll notice they're in the right back position (although their card is a CB, so a 5-chemistry player is all you need here).
For this SBC to work without loyalty, you need your 3rd league player to be in the RB, LB, RM or LM position, and be the same nationality as all of the players that surround them.
You also need your two strikers to play in the same league.
There are plenty of different options for achieving this one, for example here is a totally different solution that uses Italian and Spanish players: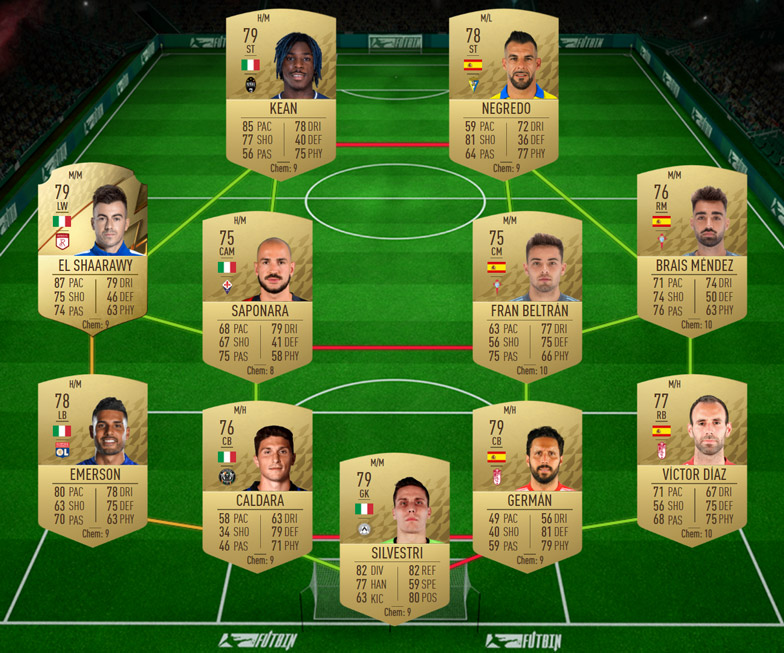 Overall, this is quite an easy one, so get it submitted and then we'll move on to the FIFA 22 Advanced SBC.