Are you looking to play with the best silver team in FIFA 22?
Perhaps you need an amazing silver squad to complete certain objectives or play in specific game modes, or maybe you just don't want to play with the most meta players.
Finding the best silver players in FIFA 22 isn't the easiest of tasks, but I went on the hunt to find the best 100-chemistry silver team that you can get in the game.
I'll share the full team of players below. Not only does this squad have 100 chemistry, but it also has all players on a minimum of 9 chemistry — meaning they'll all have 10 chemistry once you get loyalty on them.
Read on to see the full starting XI and a few recommended substitutes to bring off the bench.
Things to Know Before Reading
For this FIFA 22 silver team, I looked into putting various hybrid line-ups together so that I was able to work all of the best silver players into the same starting squad.
However, it turned out that to make the best 100-chem silver team I needed to do two things after games start:
Firstly, I'd need to make two early substitutions (straight after kick-off) in order to get more pace into the wing positions.
Secondly, I needed to use a different pre-match formation to the one I use in-game — it lines up in a 4-4-2 for chemistry, but I switch to a 4-1-2-1-2 in-game.
However, I know these aren't things that everyone wants to do.
With that in mind, I've recommended the best silver team that I use below. If you don't want to make substitutions or formation changes early in the game, keep reading for an alternative line-up.
Best Silver Hybrid Squad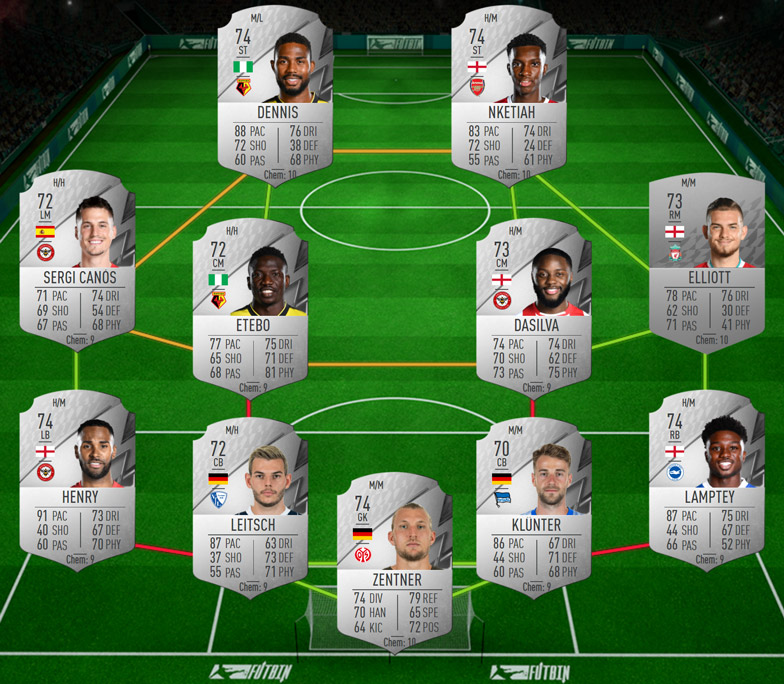 For this FIFA 22 silver squad to work as effectively as it can, you'll need to make early substitutes in the LM and RM positions. If, like me, you don't want to play in a 4-4-2, you'll need to adjust your custom tactics or change formation after the game begins.
Remember, if you don't want to make early changes to the team after kick-off, and you want to save your substitutions for later in the game, scroll down to the alternative line-up you can use instead.
Robin Zentner
Robin Zentner is a 6ft 4in Bundesliga goalkeeper.
With silver GKs you're never going to get a world class option, so Zentner has been included for two reasons. The first of those is his height; he has a reasonable reach when claiming crosses and saving shots. But the main reason he's in is for green chemistry links to the stand out feature of this team — lightning-quick defenders.
Maxim Leitsch
With running speed and acceleration always being an incredibly important part of FIFA gameplay, the inclusion of this 87 Pace center back is a simple one.
Whilst Leitsch is extremely fast and is one of the fastest CBs on FIFA 22 overall, he also has relatively good defensive attributes too. With 73 Defending and 71 Physical he is capable of stopping some tricky attackers, and his pace allows him to keep up with some of the fastest strikers in FIFA 22 if they manage to get in behind him, too.
Lukas Klunter
Lukas Klunter is almost a carbon copy of Maxim Leitsch. He's not quite as good of a defender due to having 2 less in Defending and 3 less in Physical, but with just 1 lower pace he still offers that extremely quick defensive option.
Rico Henry
The remainder of this squad plays in the Premier League, and Rico Henry at left-back is one of the reasons why. With 91 Pace, he's keeping up with the majority of the players on the game, especially if you put one of FIFA 22's best chemistry cards on him.
Not only is he fast but he can defend. 67 Defending and 70 Physical might not sound like it's the greatest thing ever — and it's not — but he also has 73 Dribbling and 60 in Passing which allows him to get out of some tricky situations. Henry is a good, well-rounded full back.
Tariq Lamptey
On the right side of defense we've got Tariq Lamptey. Lamptey is one of the shortest players in world football so if you like height in all positions then ignore this pick, but his 87 Pace makes him one of the only fast, semi-good silver-rated footballers on the game. He also fits into this team's chemistry like a glove.
75 Dribbling is the next standout attribute of Lamptey, and his pace and running with the ball are the main reasons he'll be in your side. The rest of his stats, admittedly, aren't that great.
Sergi Canos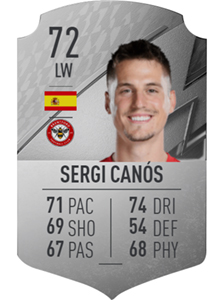 Canos is in the squad for chemistry purposes and green links to Rico Henry. I recommend substituting him at the start of the game. Remember, if you don't want to make early subs, scroll down to my alternative 100-chem silver line-up.
Harvey Elliott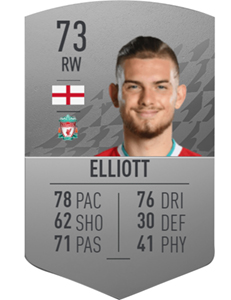 Same as the above, Elliot is included for his green chemistry link to Lamptey, and I recommend subbing him off at the beginning of the game due his lack of pace. Keep reading to find the substitutes that I recommend bringing on.
Oghenekaro Etebo
Etebo is a really solid, well-rounded CM that has good attributes across the board for a silver player.
77 Pace and 81 Physical make for an effective all-action midfielder, but 75 Dribbling, 68 Passing and 65 Shooting means that he can contribute to attacks if he's ever higher up the pitch. With 71 in Defending to round things off, Etebo is a brilliant silver-rated box-to-box or defensive midfielder.
Josh Dasilva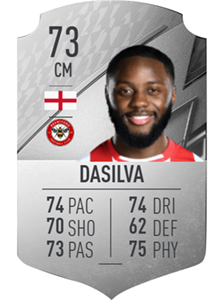 Dasilva is another fairly well-rounded midfielder that you'll likely use as the more attacking of the dynamic duo when paired with Etebo.
Dasilva lacks a little of Etebo's defensive acumen but makes up for it with Passing and Shooting attributes that are quite a bit higher than the aforementioned Watford player.
Emmanuel Dennis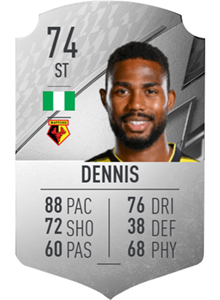 Emmanuel Dennis is the fastest silver striker on FIFA 22 that is actually fairly usable as a player. Yes, there are a small number of silver STs that are faster than him, but all are at 72-rated at best, with many falling at 70 or lower. Dennis is 74-rated, the highest you can be as a silver card.
Whilst he does possess lots of pace, Dennis also has 76 Dribbling and 72 Shooting to allow him to both create and finish scoring opportunities. He also has 4-star skills, a nice added bonus.
Eddie Nketiah
England U21's record all-time goalscorer, Eddie Nketiah is another 74-rated silver ST that really works well in this 100-chem silver team.
He's not quite as good as Emmanuel Dennis — notably lacking some physical strength — but he's a reliable goal-scoring option at this level with 72 Shooting and 74 Dribbling. He also has high attacking work rate meaning he's more likely to be on the end of the opportunities that fall to many poacher-style strikers.
Bench Options
Here are the left and right wing options that I like to immediately bring off the bench, as well as a great striker for bringing on later in the game against tiring opponents.
Chidera Ejuke
Ejuke is absolutely rapid with 94 Pace, broken down as 93 Speed and 95 Acceleration. This is just with the Basic chemistry style applied, too.
Ejuke immediately comes off the bench for Canos in my silver team and is an absolute menace to the opposition's defense. Not only has he got speed but he also has 78 Dribbling and 4-star skills.
Guilherme
Guilherme is a very similar player, attribute-wise, to Ejuke. He's extremely fast and good at dribbling, and also possesses 4-star skills. He's a little more well-rounded than Ejuke, but does come in just slightly slower than his opposite wing counterpart — he's still very quick, though.
Also like Ejuke, he cuts in from the wing onto his stronger foot (he's left-footed, Ejuke is right-footed) meaning he can cause real danger with finesse shots or sliding dangerous through balls into the box.
Timothy Weah
With 87 Pace, Weah is who I bring off the bench late in the game in place of Eddie Nketiah. I actually think he's better than Nketiah — he's certainly faster — but he just doesn't work in the chemistry system.
As he's not that much better than Nketiah, I leave him on the bench until around the 70th minute so he can then utilize his pace against tired legs, whilst also freshening the team up if we go into extra time.
Best Silver Squad with No Subs Needed
If you don't want to make subs or tactical adjustments early in the game, this is the 100-chemistry silver team that I recommend instead. They're 100% from the Premier League so all play with 10 chemistry once they have loyalty: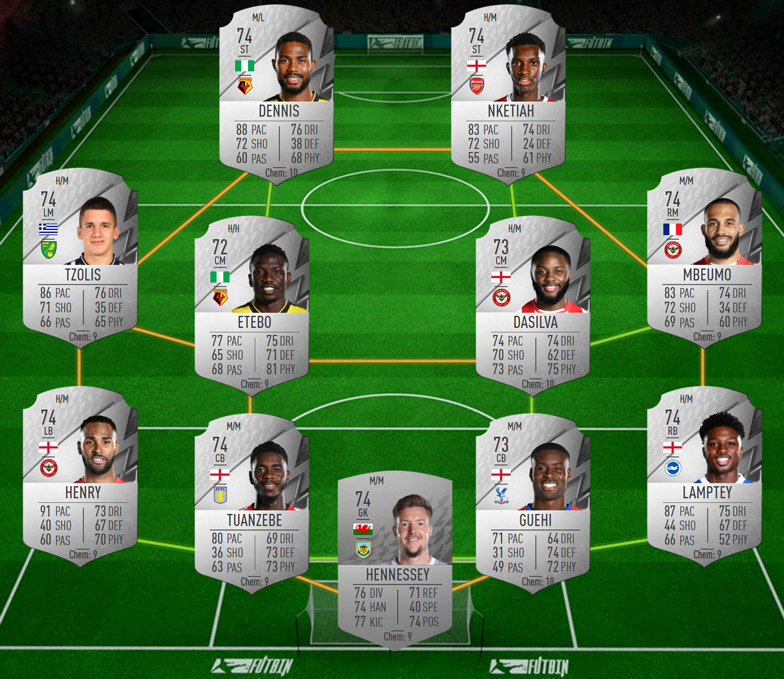 The list below includes all the best silver players in FIFA 22 required to build this team:
Wayne Hennessey
Rico Henry
Axel Tuanzebe
Marc Guehi
Tariq Lamptey
Christos Tzolis
Oghenekaro Etebo
Josh Dasilva
Bryan Mbeumo
Emmanuel Dennis
Eddit Nketiah
With this silver squad in FIFA 22, the center backs aren't quite as fast but they are slightly better defenders. However, the wingers are much more effective than Canos and Elliott that we used in the previous team and this is why no early substitutions are needed.
I hope you like my picks for the best silver squad in FIFA 22 Ultimate Team! Do you have alternative players that you prefer in your 100-chem silver team?