If you're looking for where to find Rivercress Stems in New World, this is the guide for you.
In order to get Rivercress Stems you'll need to find Rivercress. The good news is that there are quite a few places you'll be able to find Rivercress in New World and you shouldn't need to worry about huge amounts of competition for it at any one time.
I'm going to show you exactly where to harvest Rivercress Stems in New World and talk you through a couple of the other things you'll need to know.
Ready to dive in? Let's go!
What Skill Level is Needed for Harvesting Rivercress?
You need a minimum Harvesting skill of 30 to be able to harvest Rivercress and therefore get Rivercress Stems in New World.
If you've not yet begun leveling up your Harvesting skill, you'll need to get your hands on a Sickle and then begin harvesting from low level items like Hemp in order to rank up.
If you look closely at the images in this guide, you'll see I didn't have a high enough Harvesting skill to harvest it when I needed my stems. Hey, at least you've had a heads up with this post — I had to find out the hard way.
Where to Find Rivercress
If you look in the image above, you'll see my character is not only stood next to some Rivercress but also that there's another plant further back on the right hand side.
In fact, at this location there are more than just these two plants — there are at least five, making it potentially the best place to get Rivercress Stems in the whole of Aeternum.
The location I'm at in the image above is shown in the map below; it's just slightly south-west of the Alioth landmark:
And if you walk south of here to the longer body of water, you'll find more sources of Rivercress around the edges of it.
This location is almost directly halfway between Everfall and Monarch's Bluffs: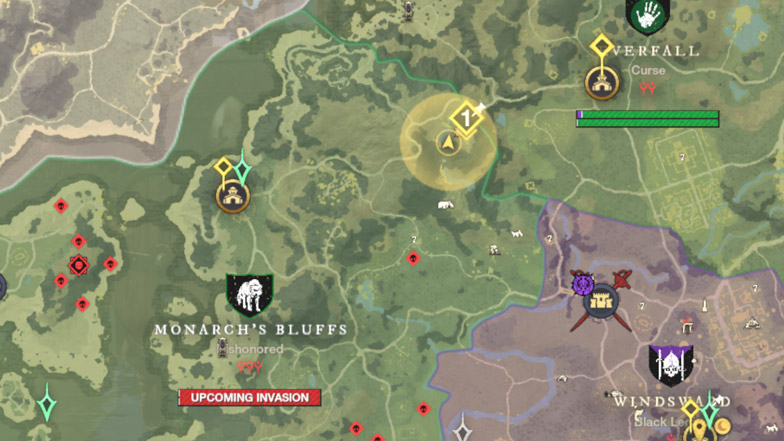 Due to being near a monument with aggressive NPCs that can gang up on you, I'd recommend ensuring you're not a super low level player, but as long as you're capable of dealing with multiple Level 12-18 enemies at the same time then you'll be OK here. Get a friend to come with you if you're desperate.
Other Places to Find Rivercress
Fortunately, Rivercress is a resource that is fairly abundant in New World. You'll be able to find it around the majority of rivers and water sources in Windsward, so if you don't want to travel to Alioth — between Everfall and Monarch's Bluffs — then you should be able to find some here.
You'll also find some in Primrose at the Secret Fishing Hotspot at Fishermen's Bend, in the river that separates Windsward and Monarch's Bluffs.
It's not as abundant here but you can find some Hemp here if you need to grind your Harvesting skill (though this probably isn't the best place to do it due to small numbers of it being present).
Fishermen's Bend is also a great place to catch snails in New World as well as Tadpoles, so this is one of the best places to level up your fishing skill quickly.