Minecraft Realms are a good way to bring friends together without going through the hassle of starting up a server.
A private world where you and your friends can do anything you desire. Though, like any other Minecraft world, this world will be infinite. So it's useful knowing where your or your friends' bases are if you ever go out on an adventure.
Coordinates can greatly help you navigate the world of Minecraft, both in singleplayer and multiplayer.
Setting up Minecraft Realms
Minecraft Realms is a subscription based service that Minecraft provides so that players can have a private world of their own to play with friends.
Usually to play Multiplayer, players would have to rely on LAN parties by either sharing a Wi-Fi network or using alternative apps to do so. There are also countless Multiplayer servers.
Servers are often public, oriented toward minigames, such as Speed Bridging, Mazes, and Puzzles or even Roleplay.
Though, if you want to play with just your friends and do so easily, Minecraft Realms is the best alternative.
To set them up all you have to do is sign into Mojang's site and go to the Realms tab. Choose your subscription and the game will take care of most things for you.
The connection and whatever protection you will need is already in the game. You will simply have to take care of your regular world settings like you would when starting a singleplayer world.
Displaying Coordinates in Java Edition
When playing on Java Edition you often have a lot of different options to affect your world or gameplay. From commands to being able to change POV at the push of a button.
Displaying coordinates is easiest on Java Edition because of this. Simply pressing F3 on your keyboard will display a whole lot of information regarding the Realm and your game overall.
This is where you can see what Biome you are in, what exact block you are looking at and, of course, the coordinates of the block you're standing on.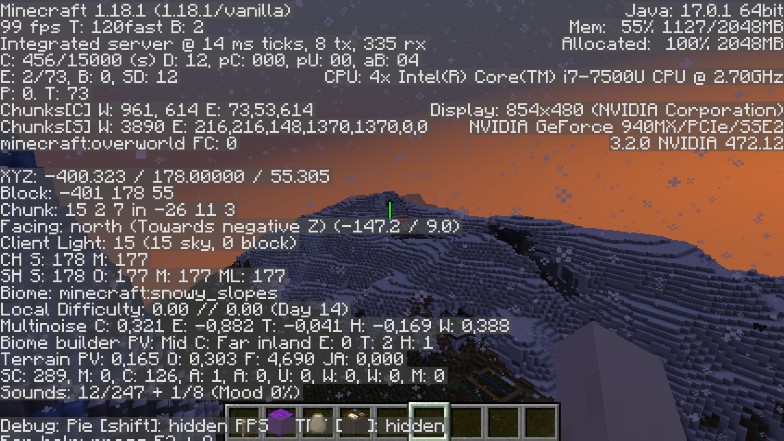 Knowing your coordinates isn't only helpful for locating your friends and finding landmarks in game.
Coordinates are very important aspects when working on big builds you may need certain commands for. The fill command and the clone command respectively rely on knowing coordinates to work.
Displaying Coordinates in Bedrock Edition
Bedrock Edition is somewhat trickier than Java Edition when it comes to displaying certain world information.
Pressing on the F3 button doesn't do anything here. To display coordinates in Bedrock Edition is completely up to the owner of the Realm of the world.
This can be done in two different ways usually. One way is to do this before the world is even made.
While you are setting up your world, in Bedrock Edition you are given a number of options regarding gameplay. From difficulty to friendly fire. You can even disable PVP entirely for your world.
Under the same category (World Options) is where you can find a toggle for 'Show Coordinates'. By default this is always toggled off.
But don't fret if you forget to toggle it when making your Realm. At any point you can change any of these settings back in options.
Simply press the ESC button to open up your menu and access Options from there. Feel free to play around with some of these settings to make the most out of your experience.