Pace isn't just relevant for strikers and wingers, but also for your center backs.
If your defenders aren't particularly quick, when they face a 99 pace striker (which is possible with the correct chemistry cards applied), you'll have a tremendously difficult time defending against players with such raw speed. I don't even want to get into the details of what would happen if your slow defenders need to catch up to a striker on a counterattack – it's simply not happening and will most likely result in a goal.
In FIFA 22, pace is of particularly big importance regardless of the player's position. So, if you want to have a successful Ultimate Team career, you need to reinforce your defense with some pace.
In this article, we will go over the fastest center backs in FIFA 22. Some are cheap and can be afforded right away, while others are a little more pricey.
We've also made sure to include various CBs from a range of different divisions and teams in order to help you build a team with decent chemistry, regardless of the team you're trying to build.
Please note, we've only included gold-rated players here because we want them to be viable when building strong teams. There are some very fast center backs in our best silver squad in FIFA 22 guide if you'd like to check those out too.
Let's get into it, from slowest to fastest (of all the FIFA 22 fast CB options).
15) Nacho Fernandez – 81
If you're looking to build a team in the Spanish La Liga, then consider getting Nacho Fernandez, the 31-year old Real Madrid CB. His overall is 81, and his pace is 78. He ranks 2nd to his teammate Eder Gabriel Militao in the Real Madrid squad and 3rd in La Liga for pace.
What really does make Nacho a unique and worthy addition to any Spanish or La Liga squad is pretty impressive physical and defense abilities when compared to the average La Liga center-back.
14) Virgil van Dijk – 89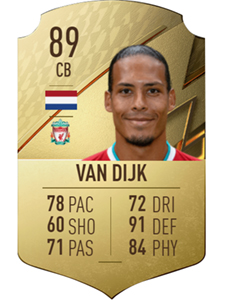 If you're looking for a quick yet solid CB for your Dutch or Premier League squad, then do consider Virgin van Dijk. The 89-rated Liverpool player has 79 pace, which is far from the fastest players on here, but very high in relation to the rest CB's in the PL.
Aside from his very decent pace, VVD is also very tall, standing at 193cm or 6'4″. Rest assured that no header is going to be won against him.
As far as his other stats, he has 84 physical, 91 defense, 72 dribbling, 71 passing, and 60 shooting. Yes, you'll get one of the most complete defenders in your team, but do note that this will come at quite the cost, even for his normal card.
13) Kostas Manolas – 83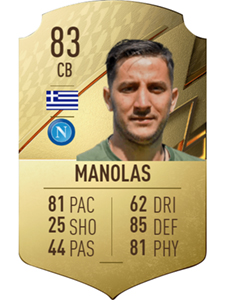 The Greek national – Kostas Manolas is another fantastic and super-quick CB who currently plays for the Italian Napoli. His FIFA 22 card is rated 83 overall while his pace stands at 81.
His physical and defensive abilities are above average (rated at 81 and 85 respectively, however, it's worth noting that his shooting and passing are by far the worst amongst any quick CB that I've come across during the research for this article.
His shooting is rated at 25 while his passing is only 44, which is around 15-20 points less compared to the average fast CB of his caliber.
12) Marquinhos – 87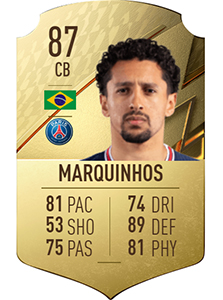 The Brazil national Marquinhos boasts 81 pace, which makes him amongst the fastest CB's in the Ligue 1, he's actually joint-second quickest behind Olympique Lyonnais's Jason Denayer.
Marquinhos is rated 87, which is thanks to his very impressive physical and defensive abilities. His FIFA 22 card has 81 physical, 89 defense, 74 dribbling, 75 passing, and 53 shooting.
He is a pretty average height for a CB, measuring at 183cm/6'0″, which can be an issue in the box, especially if you're playing against an opponent with tall defenders and strikers, but his strength should easily take care of that.
11) Presnel Kimpembe – 83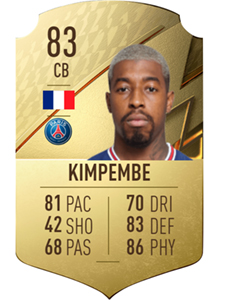 Marquinhos's lower-rated teammate Presnel Kimpembe offers the same 81 pace but not quite as much across his other stats with 83 defense, 68 passing, 70 dribbling, and 42 shooting, though he does have a greater physical stat at 86.
The main benefit of Kimpembe is the fact he offers a French chemistry link rather than Marquinhos's Brazilian one, meaning you can pair him with a number of great right-backs or left-backs (such as Ferland Mendy from Real Madrid) from another league, as well as orange link into strong midfield options including N'Golo Kante and Paul Pogba.
10) Raphaël Varane – 86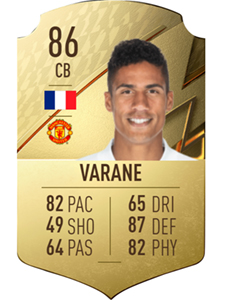 The Real Madrid legend, Raphael Varane, who now plays for the Premier League's Manchester United is one of the fastest CBs in the Premier League. Thanks to his 82 pace, you can rest assured that he'll take care of just about any striker that your team faces. He's also one of the best meta players in FIFA 22.
In FIFA 22, the French national is rated at 86, which is also thanks to his defense and physical abilities, which stand at 87 and 82 respectively. Do note that his shooting, passing, and dribbling are below average, but that shouldn't really be much of a problem as his job is to keep your box safe from set pieces, corners, and strikers trying to break through your defense on a counter-attack.
9) Fikayo Tomori – 79
The English national, Fikayo Tomori is probably your best bet in regards to making sure your defense has an adequate level of pace, if you're building a Serie A team. The 79-rated CB which currently plays for the Italian AC Milan comes with 82 pace.
Aside from his very decent pace, his FIFA 22 card boasts 79 physical, 80 defense, 65 dribbling, 57 passing, and only 37 shooting, which is probably amongst the worst amongst all quick defenders in FIFA 22.
Since you're probably not going to be taking any shots with Fikayo, it won't really matter a whole lot or if you're going to do that, his 4-star weak foot should compensate even a little.
8) Éder Gabriel Militão – 82
Since Real Madrid's squad got rebuilt, Eder was one of the more expensive transfers made to boost the Real Madrid squad prior to the departure of Sergio Ramos.
This 82-rated Brazilian national boasts 83 pace, and is ranked the fourth fastest CB on FIFA 22, and the fastest CB in Spain's La Liga and the whole of Brazil.
Aside from his above-average pace, his physical and defensive stats stand at 82 and 83 respectively. In combination with his 6'1″ of height, rest assured that your enemy strikers will face tremendous difficulty overcoming this beast of a player.
7) Ben Godfrey – 77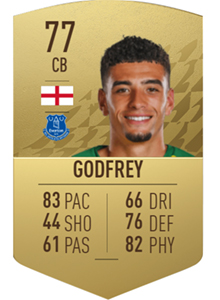 Everton's Ben Godfrey is the lowest-rated quick CB in this list, but what is more important is that his pace on his FIFA 22 card totals 83, which is way above average, ranking him in the top 5 fastest CB's on FIFA 22.
Besides that, he is the fastest Premier League CB in FIFA 22, which would be of huge help to the ones of you looking to build yourself a Premier League team.
Besides being the fastest Prem CB in FIFA 22, one thing to note is that his shooting and strength are relatively low as compared to the average CB but that can easily be predicted in his 77 overall.
6) Jurriën Timber – 75
The 2001-born Dutch national is not only the youngest player on our list today, but is also already ranked number 6 for the fastest CB in FIFA 22. His FIFA 22 card boasts 83 pace, 44 shooting, 64 passing, 75 dribbling, 75 defending, and 79 physical.
He definitely isn't the strongest player yet, as he is quite young, which could be quite an issue for anyone looking to build an Eredivisie team. Aside from that, he is also the only player under 6ft (measuring at 5'10") in the top 15 fastest CB's in FIFA 22.
But, no CB comes close to him if you're looking to build a Dutch or an Eredivisie squad.
5) Jason Denayer – 80
The Olympique Lyonnais's Jason Denayer is the fastest CB in the Ligue 1. On FIFA 22, his card is rated 80 overall, however, his pace is set at 83, which ranks him in the top 10 for the fastest CB on FIFA 22 as a whole.
Besides that, his physical, defensive, dribbling, and passing stats are also very impressive. They are 81, 81, 81, and 67 respectively. He does have 43 shooting, which is below average, however, it seems to be quite a trend amongst quick defenders to have pretty bad shooting abilities.
4) Joško Gvardiol – 75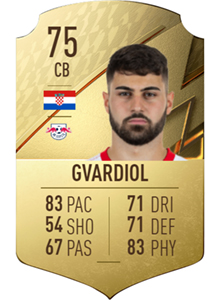 If you're on the lookout for a quick Bundesliga CB who isn't going to cost you an arm and a leg, you should check out the 75-rated Croatian Josko Gvardiol, who currently plays for RB Leipzig.
Unlike most affordable quick CB's, aside from his impressive 83 pace, Josko has very average shooting, passing, dribbling, defending, and physical attributes. They are as follows – 54, 67, 71, 71, and 83 respectively.
3) Lukas Klostermann – 80
Lukas Klostermann is the fastest German CB, with pace comfortably sitting at 85. He's also part of the Bundesliga's RB Leipzig, making him the third-fastest CB in not only the Bundesliga but also in FIFA 22. The 1996-born is rated 80 overall.
Aside from his pace, Lukas also has great physical, defense, dribbling, passing, and shooting attributes – probably the best overall in FIFA 22 (as far as the fastest players are concerned. He has 77 physical, 82 defense, 71 dribbling, 66 passing, and 51 shooting.
2) Maxence Lacroix – 79
In second place is the French CB that goes under the name of Maxence Lacroix. He too is part of a Bundesliga team – VfL Wolfsburg to be more specific, and boasts 88 pace. He does have a higher overall rating (79) than Jeremiah's 76-rated card, which is mainly due to his higher defense and physical attributes.
Do note that despite this slight physical advantage, Maxence does have only 33 shooting, 56 passing, and 65 dribbling, which is far from ideal for a defender, but his 190cm/6'3″ height will keep your box clear from any crossings.
It's fair to say that if you're building a Bundesliga team, you'll have no difficulties finding super quick CBs for your team. There are many.
1) Jeremiah St. Juste – 76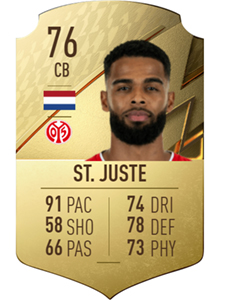 The Dutch defender from the Bundesliga's FSV Mainz 05 is the fastest defender in FIFA 22 by far. The 1996-born has the staggering 91 pace, which will do wonders for anyone who's looking at building a Dutch or a Bundesliga team.
He doesn't have the best shooting or passing in the world (58 and 66 respectively), but his dribbling, defense, and physical abilities (74, 78, and 73) make this 184cm/6'0″ tall youngster one of the most promising young defenders in the world.
Final Thoughts
Now that you know who the fastest center backs in FIFA 22 Ultimate Team are, all you have to do is pick the ones that fit your team and budget.
In FIFA 22, pace is of crucial importance, and I'd definitely recommend you to go for faster CB than those who have more strength if you want to stand a chance in case of counter-attacks against quick players.