In every game there is always an established 'meta' — a way of winning that is more effective than others, with meta literally meaning 'Most Effective Tactics Available'.
In FIFA, the meta is usually fairly similar across different games, with subtle differences and player adjustments accounting for switches in the most popular players used across the majority of squads in Ultimate Team.
FIFA 22 meta players are much like they are in years gone by; they're fast, agile, strong and have good skills or weak foot, or both.
In this post, we're going to take a look at the best meta players in FIFA 22.
Lots of Ultimate Team gamers will want to get their hands on these overpowered players so they do tend to come at inflated prices, meaning this isn't a list of cheap bargains.
Whilst many of these players fall more on the expensive side, we've also tried to include a range of good value picks to offer a few meta players for those on a tighter budget.
Presnel Kimpembe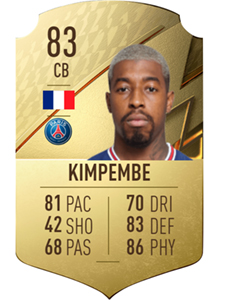 Kimpembe is a very fast center back in FIFA 22 when looking at gold player cards.
He's fast, tall, incredibly strong and great in the tackle, making him a great meta center back in his own right.
But whilst there are a range of fast and strong defenders on this year's edition of FIFA, Kimpembe offers something that many of them can't: a French chemistry link.
France offer up many of the best meta players in FIFA 22, multiple of which are featured later in this post, and having a chemistry link with Kimpembe means you're able to fit him in to a greater range of hybrid squads.
Raphael Varane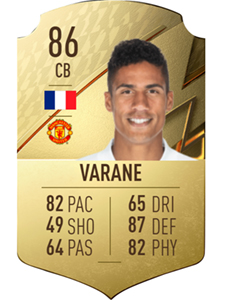 Speaking of French players and hybrid squads, Varane has been meta for the past couple of seasons though you do have to pay a hefty premium for him — and an even higher price now that he's joined the Premier League's Manchester United.
With 82 pace, 87 defending and 82 physical, Varane is an absolute monster in the game and being a French player in the Premier League allows you to have multiple chemistry angles to fit him into a 100-chemistry side.
Achraf Hakimi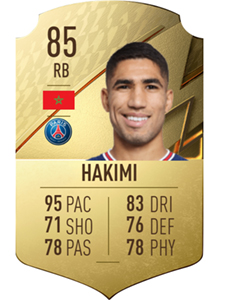 Hakimi is one of many world-class players that made their way to PSG in the transfer window before FIFA 22 was released. As much as we want a diverse range of players to choose from within our teams, the FIFA 22 meta may as well just say 'PSGs starting XI'. If they link to other PSG players, they're good to go — not quite true, but it's pretty close.
However, whilst fitting the PSG meta, Hakimi is also an incredible player in his own right. He has a massive 95 pace which makes him the second-fastest gold defender on the game, only 1 behind Alphonso Davies of Bayern Munich, but he's not just a pace merchant. He's an 85-rated player for a reason, with a nicely-balanced range of stats that are all above 70, with dribbling at 83.
The only issue with Hakimi is you have to play him with Ligue 1 players or, more likely, with a green link to Kimpembe (or Marquinhos, Sergio Ramos or Lionel Messi, all from PSG). This is due to his Moroccan nationality making it impossible to get a chemistry link with any other meta players from other leagues.
The only good option you have outside of Ligue 1 for chemistry with Hakimi is Ziyech from Chelsea but whilst he's a decent player, he's not strictly meta.
Kyle Walker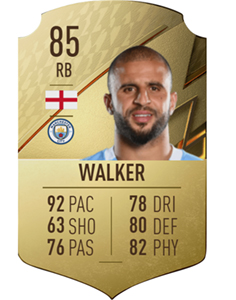 If you couldn't tell from the players listed so far, pace is one of the most meta aspects of FIFA gameplay and Walker offers up the fastest defensive option in the Premier League.
Premier League players are always good for building a powerful team, though it's just a shame that Manchester City nor England offer up any exceptionally meta FIFA right wingers (though Raheem Sterling is very good if you can stomach playing him on 6 chemistry). This means you're more limited in your pre-game formations (though you can switch in-game) as you'll struggle for green links.
Kyle Walker has been so good on FIFA in previous years that his regular gold card was still usable in squads containing multiple icons and in-forms, and he's still a very solid option as one of many FIFA 22 OP players.
Theo Hernandez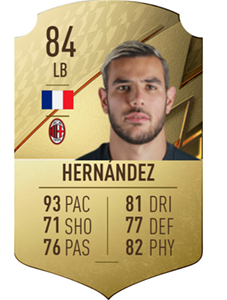 The third fastest defender on the game and French, do I really need to say more about Theo Hernandez as a pick based on what I've already said?
Probably not…but I will anyway. He's a great player that deserves the extra attention.
Hernandez is by far the best left back in Serie A, with higher stats in almost all of his face card attributes than the second and third best choices in Alex Sandro and Spinazzola, the latter of which isn't even left-footed (though is still very good).
Ferland Mendy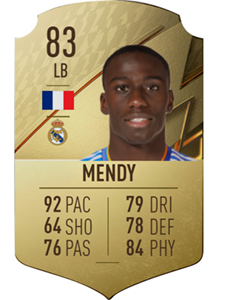 Real Madrid's Ferland Mendy might not quite meet Theo Hernandez's 84 rating though he does boast a healthy 83, and he basically offers everything that the aforementioned player has but with a little more on top.
Rather than being a Serie A player, Mendy is based on Spain's La Liga, offering up alternative chemistry links there. He's French — because of course he is, most players in this guide seem to be — so he links to many other great meta players in FIFA 22 too.
The unique thing that Ferland Mendy offers is his 4-star skills and 5-star weak foot, making him an incredibly versatile player as well as a talented one.
Renato Sanches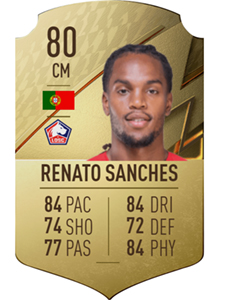 Renato Sanches has often been a meta player on FIFA games and FIFA 22 looks like it might be his best game yet.
Whilst Portuguese players playing in France's Ligue 1 has been far from ideal previously, this year is completely different. With talented players in both defense and attack, Ligue 1 midfielders that are top tier are a little in shorter supply — but Sanches isn't just the pick of a bunch, he's a truly talented option that fits the FIFA 22 meta brilliantly.
Even if you don't have a Ligue 1 team, Renato Sanches would be worthy of coming off the bench for teams despite his lowly 80 rating — the rating on the front of his card does not do him justice. Far from it.
Sanches's classy playstyle is finished off nicely with 4-star skills and a 4-star weak foot.
Franck Kessie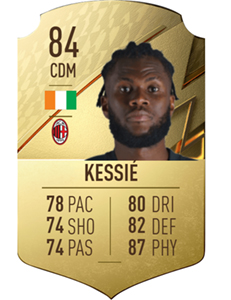 Kessie is one of those players that just has to make it into this list despite his awkward chemistry situation. Kessie represents the Ivory Coast and plays in Italy's Serie A, but everything about his attributes scream meta.
78 pace is really solid for a CDM, one of the highest in the game in this position in fact, but he pairs this up with a huge physical presence (87 physical).
He also has 82 defending, but he's not just a fast, defensive unit. His 80 dribbling, 74 passing and 74 shooting make him a superb all-rounder that's capable of playing in his regular CDM position but also as a box-to-box CM that wins the ball back high up the park.
N'Golo Kante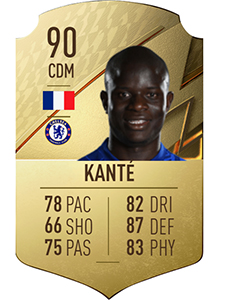 If you don't know about Kante then you must be new to the world of FIFA and football as a whole.
This absolute machine of a human being is just as good in-game as he is in real life, with his all-action style translating perfectly to the world of gaming.
Kante is usually incredibly expensive but it's always a price worth paying. The only thing Kante lacks when playing in his default CDM role is a bit of height, but he more than makes up for that in his tenacious style, paired with 78 pace and 87 defending.
Kante's 82 dribbling and 75 passing also give him the agility and quality to work your way out of tricky defensive positions.
Oh, and he's also French, meaning he has a chemistry link to every good player on the planet right now.
Marcos Llorente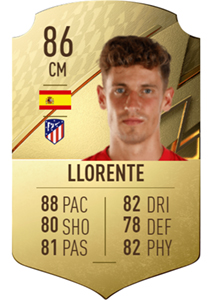 This Spanish CM from La Liga's Atletico might not be the perfect chemistry link for your team, but he might just be the best CM you can work into your squad from the regular gold level — an unbelievable substitute option, too.
Llorente has 88 pace, a phenomenal amount for a central midfielder, and has 80+ in every face-card attribute except for defending, in which he still boasts a rating of 78.
This is an all-round meta card and is a relatively pricey one, too.
Leon Goretzka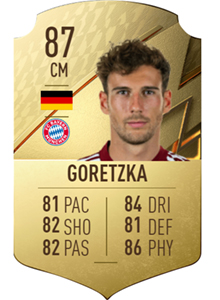 Goretzka might have the best face card stats of an central midfielder that's ever been on a FIFA game, at least in terms of balance. Of course, we're excluding icons and in-forms here.
Leon Goretzka is the first ever 'Gullit club' regular gold player, meaning he exceeds 80 in all of his face card statistics. With pace and attacking ability combined with exquisite defensive attributes, Goretzka is essentially an even better version of Marcos Llorente, and he potentially might be better for chemistry, too. However, both options are likely to be coming off the bench to preserve the chemistry links of the strongest meta squads.
Henrikh Mkhitaryan
Mkhitaryan is a player we've included here due to his low price; every single person reading this will be able to afford this 83-rated gold card but he certainly has something to offer off the bench as a cheap meta player.
Mkhitaryan's Serie A and Armenian chemistry links aren't ideal, so unless you have a Serie A side — which you may well have if you have a starter team as they have some fantastic budget-friendly options including the previously mentioned Franck Kessie — this is a random player for you to consider trying as a substitute.
Try him, if it doesn't work out, sell him and move on. But he's definitely worth trying. He's got good pace, good attacking attributes and boasts 4-star skills and a 5-star weak foot.
Ousmane Dembele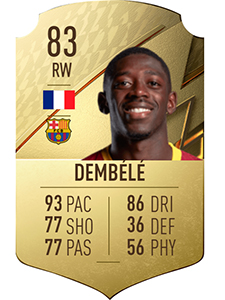 One of Barcelona's few remaining shining lights in terms of raw talent, Ousmane Dembele offers an excellent option on the right wing or at right midfield.
Whilst Dembele is left-footed, making it perfect to cut in and curl finesse shots or slide angled through balls, his 5-star weak foot gives him the option to also be strong going on the outside. This makes him a very unpredictable player — something you need on a game that is relatively easy to defend on like FIFA 22.
He also has 5-star skills adding even further unpredictability to his game, and his French nationality allows for chemistry links to other leagues. This is crucial now that La Liga has been starved of many of its meta FIFA players.
Raphinha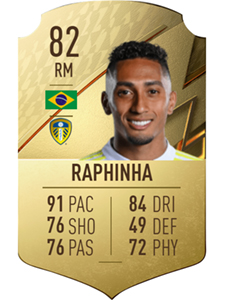 Whilst certainly not as good as Ousmane Dembele, we've included Raphinha in this list as another cheap meta player in FIFA 22 that offers a Premier League chemistry link — and also a Brazilian chemistry link, meaning he fits into lots of potential teams.
4-star skills and 4-star weak foot give Raphinha a good level of unpredictability and his left-footedness is well-suited to his RM or RW positioning, allowing you to cut inside and cause havoc in the spaces that matter.
His 91 pace makes him one of the fastest wingers in the Premier League and with 72 physical he's not going to be knocked off the ball by every single challenger that comes his way.
Neymar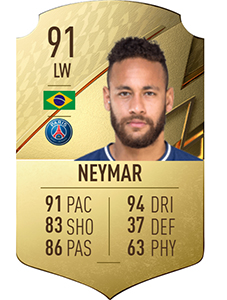 Neymar Jr is an incredibly meta FIFA player and has been for a number of years, but he's become even more of a popular pick now that Ligue 1 is an even more viable league for chemistry.
Neymar has only one weakness to his game which is his physical stature, but his pace and all-round attacking ability, along with 5-star skills and 5-star weak foot, make him a truly special player that is demonstrated by his 91 overall rating.
There really isn't much we can say about Neymar — he's a very, very good player, but he's only available for a high price that many players can't afford.
Son Heung-min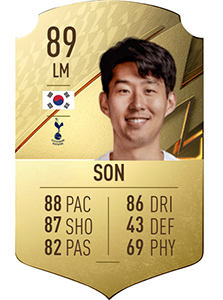 Son Heung-min is a little like Franck Kessie in that he's very awkward in terms of his chemistry, though at least Son's in the Premier League to give him a little more leeway in terms of his orange and green links (probably orange as his club, Tottenham Hotspur, don't have other meta options).
Son is like a budget-friendly Neymar (though he's still very expensive) in that he's fast, has excellent attacking stats and has a 5-star weak foot, though does only have 4-star skills.
With Son you also get an extremely composed player (89 composure) with excellent ball control, agility and dribbling, making him able to operate in tight spaces and finish most of the chances that come his way.
Timo Werner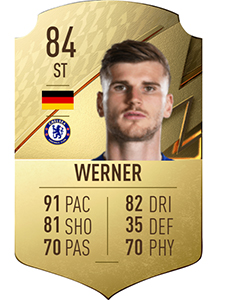 Although he took a small downgrade from his 2021 FIFA rating, Timo Werner is still a truly meta FIFA player — one that's arguably better in-game than when playing for Chelsea in real life.
Werner has 91 pace and 81 shooting, combined with a 4-star weak foot, making him a lethal option from the Premier League. His pace is only bettered by Leicester City's Patson Daka when it comes to Premier League strikers and Daka is not a viable player to use, making Werner essentially the fastest usable striker in the English league.
With an 84 overall rating he's certainly a very useful option for many teams and he comes at a price that you'll be able to afford with just a little saving.
Memphis Depay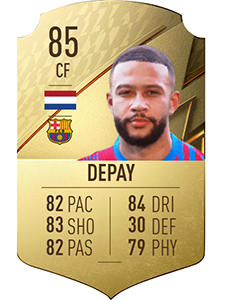 Memphis Depay is not your typical meta FIFA player. Yes, he's very good, but we've included him in this list of the most overpowered players in FIFA 22 where we perhaps wouldn't if circumstances were different.
The reason for this is the plight of La Liga's strikers — the league has zero meta options — meaning Depay is one of the only usable players in this position in one of Europe's most popular leagues.
Depay is very agile and has great dribbling, and is also an excellent set piece taker. However, his 3-star weak foot doesn't make him the best central forward in the world, though we'd argue he's at least the best meta ST in La Liga this year, from gold players at least.
Wissam Ben Yedder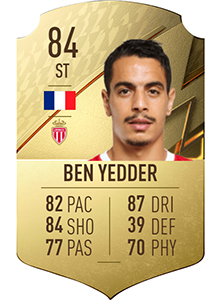 Ben Yedder is an undisputed legend of Ultimate Team. His 5-star weak foot combined with his pace, dribbling and shooting ability has made him an affordable meta option for many years and FIFA 22 is no different.
Playing for Monaco in France's Ligue 1, Ben Yedder — this year — offers a more affordable route for those looking to build a Ligue 1 side without being able to afford the world's top talents from PSG.
This is the player you want your chances to fall to in the box as he has all the attributes, including 88 finishing, 86 reactions and 85 composure, to make for a reliable goalscorer in your team.
Kylian Mbappe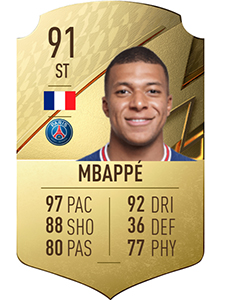 Kylian Mbappe is the definition of meta when it comes to FIFA. His stats are absolutely ridiculous — not all of his stats are high, but of the attributes he needs, he has them all.
With a staggering 97 pace, combined with 88 shooting and 92 dribbling, Mbappe is going to literally give FIFA players nightmares, or even prevent them from being able to get to sleep in the first place. More than one controller is going to be broken this year due to this man and his ability.
Unlike many small, fast players, Mbappe has an impressive 77 physical which means that not only is he quick but he also has the strength to fend off many of the challenges coming his way.
If your budget is vast, and you're looking to create the most meta FIFA 22 team you can, Mbappe is your man.
Cristiano Ronaldo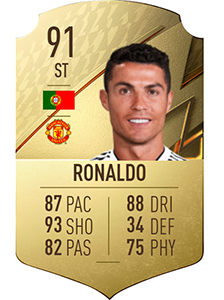 Finally, this list wouldn't be complete without mentioning Cristiano Ronaldo.
Whilst the debate over who is better out of Messi and Ronaldo has rumbled on for over a decade, it's clear that Ronaldo has always been a far superior choice when it comes to FIFA games. He is much more meta.
Whilst Messi had pace, shooting, dribbling and passing ability — and yes, it's impressive to have all of these — Ronaldo has always had one thing that Messi doesn't have on FIFA; incredibly physical ability.
Not only can Ronaldo fend off defenders with his strength but he can also jump to incredible heights — he has 95 jumping and is 6ft 2in tall — making him a threat from all crosses and set pieces, and his 90 heading accuracy just tops this off.
After his move back to Manchester United and the Premier League, it's clear that Ronaldo is by far the standout option in attack for those building a side from the English league. However, like with Mbappe and Neymar mentioned previously, you'll need deep pockets to afford this man.